Update: Chevron has donated $69 million to Texas A&M University (TAMU), where dogs suffer in painful and useless muscular dystrophy experiments—and it apparently wants to muzzle discussions about this. When PETA placed ads (see below) on bus shelters near the company's headquarters in San Ramon, California, exposing the support of TAMU where dogs are suffering, Chevron was reportedly so rattled that it forgot all about free speech and apparently strong-armed a public agency to have the ads pulled. So PETA is going straight to the boardroom with a shareholder resolution urging the company's board of directors to reconsider its support of the university. Compassionate consumers may also wish to think twice about where they fill up their cars.
Updated September 26, 2017:
Activists have taken the fight against Texas A&M University's muscular dystrophy dog experiments to the pump. They're demanding that Chevron stop donating to the school until the experiments end. These stickers have begun showing up at Chevron gas stations in San Ramon, California, near the company's headquarters.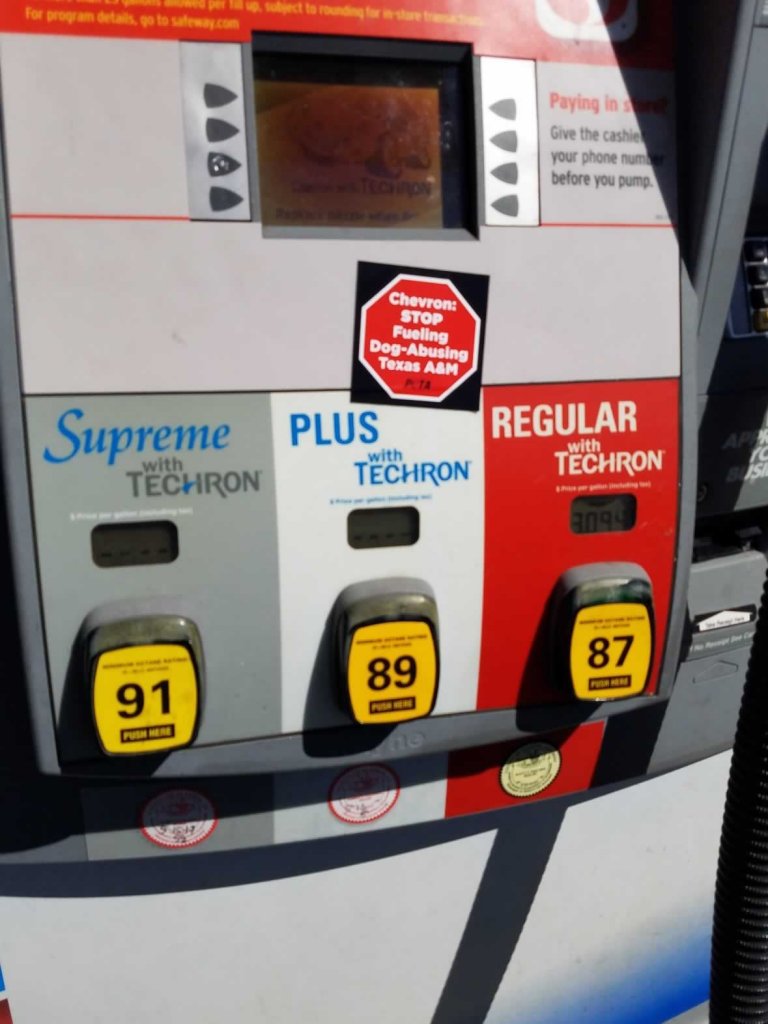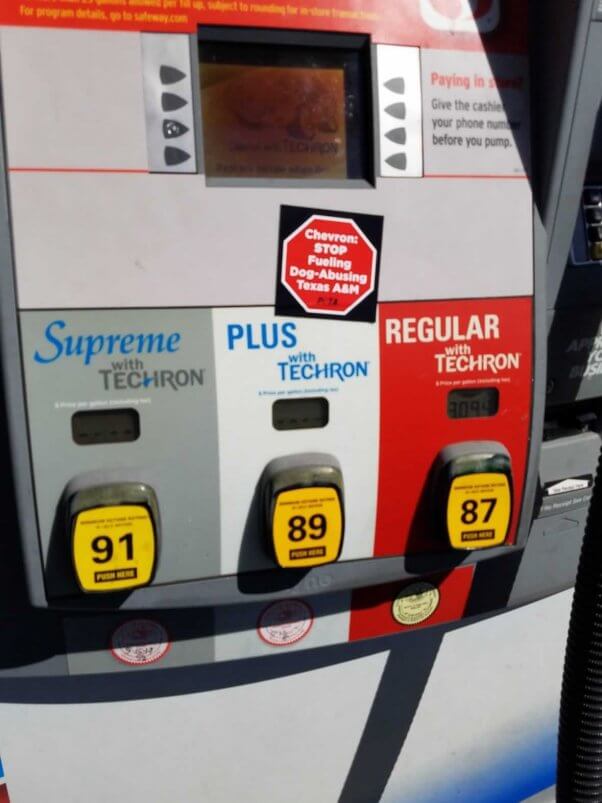 Originally posted August 22, 2017:
Starting today, PETA ads showing a desperately ill and crippled golden retriever named Peony will appear on bus shelters near Chevron's headquarters in San Ramon, California, to expose what's happening at the university that it financially supports. Peony was one of many dogs deliberately bred to have a severe, painful form of canine muscular dystrophy and then subjected to experiments at Texas A&M University (TAMU).
PETA is calling on Chevron to stop giving donations to TAMU until the university agrees to end the experiments, stop breeding dogs, and allow those currently in its laboratory to be adopted. Chevron has given $69 million to the university.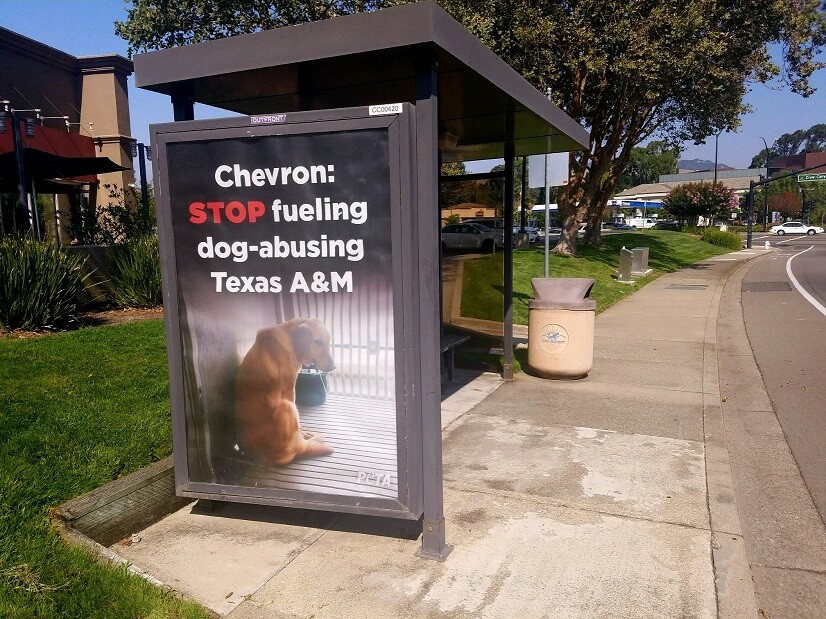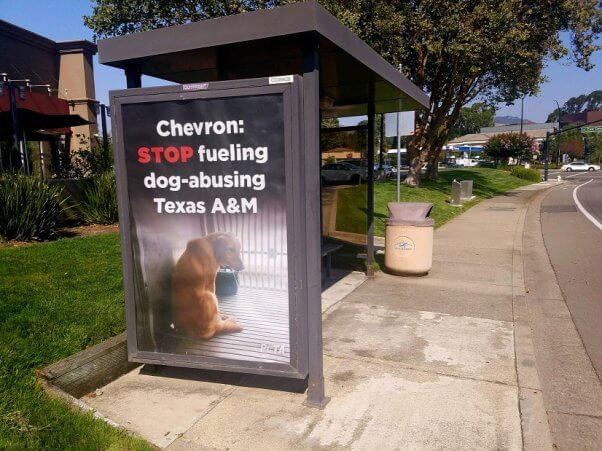 Eyewitness video footage obtained by PETA shows dogs in bleak metal cells in TAMU's laboratory who struggle to walk, swallow, and even breathe. Decades of these terribly cruel experiments have failed to produce a treatment that reverses the symptoms of human muscular dystrophy.
Cutting-edge research techniques are readily available and more promising than studies on dogs. Scientists are now studying cells and tissue from human muscular dystrophy patients to understand disease progression, and they're transplanting healthy, human-derived muscle cells into patients. Human-relevant drug-screening platforms accelerate the process of developing new therapies and making them available.
PETA's efforts to end TAMU's ineffective dog experiments have received support from patients afflicted with muscular dystrophy, scientists—who have criticized the inapplicability of the experiments' findings to human patients—and public figures, including Miami Dolphins quarterback and TAMU alumnus Ryan Tannehill and commentator Bill Maher, who called the lead researcher "dogs' worst enemy."
You can help by asking Chevron to stop giving money to TAMU until the school stops tormenting and killing dogs in muscular dystrophy experiments.