After delivering "the good word" last week at the Republican National Convention, PETA's "nuns" are now in Philadelphia spreading the gospel and urging Democrats to "Slap a Sin Tax on Meat!"
TODAY at the #DemConvention: @peta's Tax Meat campaign 'nuns' hit the street met some supportive sisters! pic.twitter.com/AotEcAIMZ4

— Ashley Byrne (@ashlovesmongo) July 26, 2016
PETA's nuns towered over the crowds at the Democratic National Convention on Monday, wearing stilts and signs proclaiming, "Meat Is a Bad Habit. Tax It!" and "Slap a Sin Tax on Meat!" The "sisters" also cruised around the convention center in a convertible, holding aloft signs calling for a sin tax on sausage and steak—similar to the taxes on alcohol, tobacco, and gasoline—to offset the sky-high health-care costs of medical conditions linked to meat consumption, including heart disease, stroke, cancer, high blood pressure, and diabetes.
"Eating meat is a bad habit," says PETA "nun" Ashley Byrne. "PETA is calling for a sin tax on animal-based foods that clog our arteries, burden our health-care system, and come from an unholy meat industry that is a living hell for animals."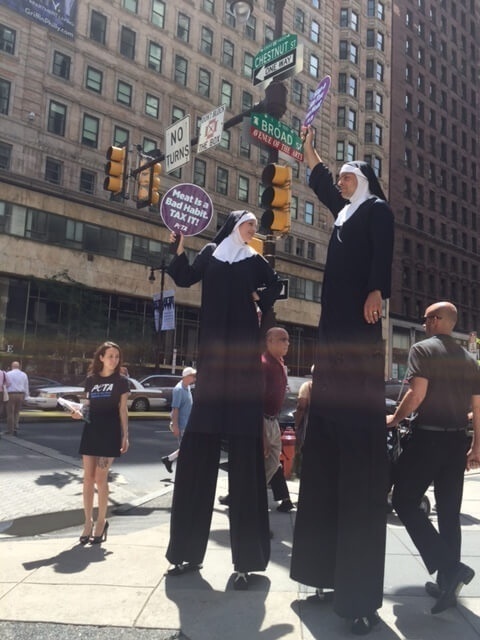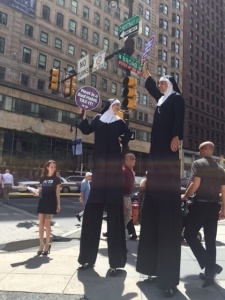 Researchers have found that vegetarians are between 25 and 50 percent less likely to suffer from cancer, even after controlling for other factors, such as smoking. A study by the American Cancer Society found that people who ate 3 ounces of meat a day were 30 to 40 percent more likely to develop colon cancer.
What You Can Do
Order your free vegan starter kit, and pledge to go vegan! Each person who goes vegan prevents more than 100 animals every year from enduring daily suffering and a terrifying death.