Update: Shoppers at the Post Oak Mall in College Station, Texas—the city where Texas A&M University (TAMU) is located—are now seeing this powerful new advertisement featuring muscular dystrophy patient Johnathon Byrne.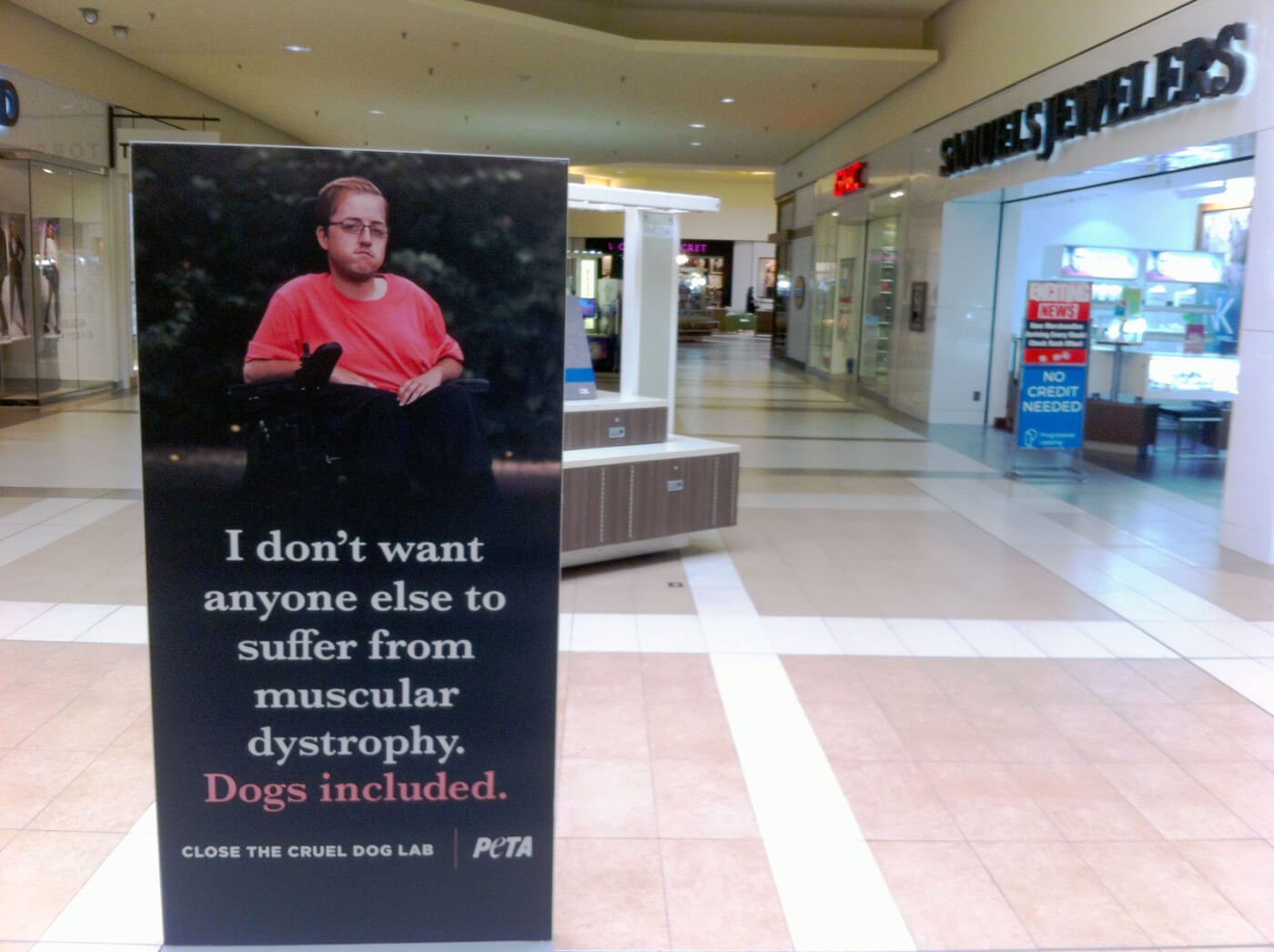 Keep reading to learn more about his story and his efforts to urge TAMU to shut down its cruel dog laboratory.
Originally published on September 7, 2018:
Johnathon Byrne, who has muscular dystrophy (MD), sent a clear and powerful message to Texas A&M University (TAMU): No animal—human or nonhuman—should have to suffer from MD. He refused to be ignored.
On Wednesday, Johnathon took his message straight to TAMU President Michael Young, who was dining at an alumni event in San Antonio. Johnathon rolled up in his wheelchair, unfurled a banner that showed one of the dogs who has died in the university's laboratory, and said this in front of dozens of attendees:
"President Young, I have muscular dystrophy, and I'm here to talk to you about the debilitating research being done at [Texas] A&M University. I would like to call upon you to stop the research on the animals, the dogs, at this university, where they are suffering in pain, [where] they are unable to breathe, eat, and walk. I know firsthand how awful this [MD] is."
Johnathon was joined by other activists in shouting, "Shut the dog lab down now!" Police ordered him and the other activists out, but no one was deterred. He went to the campus yesterday to meet with Young, hand-deliver a letter to him, and discuss the laboratory's failures. Young's assistant refused to let Johnathon in, but he still wasn't dissuaded. He and other activists took to the streets surrounding the campus to continue the protest.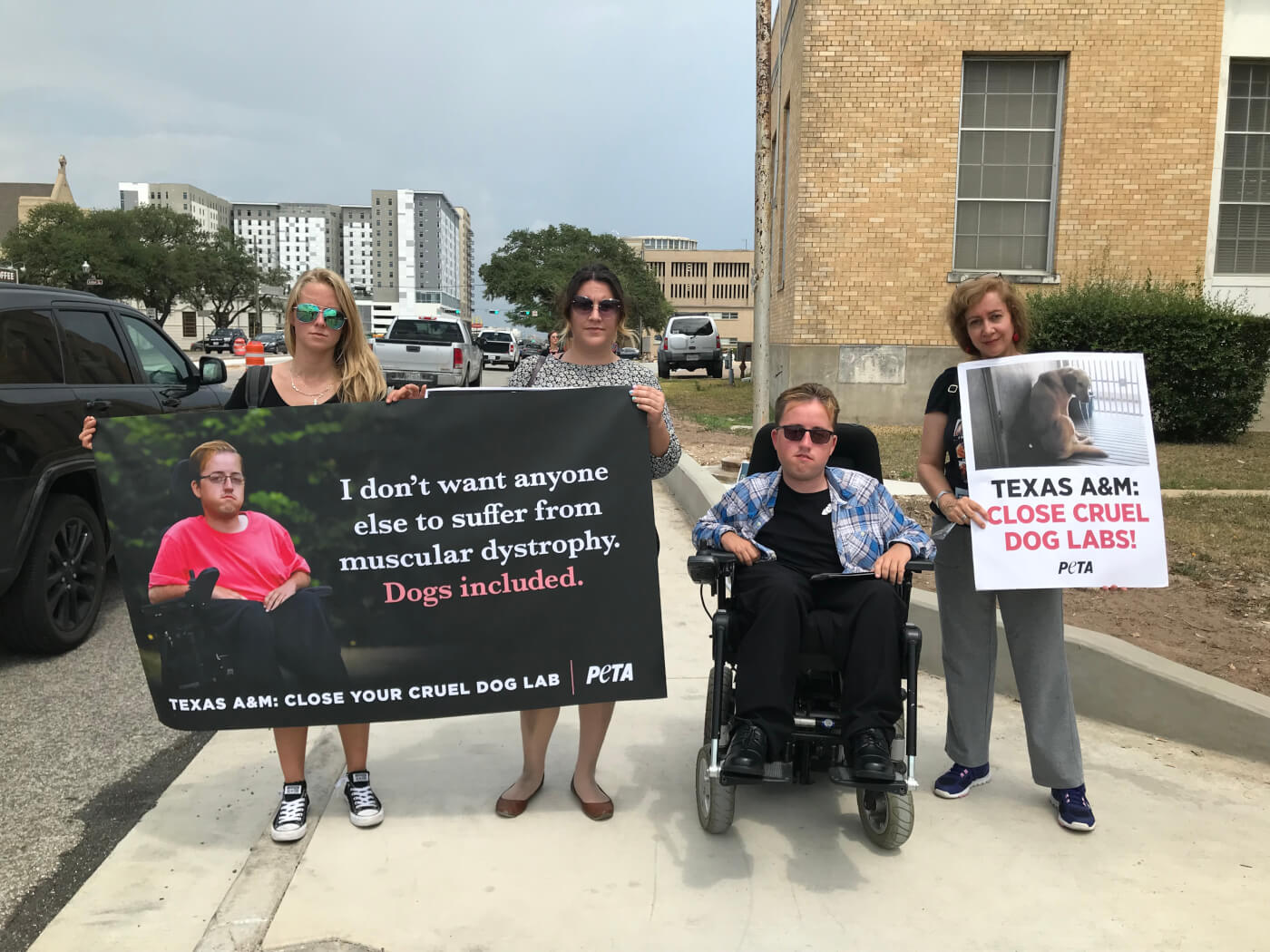 Many folks passing by stopped to talk with him in order to learn more about the cruelty that goes on behind the closed doors of TAMU's MD laboratory.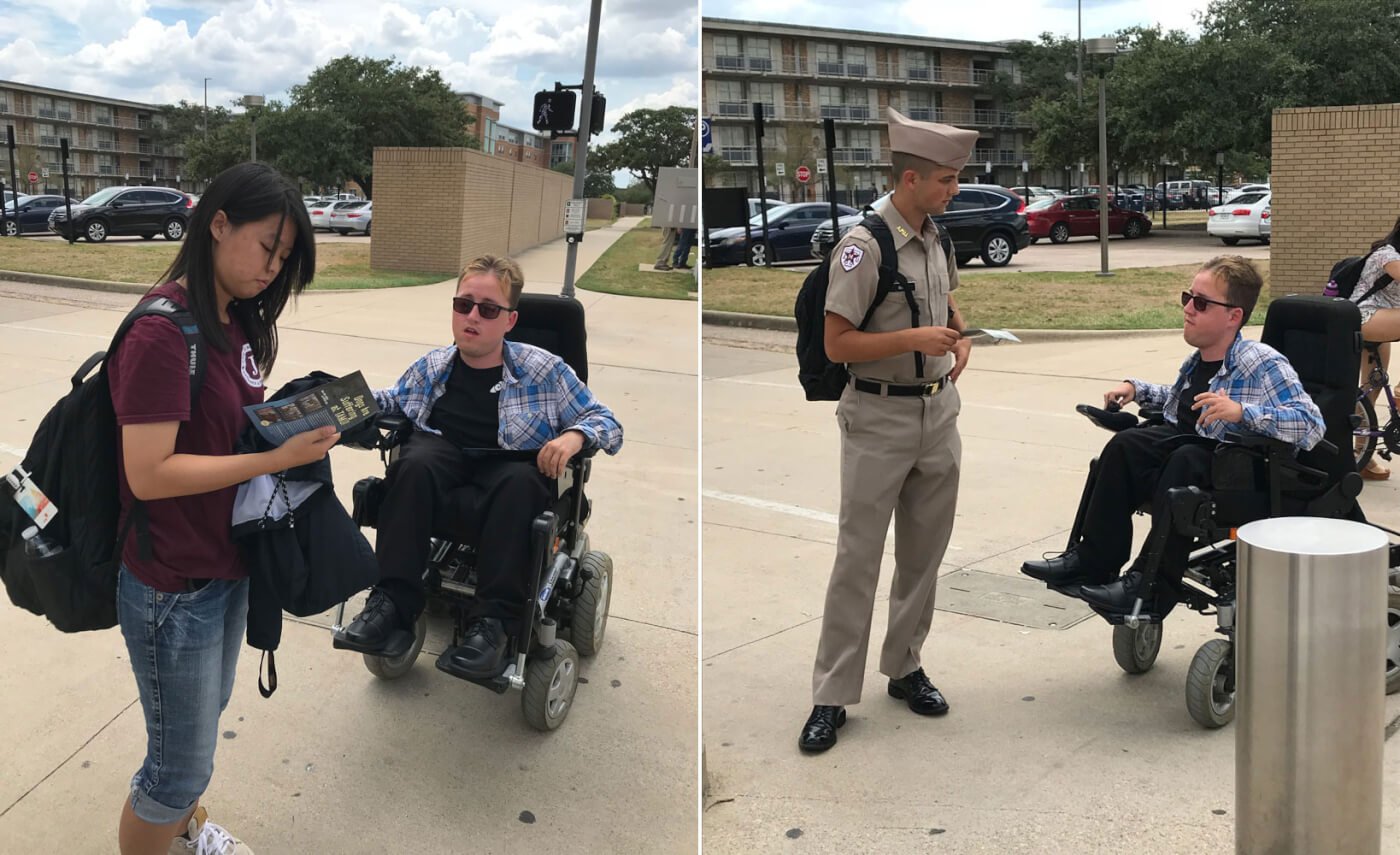 He displayed the banner below, which will appear as a billboard in Houston and in a mall.
Video footage from TAMU's laboratories shows dogs who were deliberately bred to develop a crippling and painful form of MD struggling to walk, swallow, and even breathe.
For nearly four decades, a TAMU experimenter has been tormenting dogs out of public view, but there's still no cure or successful treatment for human MD patients in sight. Johnathon joined PETA in calling for these horrible experiments on dogs to end.
Johnathon is one of numerous MD patients around the world who have spoken out against these studies. Will you join them?
Join Johnathon, PETA, and Countless Others
You, too, can urge TAMU to close its dog laboratory, release all the dogs for adoption into good homes, and redirect its resources to humane research methods:
---
Learn more about Johnathon and TAMU's cruel dog laboratory on The PETA Podcast:
Listen to more episodes on iTunes and Spotify! Subscribe for new episodes.
---