A Texas A&M University (TAMU) alumni club recently held a Past Presidents Dinner at The Fort Worth Club in Dallas, where the university's current president, Michael K. Young, was scheduled to speak. Of course, PETA showed up to urge the notorious university to end its cruel experiments on dogs.
As a group of activists—dressed to the nines—went into the event to make some noise, a larger-than-life "dog" led a spirited protest outside the club. Holding signs proclaiming, "Michael Young: Stop Cruel Muscular Dystrophy Tests on Dogs," the activists informed attendees that TAMU deliberately breeds dogs to develop a crippling and painful form of muscular dystrophy (MD) that leaves them struggling to walk, swallow, and even breathe.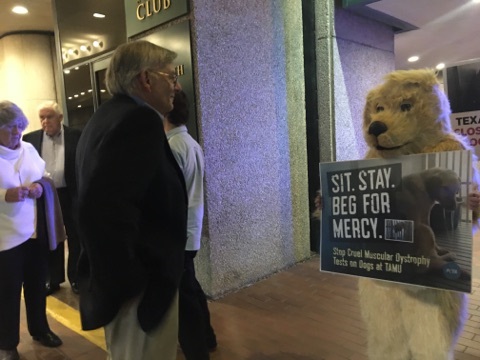 Overall, our message was well received. Except, of course, by Young and his crony security guards who tried kicking us out more times than we could count. The protest was the only thing that anyone was talking about!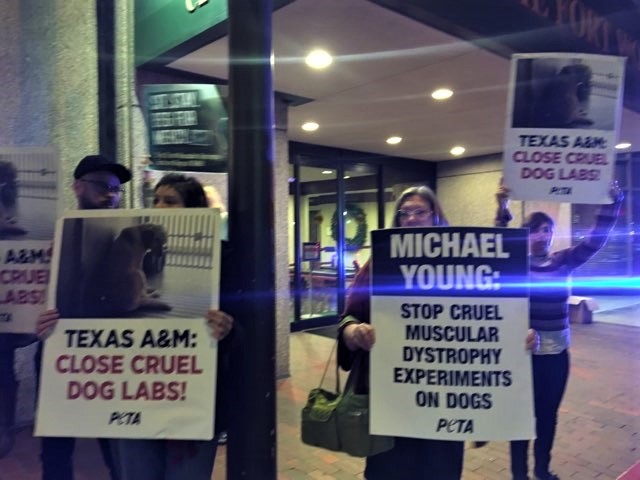 Finally, it was decided that the big bad demonstrators made the disgruntled, uptight crowd too uncomfortable. But before the activists could be pushed out, they began chanting, "Michael Young, shut the dog lab down now!"—only feet away from the infamous president. Our supporters sure know how to quiet a room.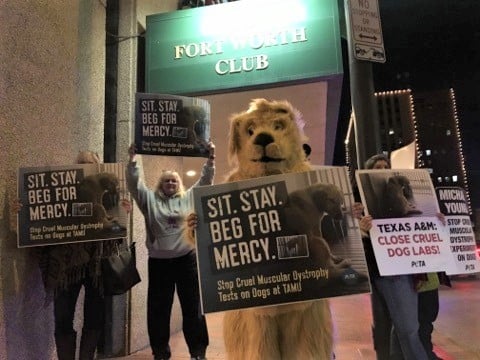 As Michael Young schmoozes with donors and goes about his well-funded life, scared and suffering dogs are being held under lock and key in TAMU's barren laboratories.
Crashing the alumni dinner is just the latest way that we've been keeping the pressure on TAMU to close down Joe Kornegay's laboratory, in which dogs are bred to have a crippling form of canine MD and then subjected to painful experiments. PETA is calling on the school to release all surviving dogs into loving homes.
Join thousands of other compassionate people who've told TAMU that this lab must go.
It makes no sense to dote on some animals as "companions" while condemning others to be treated as tools in a lab—they're all individuals who deserve to be treated with respect.
Please urge the university to close this laboratory, stop breeding MD-afflicted animals, and release all the dogs for adoption into good homes.