April the giraffe's pregnancy and delivery at a New York roadside zoo might have been one of the most-watched reality shows of the year. But there are other "giraffe cams" that didn't lead to spin-off websites, GoFundMe pages, and apparel lines. And they show exactly why everyone who cared about April and her baby should have been demanding that no more giraffes be bred for captivity.
Take this CNN report, for example: At the Copenhagen Zoo, an 18-month-old giraffe named Marius was shot, killed, dissected, and fed to lions, because the zoo considered him "surplus." Two years later, the zoo was touting a new baby giraffe, who was born in front of cheering crowds.
Last week, PETA had to step in after the Brights Zoo in Tennessee tried to send a giraffe named Alf to a Texas facility with ties to canned-hunting ranches. The zoo reportedly wanted to move him before he got older, since giraffes become harder to move as they age. The zoo likely would have replaced him with visitor-attracting baby animals. Alf was saved, but many others have not been so lucky.
Giraffes used for money-making exhibits are seen as commodities, and that's precisely how they're treated. This causes debilitating problems for these fragile animals. Just last month, a giraffe who was hauled to the State Fair of Texas and used to make a quick buck was reportedly injured after being scared by explosive fireworks. Here are the top seven reasons why giraffes don't belong in captivity:
1. Loading giraffes onto trucks and transporting them is psychologically and physically distressing—yet roadside zoos do it all the time. Last year, a 7-year-old giraffe at the Taipei Zoo died of lung and heart failure after he reportedly suffered a panic attack from being caged and loaded onto a truck.
Terrified #giraffe dies fm PANIC ATTACK after it's caged & loaded on a truck at #Taiwan zoohttps://t.co/DTKumQhhLk pic.twitter.com/97fqhxAygX

— People's Daily, China (@PDChina) August 11, 2016
When Texas animal dealer Larry Johnson and his company, Safari Enterprises, transported a pregnant giraffe to a zoo, she arrived with a broken neck and extensive muscle damage—and ultimately died. Another giraffe Johnson transported to a zoo was euthanized after breaking his neck during unloading.
2. Captive giraffes are frequently forced to go without routine hoof care because of their massive size and the risks associated with immobilizing and restraining them. PETA lodged complaints against the Lazy 5 Ranch in North Carolina for allowing two giraffes' hooves to become so overgrown and painful that the animals had trouble walking. The roadside zoo has been cited for doing this at least 10 times.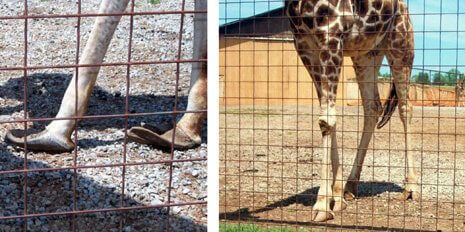 Numerous other roadside zoos, including Natural Bridge Zoo in Virginia, have been routinely cited for allowing giraffes to suffer with overgrown hooves.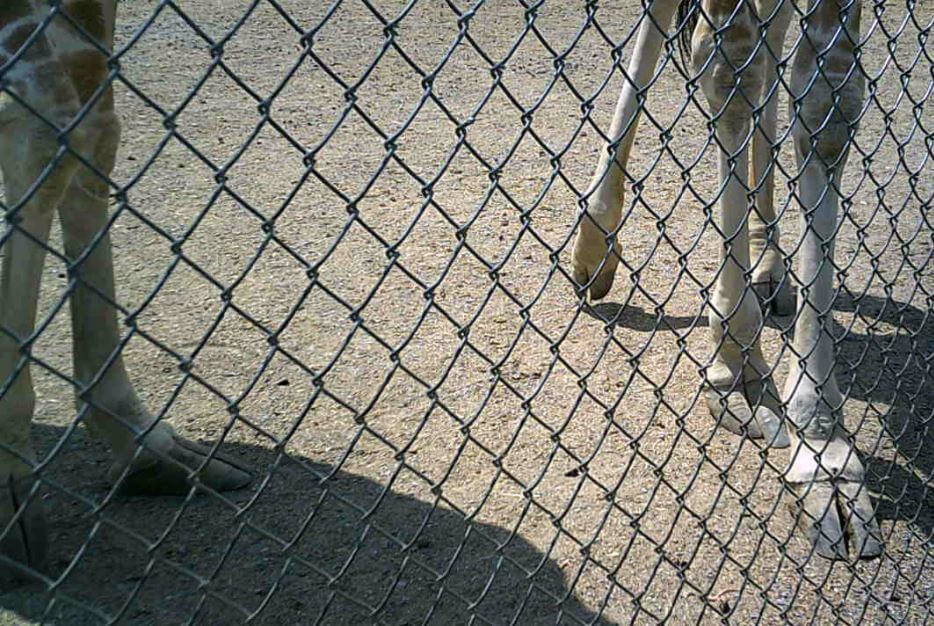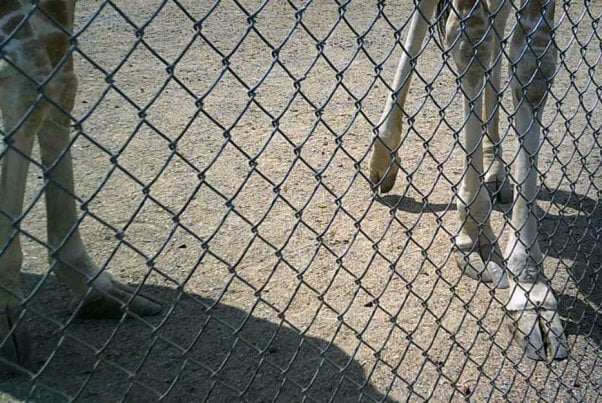 3. One study of captive giraffes at 41 institutions found that at least half were being fed an imbalanced diet. It found that "[t]he feeding practices of giraffes in the wild would be extremely difficult to duplicate in captivity in North America." Another study reported that 50 percent of captive giraffes suffered from a gastrointestinal disease associated with their improper diets.
4. Captive giraffes are also predisposed to the mysterious peracute mortality syndrome, a disease that causes sudden death without pre-existing evidence of disease or illness. At one zoo, five giraffes collapsed and died of this condition in an eight-year time span.
5. Research has found that nearly 80 percent of giraffes held in captivity engage in at least one abnormal behavior, such as pacing and licking nonfood objects. Repetitive, abnormal behavior patterns such as these develop in captive animals as a result of being held in chronically under-stimulating or stressful environments resulting in long-term stress, frustration, or deprivation.
6. Captive giraffes are routinely exposed to temperatures that their bodies are not suited for, and they're especially susceptible to disease during winter months.
7. Separation of bonded giraffes is known to cause psychological distress similar to that seen in primates, elephants, and other highly social animals. Yet they're often separated for breeding and other management purposes.
*****
Make no mistake: Keeping giraffes in captivity doesn't preserve the species. Many die young, and captive animals are almost never reintroduced into nature. At least three dozen captive giraffes have died in the past three years in the U.S. PETA urges everyone who cares about animals not to support companies that hold them captive just to sell tickets.