While responding to a call in Chesapeake, Virginia, a PETA fieldworker spotted a lone goose confined to a small, muddy pen with nothing but a little tub of filthy water to bathe in. An elderly woman had been trying to care for Butchy Boy, but he was more than she could manage. She leaped at the opportunity to give him a better life.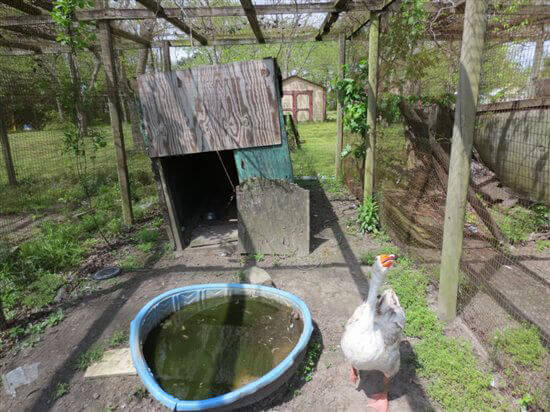 Our fieldworker gently placed him in a roomy carrier and stopped by a grocery store, where she stocked up on greens and cracked corn for him. Back at PETA's headquarters, the Sam Simon Center, Butchy Boy got a much-needed bath and honked with excitement when presented with not only edible goodies but also a pool of clean water to splash in.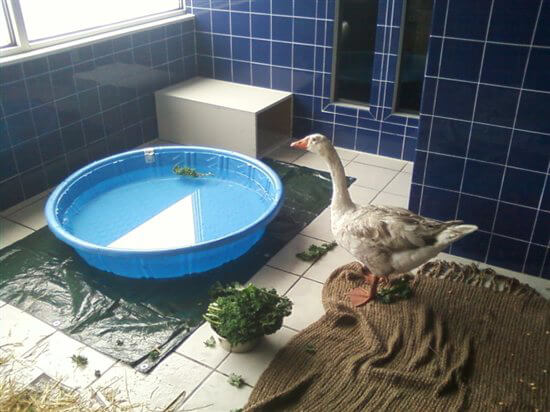 After a few days spent recuperating at PETA's shelter, Butchy Boy was transferred to a vegetarian farm that is also home to other animals PETA has rescued, including Sherlock the pig, potbellied pigs Pippi and Barb, and chickens Amanda and Little Daphna. Most importantly—at least as far as Butchy Boy is concerned—there is also a fetching female goose who quickly took a liking to him and vice versa.
What You Can Do
If you ever suspect that an animal is being neglected or abused, immediately call local authorities. If you don't get results, call PETA for advice.