Until recently, experimenter Rajesh Aneja carried out cruel and useless sepsis experiments on mice at a University of Pittsburgh (Pitt) laboratory that were funded by the National Institutes of Health (NIH)—aka "your tax dollars." But now, for the first time in more than a decade, Aneja is without federal funding. Prior to losing NIH's backing, he had induced painful and deadly sepsis in hundreds of mice, puncturing their intestines and allowing fecal matter and accompanying bacteria to leak into their abdomens.
Thanks to your actions, this government gravy train has been derailed. You've helped us prevent even more mice from being subjected to unimaginable agony. Here's how we did it:
1. An Impossible-to-Ignore Eyewitness Investigation
PETA first discovered Aneja's cruel experiments during our eyewitness investigation at Pitt. We published details, photos, and video footage that show how the awful procedure—which tells us nothing useful about treating sepsis in humans—is done.
The laboratories at Pitt may be hidden from public view, but we made people aware of the horrors that occurred there.
2. 129,000 E-Mails
We've been working to end testing on animals for 38 years, and during this time, we've learned something important: It's difficult for federal agencies to ignore more than 100,000 e-mails. So that's exactly what we delivered. PETA supporters filled NIH inboxes with nearly 130,000 e-mails. Our members and supporters also phoned the agency, demanding that it immediately stop funding these cruel and worthless experiments.
3. PETA Scientists Cranked Up the Heat
Our staff scientists made sure that NIH got the memo—writing letters and even giving a presentation at an international conference to explain why the sepsis experiments are such a massive waste of time, money, and lives.
4. A Damning Print Ad
We placed an advertisement in the school newspaper, The Pitt News, informing students about the experiments.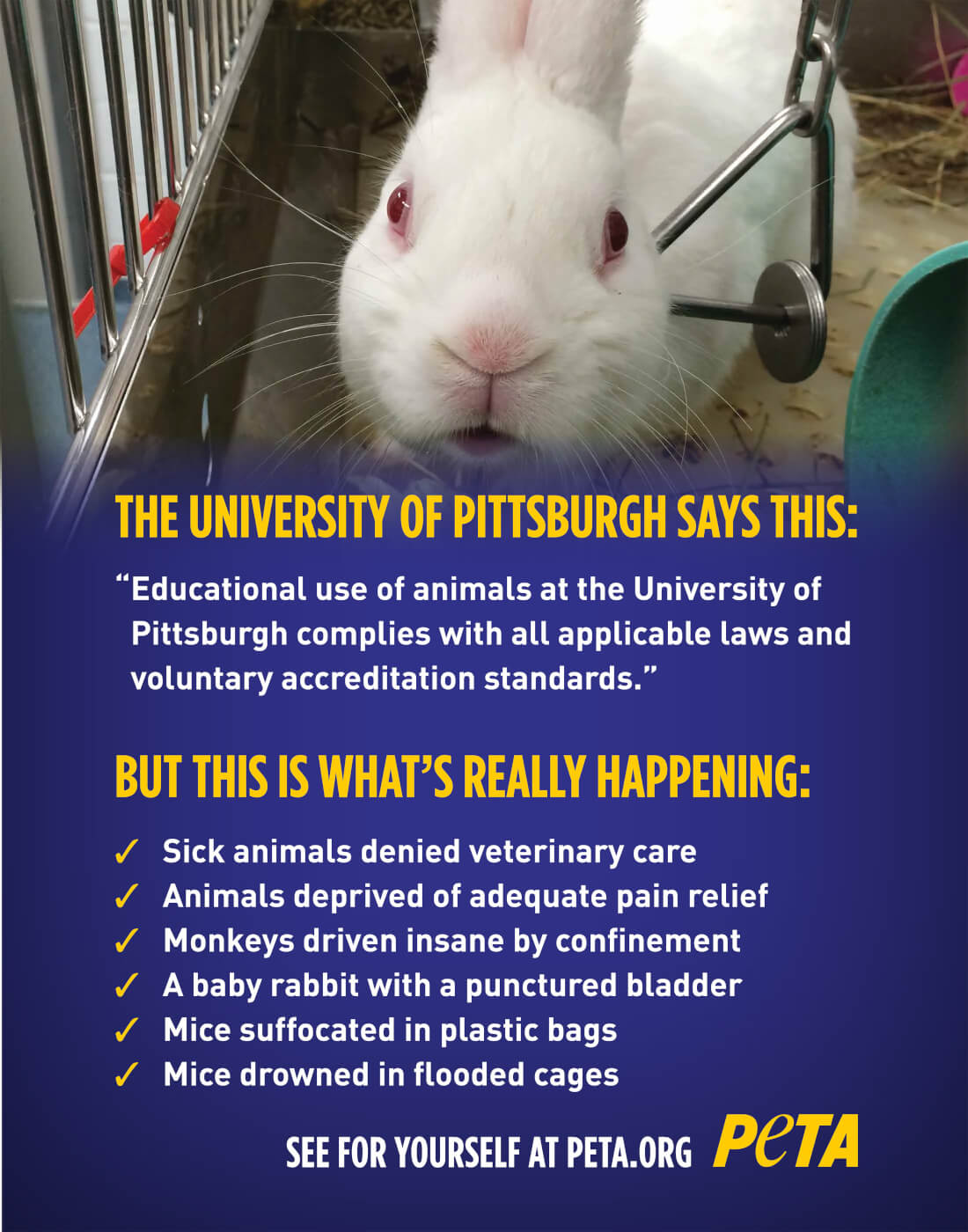 Many of them signed our petitions and demanded that experimenters stop tormenting animals under their noses and in the name of their university.
5. Takin' It to the Streets … and the Boardroom
We led multiple spirited demonstrations to protest the cruel, wasteful experiments, including one in which a giant mutilated "mouse" and more than 30 PETA supporters greeted staff at the Department of Health & Human Services in Washington, D.C.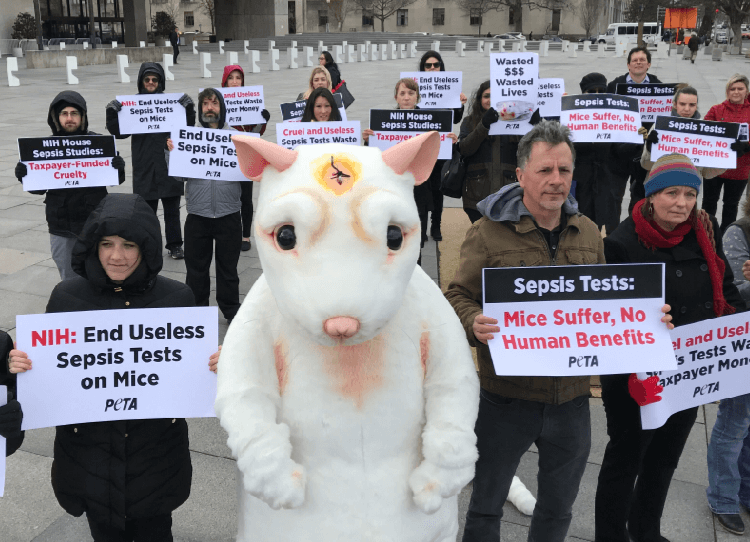 Photos from a demonstration inside the city's metro system urging NIH to cut its funding were retweeted more than 100 times and received more than 200 "likes" on Twitter.
#DC: This giant "mouse" rode the metro during morning rush hour to call on @NIH to STOP funding cruel & painful sepsis experiments on mice. pic.twitter.com/Dgbvk9Vgeb

— PETA (@peta) May 15, 2018
A Facebook live video of the same demonstration was viewed more than 26,000 times.
EXPOSED: This giant "mouse" is exposing cruel experiments on animals funded by the National Institutes of Health (NIH) while riding the metro in #DC during morning rush hour!

Posted by PETA (People for the Ethical Treatment of Animals) on Tuesday, May 15, 2018
One activist also disrupted a Pitt board of trustees meeting, urging members to "[e]nd cruel mouse tests."
It Worked!
Supporters like you helped make our campaign against Pitt and Aneja impossible to ignore. Aneja is out of federal funding, which means that countless mice will be spared painful, wasteful testing. But other animals still need our help. Click below to urge NIH to stop throwing away taxpayer money on other cruel, useless animal experiments and instead support modern, non-animal methods of research.