Victory for animals! Ralph Northam, the governor of Virginia, has signed Senate Bill 1030—which bans public contact with dangerous captive animals—into law. This new law, which will take effect on July 1, 2021, will prohibit public handling of bears, primates, and certain big cats, such as tigers and lions, who are held captive in shoddy roadside zoos and tourist attractions. Champagne corks are popping at PETA, as this will, in effect, eliminate cruel cub-petting operations in the Commonwealth.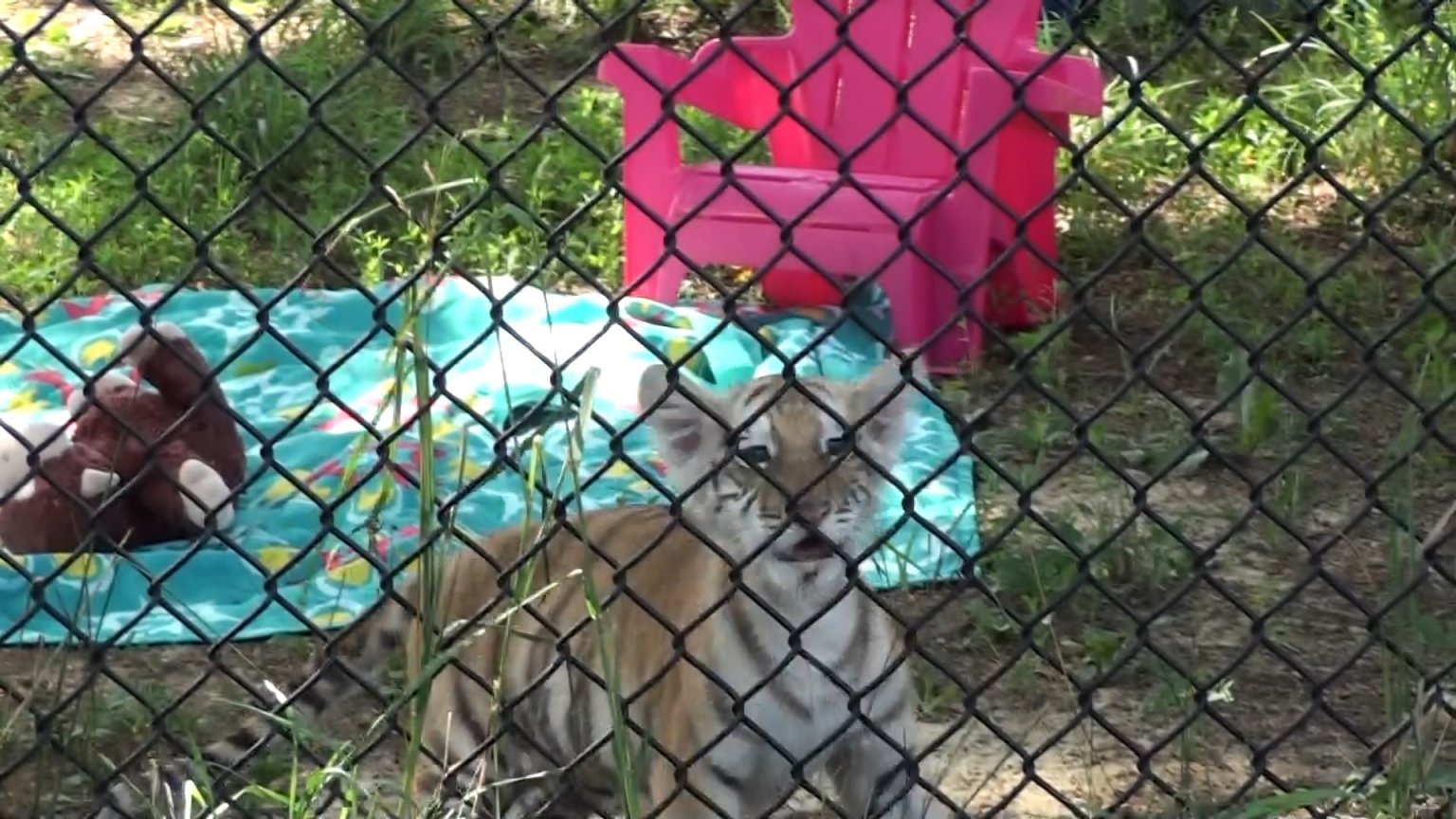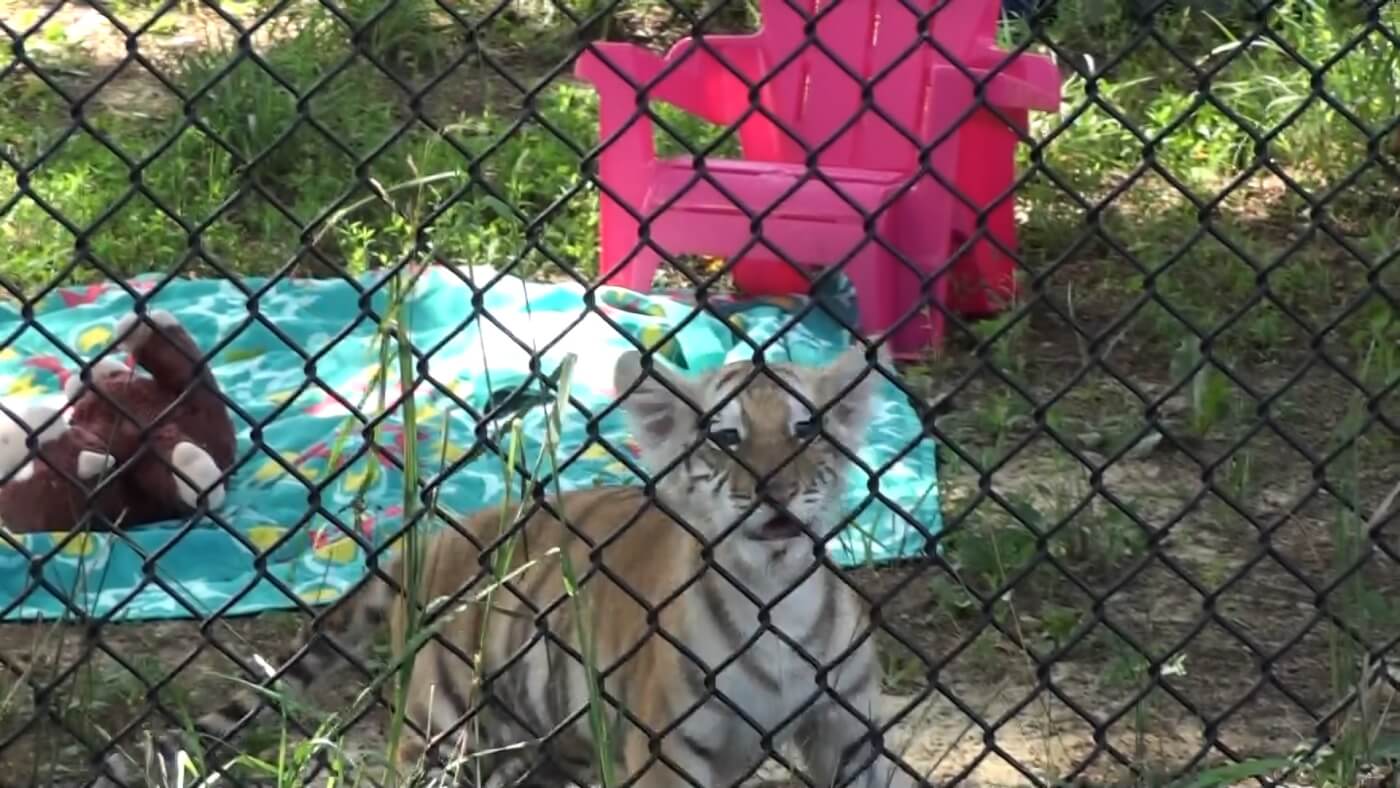 How Baby Animals Suffer in Roadside Zoos
The cub-petting industry churns out baby tigers and bears, tears them away from their mothers, and charges the public hundreds of dollars to hold them. These vulnerable infants have weak immune systems and can't maintain their own body temperatures. Like humans, they need their mothers for nutrients, warmth, and disease protection. Kept inside cages, they're denied that basic, vital care when used as photo props.
Handling by strangers puts cubs' lives at risk. As one U.S. Department of Agriculture (USDA) official explained, these cubs are "doomed" and often disappear without a trace.
Those who do survive grow too large and dangerous for public contact within mere weeks. These animals will be caged for life in roadside zoos, circuses, or backyards. Others will be killed. One of the industry's most prolific tiger breeders, known as "Joe Exotic," was recently convicted in federal court for shooting tigers to make room for other animals at his ramshackle roadside zoo, among other crimes. Because this business model relies on a constant supply of tiny cubs, the breeding cycle simply continues unless states refuse to allow it, as Virginia has now done.
Problems With the Natural Bridge Zoo in Virginia
In the past, the Natural Bridge Zoo (NBZ) in Natural Bridge, Virginia, charged visitors up to $300 to get their photos taken holding a tiger cub. It has been cited by the USDA for using cubs who were too young to be handled and others who were too big and strong for this purpose.
This facility has been cited for nearly 150 violations of the federal Animal Welfare Act, including for withholding food from bears, confining animals to mud-filled enclosures, and denying dozens of animals adequate veterinary care. The USDA has ordered it to pay tens of thousands of dollars in federal animal welfare penalties, and the Virginia Department of Game and Inland Fisheries has suspended its permit for unsanitary and inhumane conditions.
While cruel elephant rides at NBZ will continue, big-cat cubs will no longer be subjected to stressful and uncomfortable photo ops at the park.
Connections to the Hit Netflix Series Tiger King
In 2015, the Humane Society of the United States released an investigation of NBZ, which showed Gretchen Mogensen—daughter of zoo owner Karl Mogensen—striking tiger cubs in the face and allowing the public to handle the distressed baby animals. According to the video footage narration, the animals were kept deliberately hungry so that they could be more easily controlled during public handling sessions.
Following the investigation, Gretchen Mogensen fled Virginia with two cougars, a tiger, and several other exotic cats. She went to Myrtle Beach Safari, run by the notorious "Doc" Antle. After that, she worked at G.W. Exotic Animal Memorial Park, also featured on Tiger King. Her fiancé served as a camera operator for Joe Exotic and directed his music video "Here Kitty Kitty." Mogensen is now back in Virginia at NBZ.
What You Can Do to Help Captive Animals
Never visit any roadside zoo or tourist attraction where captive animals are exploited for profit.
You can take direct action for animals today by urging NBZ to retire the solitary elephant Asha to a reputable sanctuary, where she can enjoy vast spaces to roam and the company of other elephants, which she has so long been denied.