These days, more and more hearty vegetarian meals are popping up at sports venues across the continent. So, after years of ranking the most vegetarian-friendly Major League Baseball parks and NFL stadiums, PETA has surveyed the top vegetarian-friendly NBA arenas, and the results are in: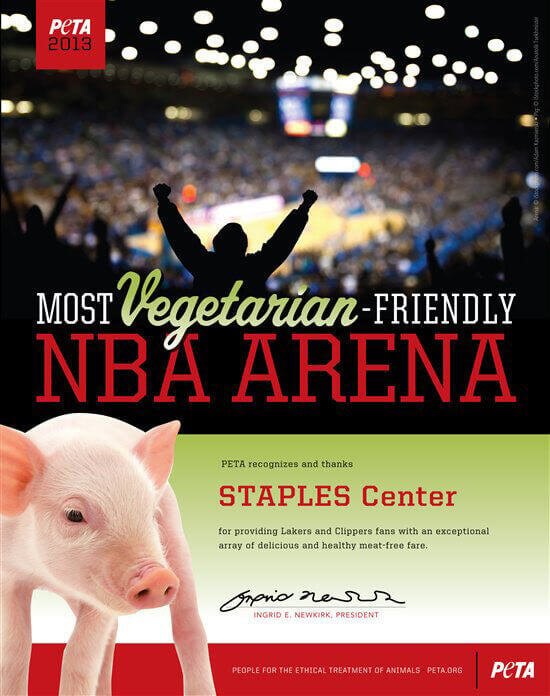 Because Lob City is playing its best basketball in years, thanks to Blake Griffin and Chris Paul, Clippers fans may have more to cheer about this year than Lakers fans do. But fans of both teams have reason to celebrate the STAPLES Center's awesome vegetarian fare. With vegan sloppy Joes, a veggie burger, vegan sushi, a grilled veggie sandwich, and a hummus-and-pita plate, the STAPLES Center's vegetarian concessions are a slam dunk for fans, no matter which team they're rooting for.
The NBA's only international team fittingly offers a menu with international flair. Fans in general seating can choose from a vegan burrito, a hummus-and-veggie wrap, a veggie dog topped with tomato and scallions, or a Bollywood veggie dog with potatoes, tamarind ketchup, papadum, and mint chutney. In premium areas, vegetable sushi and chilled Vietnamese summer rolls are on the menu. Fans flocking to see new arrival Rudy Gay won't be disappointed with his performance or with the food at halftime.
When Andrew Bynum will suit up for the Sixers remains a mystery, but one thing is certain: Fans looking for delicious, animal-friendly fare have come to the right place. Veggie dogs, two kinds of veggie burgers, and roasted butternut squash soup round out a starting lineup of vegetarian superstars that give Philly fans plenty to cheer about.
Brandon Jennings and Monta Ellis were All-Star snub victims, but vegetable-loving Bucks fans are welcomed with open arms at the BMO Harris Bradley Center's concession stands. They can choose from vegan tempeh sloppy Joes, hearty veggie burgers, traditional PB&J sandwiches, fresh fruit, and baked potatoes. Meanwhile, fans in premium areas can enjoy hot flatbread sandwiches made with marinated tofu, pesto, and chipotle Vegenaise. And we can't help but wonder if the vegan energy bars are what give Larry Sanders his impressive energy.
 5. Oracle Arena 
Second-year head coach Mark Jackson has orchestrated a remarkable turnaround for the rejuvenated Golden State Warriors. But fans crying foul because Stephen Curry was left out of the All-Star game certainly won't feel cheated when they sample the tasty vegetarian fare at Oracle Arena. A Vietnamese ginger-garlic tofu sandwich, tofu lettuce wraps, and Vietnamese noodle salad lead an All-Star lineup of healthy, animal-friendly snacks that are sure to have fans rebounding for more.
 6. Rose Garden 
Number six overall draft pick Damian Lillard is favored to win the NBA Rookie of the Year Award, so it's only fitting that Portland's Rose Garden has netted sixth place on PETA's list, thanks to a variety of options like veggie burgers, vegan protein shakes, vegetable sandwiches, a broccoli stir-fry with rice or noodles, and granola with berries, bananas, and vegan protein powder at concession stands—plus, stir-fried soy strips with pineapple and teriyaki sauce in the suites.
Derrick Rose may not be returning any time soon, but the delicious meat-free fare at the United Center gives Bulls fans plenty to smile about. A vegan tempeh sloppy Joe, a veggie burger, and a baked potato lead the charge.
8. AT&T Center 
For yet another year, the Spurs find themselves with one of the best records in the NBA, and now they can tout another accomplishment: earning a spot on PETA's top 10 list. It's fitting that familiar favorites, including bean burritos and tacos, vegan apple turnovers, and, in premium areas, vegan sloppy Joes, would be found at the home of the veteran team.
Indiana's faithful should be proud, as suffocating defense and physical play have kept the Pacers in the mix in the East, even without leading scorer Danny Granger. Another source of pride? Bankers Life Fieldhouse's hearty vegan sloppy Joes, veggie burgers, and garden-fresh salads, which have animal-friendly fans swarming to the concession stands just as their Pacers swarm to the ball.
10. The Palace of Auburn Hills
We know that the days of violence at The Palace of Auburn Hills are behind us, so if you're a Pistons fan, why not indulge in some cruelty-free fare, including vegan sloppy Joes, fresh fruit, smoothies made with soy milk, and quinoa-and-lentil salads? Greg Monroe and Andre Drummond clearly have bright futures ahead of them, and Pistons fans can, too, thanks to healthy and delicious meat-free meals.
Bear in mind that we've just mentioned a small sampling of the vegetarian food being offered—and that these arenas are just the best of the best. Many other venues also offer a wide variety of vegetarian options, including honorable mention awardees Madison Square Garden (falafel, veggie sushi, edamame), Philips Arena (vegan sloppy Joes, pasta, baked potato), Time Warner Cable Arena (lentil veggie burger, grilled vegetable kebab, vegetarian panini), Sleep Train Arena (vegan sloppy Joes and veggie burgers), and Amway Center (vegan sloppy Joes and veggie burgers). 
No matter which team gets your blood pumping, you can help make sure that you're around to cheer them on for many years to come by choosing healthy vegetarian snacks. To paraphrase vegan NBA champ John Salley, it's the best damn way to eat. Period.