UPDATE: Following PETA's campaign, UW-Madison ended its cruel brain experiments on cats in January 2015.
Originally posted Dec. 6, 2013:
Thousands of students and residents in Madison, Wisconsin, are getting a rare glimpse inside a secretive cat laboratory at the University of Wisconsin–Madison (UW):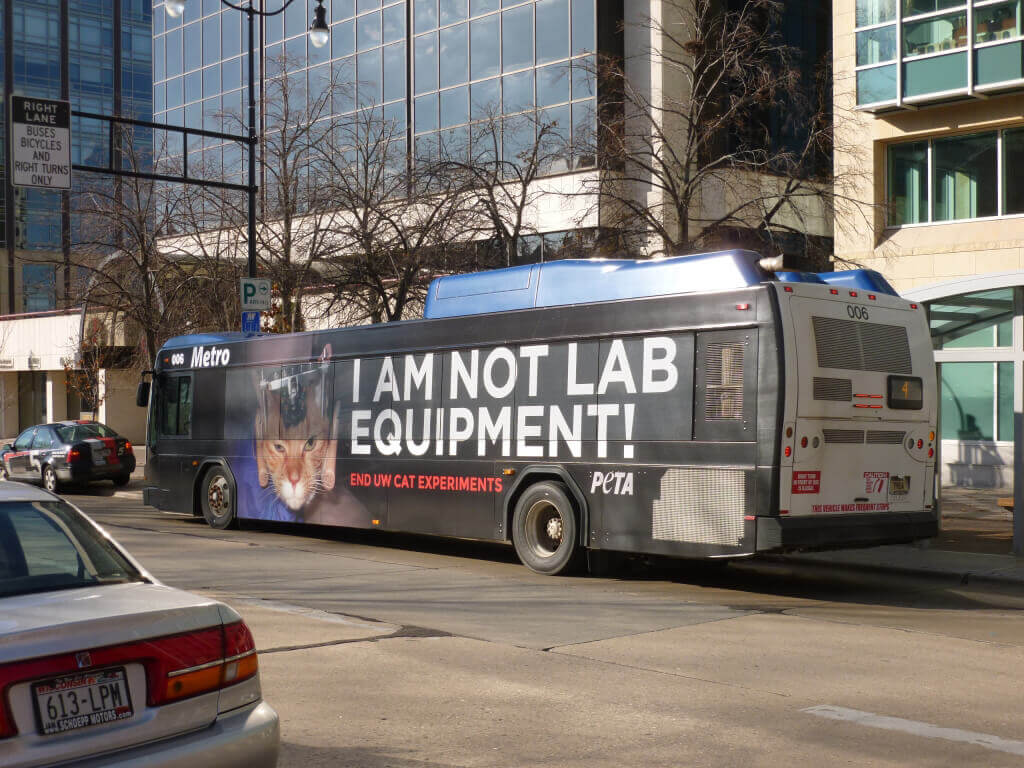 After months of back and forth with Madison's transit agency, the ads are currently running inside and outside more than 130 city buses—more than half of the city's entire bus fleet!  The cat in the photo is Double Trouble, who was abused and killed in gruesome experiments conducted at UW.
In the experiments, cats have holes drilled in their heads, steel posts screwed to their skulls, and metal coils implanted in their eyes. Double Trouble was intentionally deafened and starved and eventually killed and decapitated. PETA obtained the shocking photograph following a three-year legal battle, during which UW tried to keep secret the disturbing photo and others like it.
After PETA filed a complaint about the experiments, the National Institutes of Health (NIH) confirmed PETA's allegations that UW failed to take adequate steps to avoid and treat the cats' infected, open head wounds and that UW failed to adequately justify the use of cats. As a result, the NIH ordered that the experiments be suspended for nearly six months while UW implemented major changes.
A separate report by the U.S. Department of Agriculture found rampant infections among the cats used in these experiments. Some infections were so severe that they resulted in the removal of one cat's eye and the euthanasia of other cats.