The University of Washington (UW) is looking for a new spin doctor to slap a smiley face on its floundering Washington National Primate Research Center (WaNPRC), according to a posting the school is running on various job sites.
The public relations and media manager position, according to the posting, would be responsible for advancing the WaNPRC's mission "to empower the delivery of leading-edge scientific discoveries and promoting the highest standards of care, health, well-being and conservation for primates around the world."
What a crock. Let's talk about those "highest standards of care" for a minute.
As recently as October 2022, the U.S. Department of Agriculture (USDA) fined UW for numerous violations of the federal Animal Welfare Act (AWA), some of which took place at the WaNPRC in Washington and others at its facility in Mesa, Arizona:
A monkey died from suffocation after becoming entangled in an improperly installed "enrichment device."
The left arm of a monkey was amputated due to injuries sustained when she escaped from an enclosure that workers had failed to secure.
Several escaped monkeys were injured while fighting with other monkeys.
A monkey died after a botched experimental surgery.
A letter from the USDA, which is notoriously soft on animal rights violators, reveals that even before then, it was taken aback by the WaNPRC's lackadaisical approach to animal welfare:
"The fact that these [noncompliance items] took place over an approximately 9-month period is not indicative of a facility that is demonstrating success at preventing critical animal welfare issues."

—Robert M. Gibbens, DVM
Highest standards indeed.
And we haven't even mentioned The Arizona Republic's four-part, award-winning series exposing that UW's pig-tailed macaque facility in Arizona was rife with disease, toxic exposures, and death, all pointing to a stunning disregard for scientific integrity, public health, the responsible use of taxpayer funds, and the most basic animal welfare standards.
When Up Is Down
How about the WaNPRC's supposed efforts at "conservation"? Over two decades, UW has imported pig-tailed macaques from Indonesia and confined them to disease-ridden facilities in Arizona, Louisiana, Texas, and Washington that have routinely been cited for AWA violations. UW then sells these macaques to laboratories around the country, where they spend the rest of their short lives in—or fearing—pain, until they're deemed to be of no further use and killed.
It's important to note that UW's voracious demand for long-tailed and pig-tailed macaques is among the reasons these two species are now among the most endangered in the world, according to the International Union for Conservation of Nature, which says the experimentation industry is a significant factor in their population decline.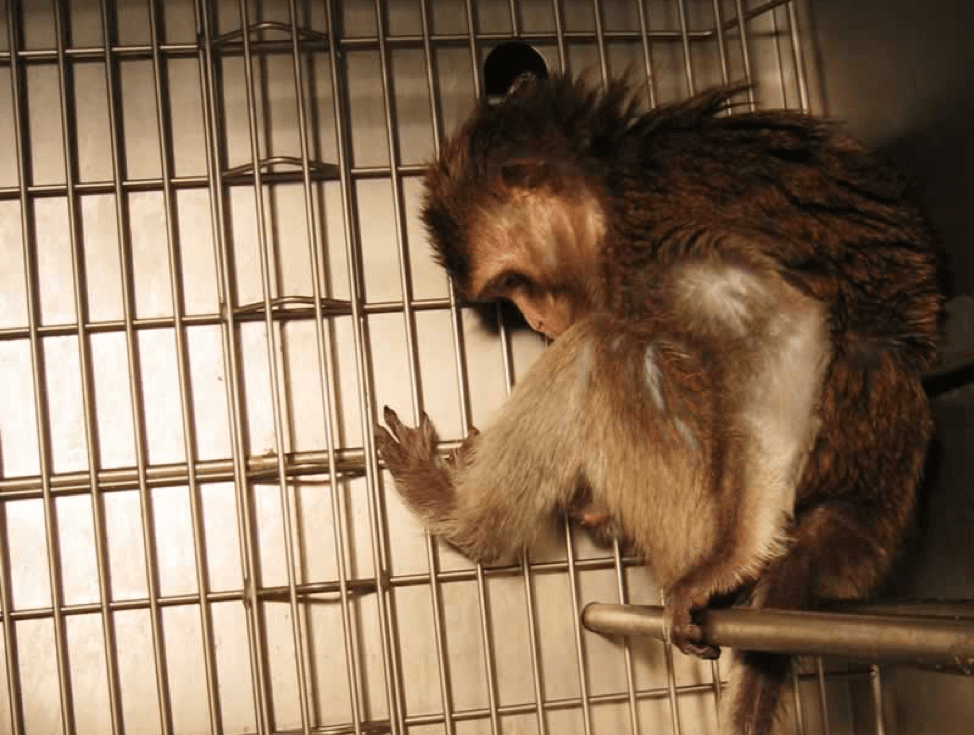 Wanted: Obfuscator-in-Chief
The new WaNPRC spin doctor will have quite a time trying to put a sunny face on "legislative responses" such as that from Sen. Cory Booker (D-NJ), who, after learning details of the WaNPRC's atrocities, urged the U.S. Department of Health and Human Services to investigate why the troubled primate center's core grant was renewed.
The new hire will head up "strategizing response to Public Information Requests," the ad says. If history is any guide, rather than just handing over requested information, the leading candidate will have to be willing to produce muddy language that WaNPRC hopes will justify the denial of requests, in keeping with a longstanding WaNPRC tradition. Occasionally, the new employee will have to explain, tactfully, why UW had to write PETA a check for nearly $540,000 in fees and penalties, plus more in interest, after a state court found that it had improperly withheld and destroyed public records.
Let's Be Honest for a Second
What UW really wants is someone at the WaNPRC who will use whatever means necessary to conceal its ineptitude, put a pretty face on its continuous torment of monkeys, and distract from its wholesale absence of progress in human medical treatments. This is an institution chiefly in service of its own perpetuation, not human medical advancement.
We agree that the WaNPRC has a public relations problem. But no PR manager, no matter how adept they are at coming up with misleading soundbites, will ever be able to explain away the horrors and junk science that riddle the place.