Following a complaint from PETA alleging the painful and horrific deaths of two monkeys at the hands of pharmaceutical giant Bristol-Myers Squibb, the U.S. Department of Agriculture (USDA) has not only confirmed the allegations and cited the company for egregious violations of the Animal Welfare Act but also took the additional rare step of fining the facility $2,625 for the violations.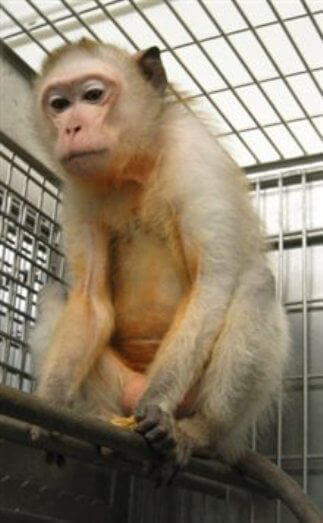 Playing Fast and Loose With Animals' Lives
PETA submitted the complaint to the USDA after a whistleblower reported that a monkey and a rat had been scalded to death at a Bristol-Myers Squibb laboratory in New Jersey when their cages were run through the high-pressure cage washer with the animals still inside. The trapped animals endured intense agony and terror as the blistering-hot water burned their flesh.
The whistleblower also reported that another monkey strangled to death after she was attached to the front of her cage—apparently by some sort of tether—then left unattended. PETA's complaint asked the agency to investigate these deaths and to hit the corporation where it hurts—in its bank account.
How You Can Help
We hope the fine has gotten Bristol-Myers Squibb's attention, and PETA—which holds stock in the company so that it can raise these issues with the board and stockholders—will continue to push for an end to relying on cruel and unreliable animal tests by switching to superior, modern non-animal methods. Please ask Bristol-Myers Squibb to make sure that these recommendations are implemented.