Against the wishes of members of Congress and 87% of the American people who weighed in—and at the behest of the meat industry—the U.S. Department of Agriculture (USDA) is eliminating pig slaughter speed limits and hurting animals, workers, and us all.
The agency announced that it would remove pig slaughter line speed limits, one of the few meager protections that animals killed in slaughterhouses had, despite an intense public outcry. Many members of Congress spoke out against the proposal, and 87% of the public comments submitted were in opposition to the change. Pandering to meat industry special interests, the agency is also slashing USDA inspections by 40%, leaving slaughterhouses largely to police themselves.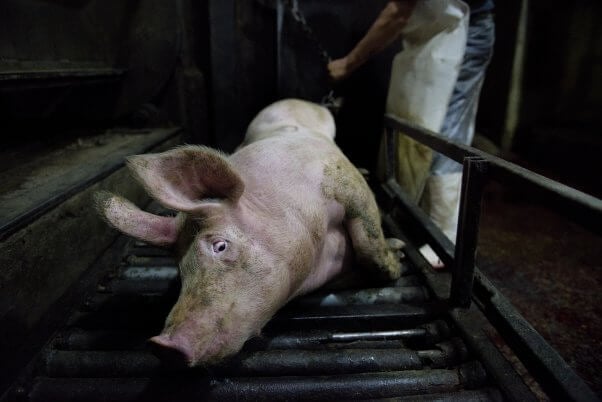 © Aitor Garmendia / Tras los Muros
The meat industry claims that it's "modernizing," but there's nothing modern about forcing workers to kill animals at a breakneck pace, drastically increasing the risk of mistakes, worker injuries, and animal suffering.
PETA Latino released a statement to the media in the wake of the rule change, which has a disproportionate impact on Latino workers:
"Allowing slaughter facilities to operate with no limit on the number of pigs killed per hour is a reckless and cruel move by the U.S. Department of Agriculture to line the pockets of greedy meat-industry executives at the expense of public health, animals, and slaughterhouse workers, who are often among the most vulnerable members of the U.S. workforce. This policy will only increase the injury rate among meatpacking workers—which is already nearly 2.5 times higher than the national average for all industries—as well as the risk of meat contamination and the number of pigs who are improperly stunned and remain conscious as their throats are slit and they are dumped into scalding-hot hair-removal tanks."
Intelligent, gentle pigs already suffer enough during slaughter. Before slaughter line speed limits were removed, a typical slaughterhouse was already killing about 1,100 pigs every hour, or more than 18 animals every minute. The USDA itself documented 14 humane-slaughter violations at just one processing plant, where inspectors found hogs who "were walking and squealing after being stunned [with a stun gun] as many as four times." Now, there will be even less time for stunning.
According to one slaughterhouse worker, "There's no way these animals can bleed out in the few minutes it takes to get up the ramp. By the time they hit the scalding tank, they're still fully conscious and squealing. Happens all the time."
It's a cruel fate for animals whose personalities and cleverness are astoundingly similar to those of the dogs we share our homes with. They're playful, form tight bonds, dream, sprawl in the sunshine, learn tricks, and demonstrate empathy. Like humans, they enjoy music, playing with soccer balls, and getting massages, and some even enjoy playing video games.
You don't have to fund this abuse.