Update: March 18, 2019
"Yeah, yeah. She's just tired."
That's what first-time Iditarod musher Richie Beattie told KTVA reporter Daniella Rivera of 5-year-old Oshi—one of the dogs Beattie forced to run the cruel race—shortly before the dog's death. She died of aspiration pneumonia—which was a result of inhaling her own vomit—just a day after crossing the Iditarod finish line. In the video below, Beattie can be seen dragging her by her harness to the towline with the other dogs. He was called away by the race marshal after Rivera tried to ask about Oshi's condition.
Although Beattie was slated to take home the Rookie of the Year award (which is given to the dog abuser who's the top-performing first timer in the race), he was disqualified after Oshi's death, per race rules. Ed Hopkins, the musher who did win the rookie award, announced at a banquet on Sunday that he'd give the $2,000 prize money to Beattie, Oshi's grim reaper.
What exactly are mushers being awarded for?
If mushers raced the Iditarod trail using only their own strength—without harming, exploiting, or killing any dogs—that would certainly be a feat worth celebrating. But they don't—there's little to no athleticism involved in what mushers do, which is force dogs to pull a sled across the 1,000-mile Alaskan trail against their will. True human athletes are ones who run 1,000 miles themselves, and many have. These female British soldiers who crossed Antarctica on human power alone, for example, have proved that they're the type of endurance athletes Iditarod mushers wish they themselves could be.
Update: March 18, 2019
Musher Sarah Stokey proved that she doesn't care about dogs' well-being—but rather only about winning—when she periodically walked during 16 hours of her Iditarod trek, dragging her dogs along with her. She opted to walk after the animals she'd forced to race refused to take the lead. But if she'd really wanted to test and prove her endurance, she should've pulled her own sled for the entire race, instead of simply walking alongside the exhausted and abused dogs for whom she was responsible.
Update: March 17, 2019
Another tragedy has struck among the dogs forced to run the deadly Iditarod race. Oshi, a 5-year-old dog who completed the event as part of musher Richie Beattie's team, died from aspiration pneumonia.
https://twitter.com/peta/status/1107319703326900227
She was just like any family's dog, but the Iditarod forced her to run until she choked to death on her own vomit, just like so many dogs before her. Of those who survive, 81 percent are left with lung damage and 61 percent with gastric ulcers.
PETA is demanding a full veterinary evaluation of every single dog who was forced to run in the 2019 Iditarod, including the 235 who were pulled from the race, so that the public can see how mushers' pursuit of the prize purse under the pretense of loving these dogs shows a complete lack of concern in pushing them to and beyond their limits. If this had happened to human athletes, people would be in jail.
Update: March 15, 2019
Alaskan Pete Kaiser was the first to cross the 2019 Iditarod finish line, winning the dog-sledding race on Wednesday. Hundreds of dogs (including six from Kaiser's team) were so sick, exhausted, or injured that they were pulled from the race, forcing the ones remaining to work even harder, struggling on in a grueling test—not of human endurance but of a dog's ability to survive extreme cruelty. Shaynee Traska's dogs were so injured that she had to bail from the race, and Nicolas Petit's simply refused to go any further.
https://twitter.com/peta/status/1105958724189982721
The Iditarod prize money cost the exhausted dogs broken bones, bruised paws, and bloody ulcers. This race must end.
Update: March 11, 2019
It seems that even the dogs are joining in on PETA's Iditarod protests: Former race frontrunner Nicolas Petit has lost his first-place status, as his dogs refused to continue running.
BREAKING: Dogs who were forced to pull the leading musher of the 2019 #Iditarod refused to continue racing. They just stopped running.

Dogs do NOT want to be forced to run through biting winds and dangerous temperatures. #EndTheIditarod https://t.co/rJgs0C9Lz5 pic.twitter.com/Y2qoVRgrwv

— PETA (@peta) March 11, 2019
Illness, injury, or fatigue likely prompted him to drop four dogs from his team. This meant that the remaining 10 dogs were forced to work even harder—before they gave up altogether.
Petit—who forced the team of dogs to run hundreds of exhausting miles through ice and snow—claimed that their lack of drive was "just a head thing." Please. The only ones who need to have their heads examined are the people who continue to support this merciless, deadly race.
Update: March 8, 2019
Six-time Iditarod musher Richie Diehl is recovering from some bloody wounds after taking a tree to the face out on the Iditarod trail.
Tree vs. musher: Here's how Aniak musher Richie Diehl got those gnarly cuts around his eye – Anchorage Daily News https://t.co/jM5dFyMGm2

— MSparck (@msparck) March 7, 2019
While Diehl was looking around, taking in the scenery as his team of 14 dogs did all the grueling work, a tree overhanging the trail hit the unsuspecting musher in the face. He recalled being in a frazzled state, running after the runaway dogs and leaping to catch the sled.
Ironically, Diehl stated, "There's always somebody who has it worse," adding, "so it's just like, quit your bitching and keep moving."
We can think of over 150 "someones" who died while being forced to pull humans on the Iditarod trail—and they had it much, much worse.
Update: March 7, 2019
Mushers are reportedly hallucinating after more than 48 hours with little sleep during the Iditarod. Musher Lance Mackey states that he eats and drinks "nonstop" to stay awake, yet he forces the dogs to race without stopping to eat or rest as they please. Musher Emily Maxwell even said that she tends to "nod off" as the dogs continue to pull her sled.
"Your whole body feels like a little bit trembly and kind of weak, you know, but obviously you have a lot of … stuff that you have to do," said Maxwell.
Imagine what the dogs—who are forced to pull these mushers approximately 1,000 miles—are feeling.
Originally posted on March 6, 2019:
The 2019 Iditarod race—an annual dogsled race known for its sordid history of dog injuries and deaths—is off to yet another rocky start in 2019. Musher Linwood Fiedler lost his entire team of 13 dogs when the line connecting the animals to his sled broke. As they ran free of the sled, one is believed to have been dragged through the snow by the others. More alarming still, Fiedler described actually being able to find the lost dogs—who had run away from the trail—as "lucky, lucky, lucky." It's horrible to imagine what would've happened to these dogs if they'd never been found in the frigid Alaskan wilderness. Fielder eventually departed from the Nikolai checkpoint, forcing all 13 dogs to continue the race with him.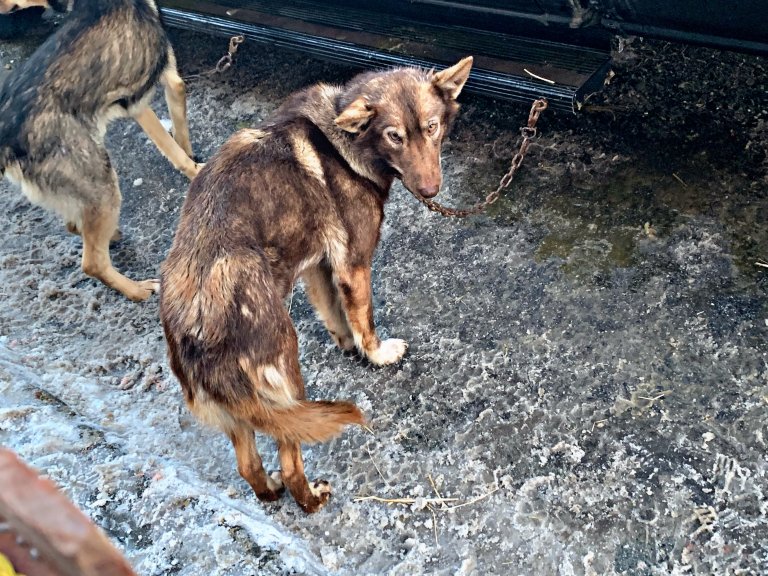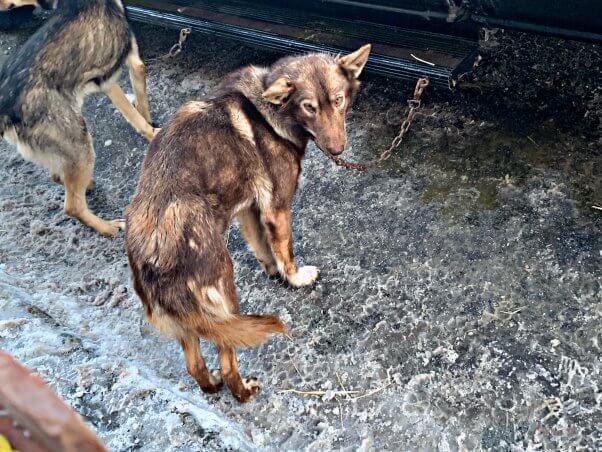 The Iditarod is hell frozen over for the dogs who are forced to run it. Injuries, deaths, and accidents—like the one described above—are par for the course. Outside of racing season, the animals spend their entire lives at the end of a heavy chain. Breeders of dogs used for sled races have freely admitted that those deemed "surplus" are simply killed.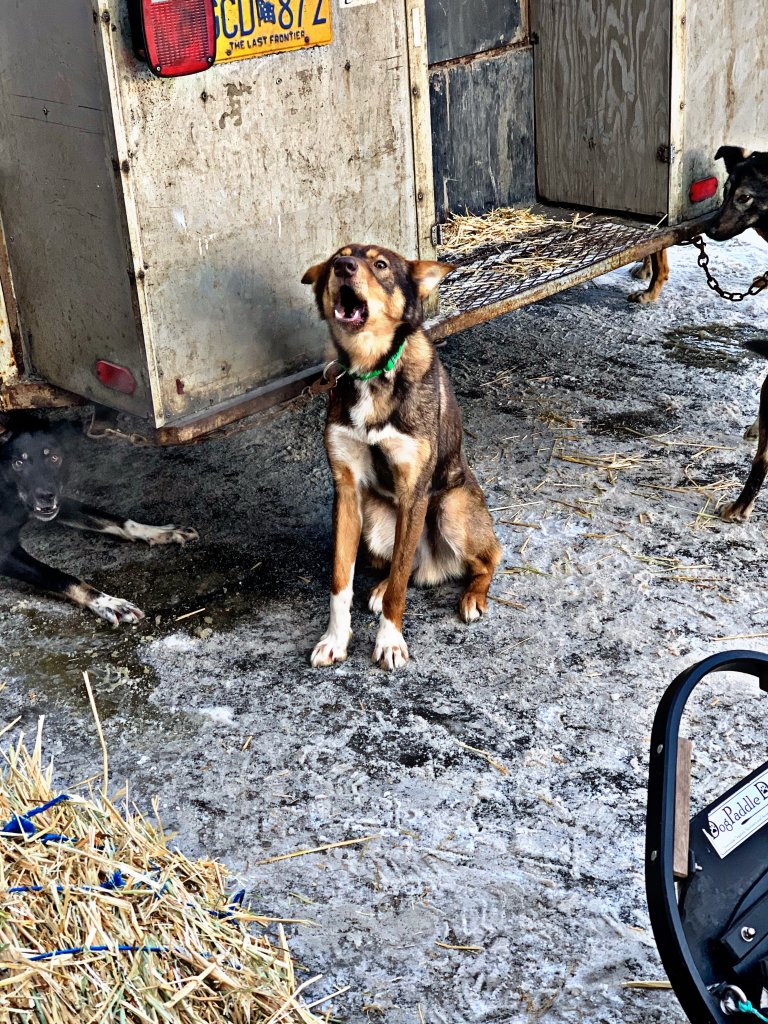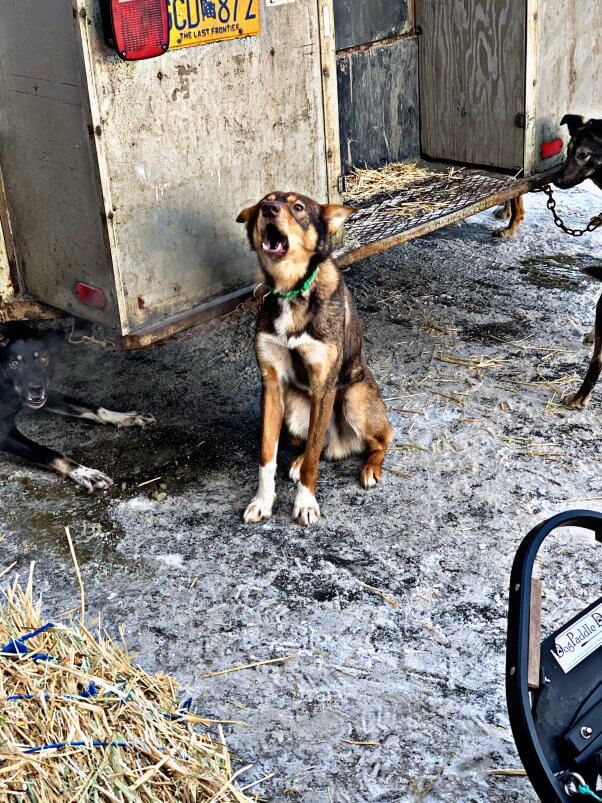 As in 2018, PETA activists and other compassionate people took to the Iditarod starting line to protest the event's cruelty.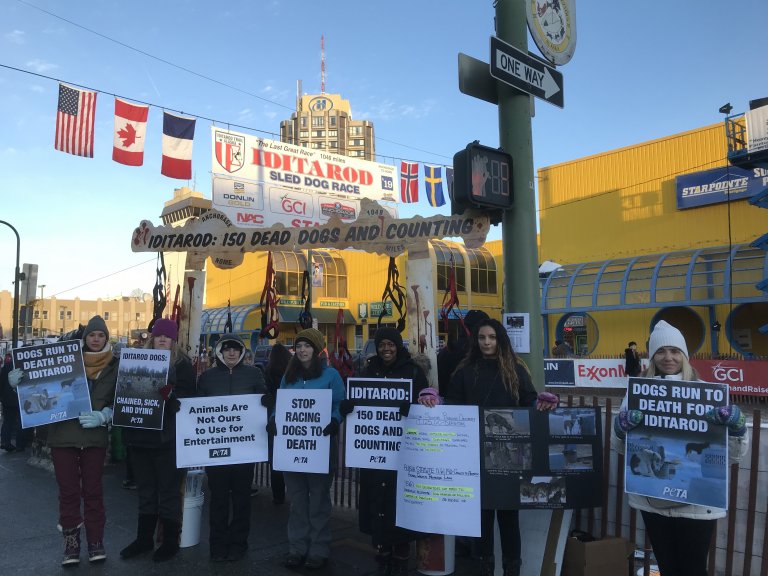 ---
Learn more about the Iditarod on The PETA Podcast:
Listen to more episodes on iTunes and Spotify! Subscribe for new episodes.
---
We'll be keeping an eye on the dogs throughout the entirety of the race. Check back—this story will be updated as the 2019 Iditarod continues.
What You Can Do
Dogs deserve far better than a lifetime of isolation, cruelty, and suffering for the Iditarod. You can take action to help them now: