University of California–Riverside—the same school whose experimenters once infamously stitched an imprisoned baby monkey's eyes shut—is now developing groundbreaking non-animal tests using stem cells.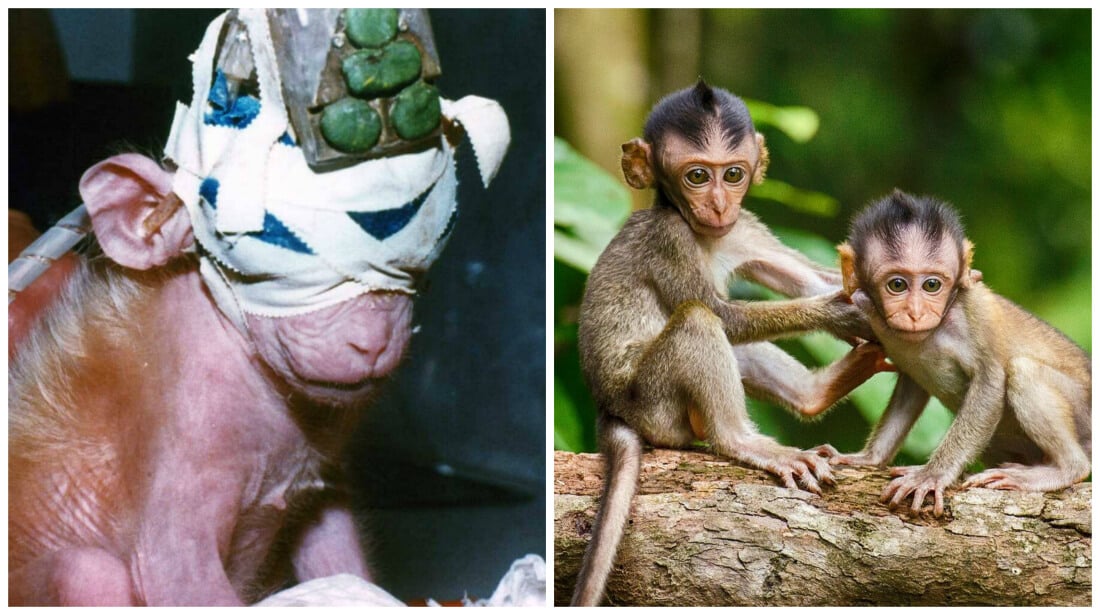 Two UC-Riverside researchers received an $849,811 grant from the U.S. Environmental Protection Agency (EPA) to grow human stem cells into bone-like tissue to test industrial and environmental chemicals that might interfere with fetal growth and cause musculoskeletal birth defects. According to the university, this testing is currently done on live animals, usually mice.
The EPA grant is part of the federal agency's historic decision to eliminate animal testing by 2035.
Just think—UC-Riverside is the same institution known for the shameful Britches story, which is the stuff of nightmares.
When Britches was just seconds old, experimenters tore the monkey away from his mother, sloppily sewed his eyes shut with oversized sutures, and attached an electronic sonar device to him that let out a constant screeching sound. After five weeks of this extreme deprivation, he shrieked erratically, experienced total body muscle spasms, and desperately clutched at his body.
PETA got these hideous experiments stopped, and Britches was rescued.
Underneath the filthy cotton bandages wrapped around his head and face, the monkey had multiple sores on the back of his head. A veterinary ophthalmologist who met him after his rescue stated, "There can be no possible justification for this sloppy, painful experiment."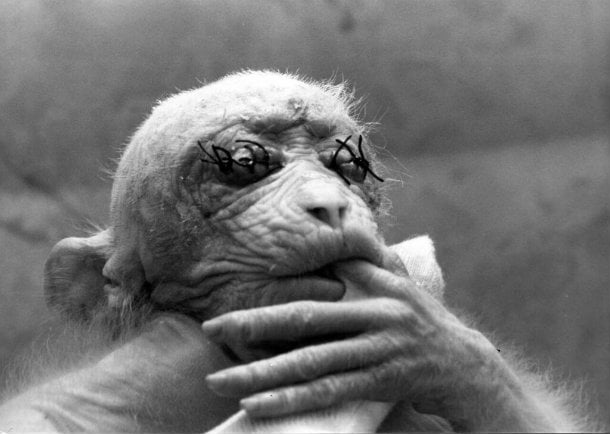 PETA publicized photographs, videos, and documents obtained by the rescuers, and a year after the laboratory raid, documents filed by the university revealed that eight of the 17 experiments from which animals were rescued were never resumed. The school also stopped permitting experimenters to sew baby monkeys' eyes shut, and one instructor stopped performing tests on animals altogether.
How amazing is it that UC-Riverside is moving into the 21st century and embracing real, lifesaving research?
In fact, UC-Riverside environmental toxicology professor David Volz says that he "interacts with fewer and fewer students interested in research involving animal experiments, and that our culture is shifting toward a desire to reduce animal suffering." He also pointed out that the U.S. lags behind other progressive countries that have done away with a lot of animal testing.
What You Can Do to Help End Animal Tests
The National Institutes of Health continues to dump billions of tax dollars into failed, wasteful experiments that torment and kill animals. Using our form below, please send a message to the agency to help prevent agony and death inside laboratories.