Nicole and Karen are two elephants who've been hauled around by Ringling Bros. and Barnum & Bailey Circus for years. Like all the elephants used by Ringling, Nicole and Karen have a history of foot problems as well as lameness, which is a sign of arthritis. Dr. Philip Ensley, a board-certified veterinarian who served as the associate vet for the Zoological Society of San Diego for 29 years, has concluded that Karen and Nicole should no longer be performing because their feet are unable to heal while they continue to do tricks.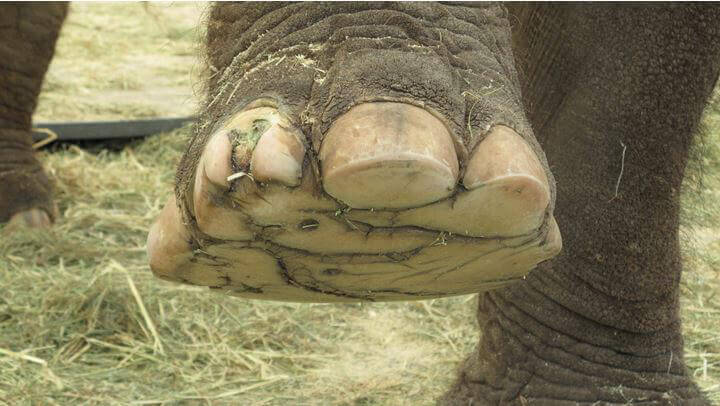 "These two elephants should no longer be performing under the standard of care and living conditions that have produced these unhealed injuries, and maintaining them under these current conditions will continue to cause suffering and cruelty."

—Philip Ensley, D.V.M.
Nicole and Karen both have large cracks in their toenails, which, for elephants, is a serious concern. Cracked or split toenails leave elephants susceptible to infection—and Nicole is currently suffering from a painful nail abscess. Arthritis and other foot problems are the leading reasons why captive elephants are euthanized in the United States. These conditions are aggravated when elephants are continuously chained on hard surfaces, forced to stand in their own waste, and made to perform tricks.
In the wild, elephants naturally wear down their toenails as they forage and walk long distances every day. But when they're chained for days on end, their feet deteriorate.
What You Can Do
Contact us for materials for launching a campaign to get bullhooks or circuses that abuse animals banned in your area.