In his native Indonesia, Sinclair would have spent his days swooping through the treetops, chattering with his friends, and foraging for leaves, seeds, nuts, berries, and root vegetables. But Sinclair wasn't in a tropical jungle—he was in the concrete jungle, confined to a cramped barren cage, where he had spent 15 long years.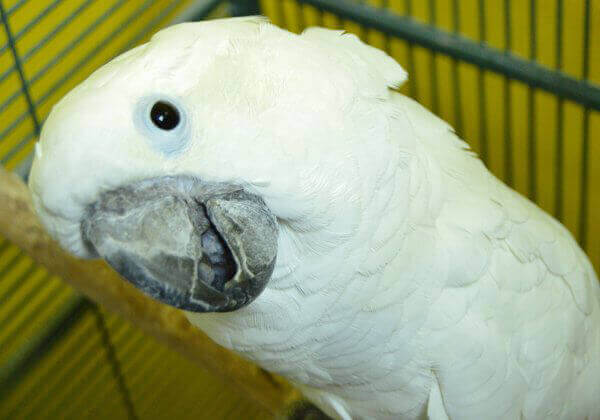 His access to food was apparently sporadic, and when he was fed, it was an inadequate and unbalanced diet of sunflower seeds (the cockatoo equivalent of potato chips), which left Sinclair underweight and malnourished. Because he had no perches of any kind in his cage and could only cling to his cage bars, his nails were extremely overgrown. We're told that the bird had not seen a veterinarian in his entire life.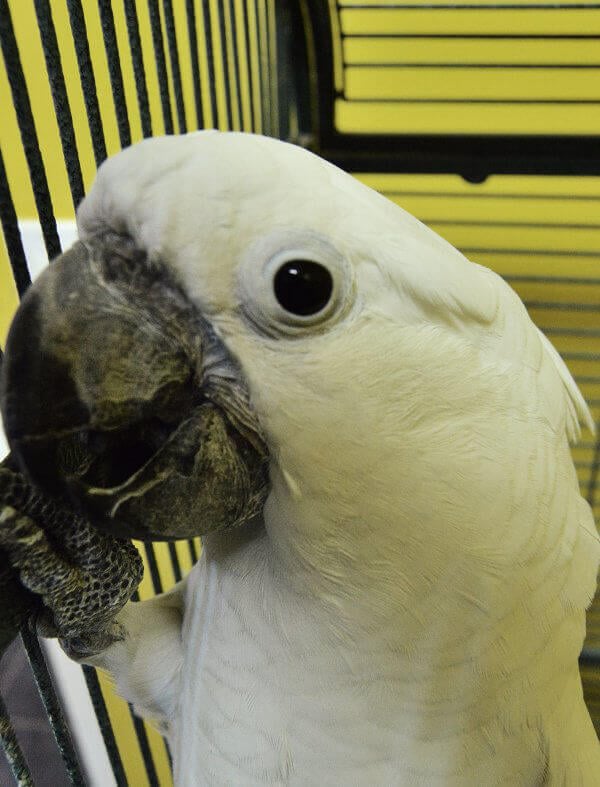 When Sinclair's owner resisted our efforts to work with her on improving the bird's care, we alerted local officials, and an officer checked in on Sinclair regularly for several months. But even under scrutiny, Sinclair's care and living conditions continued to deteriorate. On the officer's last visit, Sinclair had no food or water of any kind, his cage was filthy, and he was clearly stressed, so the officer seized him.
Sinclair is now safely in the hands of a vet clinic that is providing him with the proper care that he has been denied for so long. He is being introduced to a variety of healthy, wholesome foods and is putting on weight. Despite his years of neglect, Sinclair is friendly and inquisitive. His current vocabulary consists of just two words—"hello" and "hi"—but he is likely to become more communicative with socialization. Since he has never had access to any toys, Sinclair is having to learn how to play. But he is a quick study and has already developed an affinity for music, enthusiastically dancing along to his favorite tunes.
If you're an experienced bird parent living on the East Coast, Sinclair would love to "interview" you ("Hello!") about joining your roost. E-mail [email protected] to learn more about this feathered charmer.