After surviving a tsunami, an earthquake, and the loss of her home and family, sweet Belle has a new worry: how to chew on all her new toys with 22 fewer teeth (not to mention whose lap to stretch out on!).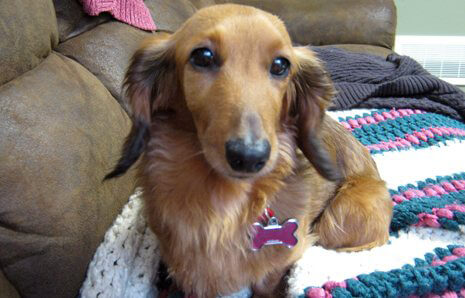 The young dachshund mix had been turned over to an animal shelter in Japan after her guardians evacuated because of radiation fears. PETA Asia-Pacific staffer Ashley Fruno gathered up bonny Belle and flew her to Canada and her adoptive family.
Despite her young age, most of Belle's teeth were rotten and were removed when she was anesthetized for her spay surgery. Her limbs have partially atrophied, but she is learning to take walks, slowly at first, and Belle is starting to chat with her family with excited barks. Perhaps because of all she has been through, she is timid about exploring her new surroundings, but her family says that Belle gets more confident and comfortable every day.
Written by Michelle Sherrow