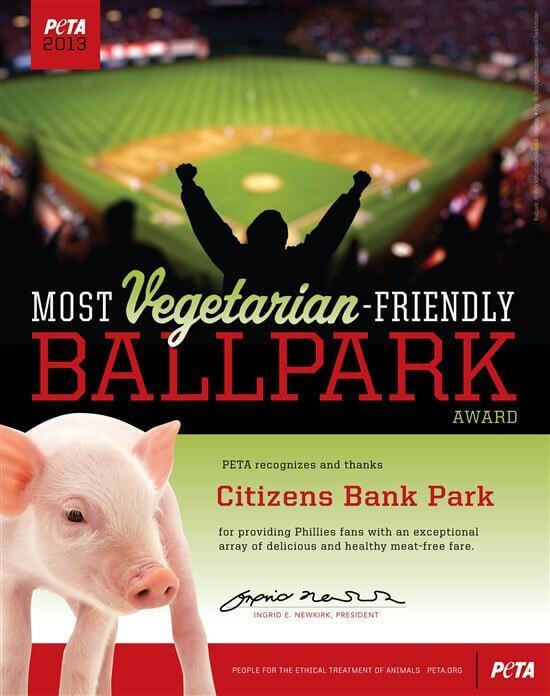 "Take me out to the ballgame! Take me out with the crowd! Buy me some peanuts and Cracker Jacks"—and some veggie burritos, faux chicken-steak, meat-free tacos, edamame, falafel, hummus, and eggplant panini. And that's just a sampling of the wide variety of delectable vegetarian fare available at the stadiums on PETA's 2013 list of the Top 10 Vegetarian-Friendly Major League Ballparks:
1. Philadelphia Phillies' Citizens Bank Park
While Phillies left-fielder Domonic Brown has been dominating pitchers at the plate, earning two consecutive National League Player of the Week honors, Citizens Bank Park continues to dominate PETA's Top 10 Vegetarian-Friendly Major League Ballpark rankings, taking the top spot for the second year in a row, thanks to its faux-chicken patty, faux chicken-steak, faux "pit beef" smothered in barbecue sauce, and other delicious vegetarian fare.
2. Detroit Tigers' Comerica Park
Miguel Cabrera may have won the Triple Crown for Detroit in 2012, but Comerica Park has its own Triple Crown contenders for 2013: an Italian mock sausage, a vegan Riblet sandwich, and a veggie dog. These options, along with the black-bean burger, vegetarian sushi, and other meat-free fan favorites, have helped the stadium take the number-two spot on PETA's scorecard this year.
3. Washington Nationals' Nationals Park
We're not sure what Jordan Zimmermann's secret is for keeping his ERA so low, but it's no secret that you can keep your weight and cholesterol level low by going vegetarian and enjoying tasty meatless meals, including Nationals Park's Sloppy Jane, veggie chili with faux ground beef, and falafel. The ballpark earned its highest ranking ever on our list. Much like Bryce Harper, Stephen Strasburg, and the Nats' other young stars, its potential is limitless.
4. San Francisco Giants' AT&T Park
The reigning World Series champs offer a giant selection of cruelty-free cuisine, earning AT&T Park the number-four spot on PETA's list this year. The park got an honorable mention in 2012, but with a new Field Roast artisan vegetarian sausage, vegetarian rice bowls, and meat-free tacos, vegetarian meals are the Most Valuable Players in AT&T Park concession stands.
5. Los Angeles Angels' Angel Stadium of Anaheim
Angels' fans love Mike Trout—and Angel Stadium's vegetarian sushi rolls. The Angel's star-studded lineup, which also includes black-bean burgers, veggie dogs, and veggie burritos, is winning rave reviews in Anaheim.
6. Seattle Mariners' Safeco Field
Much like King Felix, the vegetarian options at Safeco Field rule. Mariners fans can choose from vegan chili cheese dogs, vegan Bao-Choi Asian-style steamed buns (stuffed with veggies, spices, and vegan mayo), and vegan frankfurters. It doesn't matter where the fences are—animal-friendly fans can always score at the concessions stands.
7. New York Mets' Citi Field
What could possibly be more exciting for Mets fans than watching Matt Harvey dominate hitters? Sampling the meatless meals at Citi Field, which offers veggie dogs, vegetable sushi, vegetarian tacos, veggie burgers, freshly sliced mango dusted with chili powder, and more.
8. Boston Red Sox's Fenway Park
The Red Sox—and starting pitcher Clay Buchholz—appear to have turned a corner this year, and so has Fenway Park, earning its best-ever ranking on PETA's list. The vegetarian fare, which includes vegetable sushi, meat-free burritos, veggie burgers, veggie dogs, and hummus, among other things, really puts the green in the home of the Green Monster. Sox fans love the vegetarian meals as much as they love Big Papi.
9. San Diego Padres' PETCO Park
PETCO Park's tasty vegetarian options—including grilled tofu wraps, veggie burgers, hummus, vegetable sushi, and more—are flying out of the concession stands even faster than Everth Cabrera flies around the bases.
10.  Chicago Cubs' Wrigley Field
Wrigley Field has a strong core of vegetarian options, including veggie dogs, Sloppy Janes, and fresh vegetable wraps, to go with the Cubs' strong core of young players, including Starlin Castro, Anthony Rizzo, and Jeff Samardzija. As Wrigley Field returns to PETA's list of vegetarian-friendly ballparks, perhaps the Cubbies will soon be on the way up as well. Veggie-craving Chicago baseball fans have an embarrassment of riches since U.S. Cellular Field also earned an honorable mention on PETA's list.
If it seems like the vegetarian options are getting more plentiful at athletic arenas, it's not your imagination. James Nolan, senior vice president of the New England Patriots' Gillette Stadium, which placed second on PETA's list of Vegetarian-Friendly NFL Stadiums last year, told The Boston Globe, "Our research suggested that our fans were seeking more vegetarian options. They have been some of our best sellers."
So keep heading out to the ballgame and snapping up those Cracker Jacks (and Sloppy Janes!), baseball fans!