At the same time as vegan star running back Arian Foster and the Texans are making my hometown proud on the field (Bayou City, represent!), PETA has announced its 2012 list of the Top Five Vegetarian-Friendly NFL Stadiums.
Football is played with a ball called a "pigskin" (often erroneously), but folks who are fans of both team sports and animals will find a growing variety of cruelty-free foods to enjoy on game day at arenas throughout the NFL. So even if your team is stuck in the basement this year, you can still score a victory for animals way up in the cheap seats by hitting up the concession stand for some vegan goodies!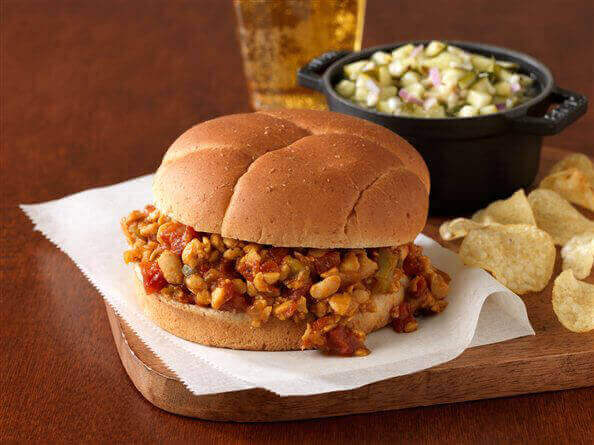 © Levy Restaurants
Check out the Top Five Vegetarian-Friendly NFL Stadiums:
1. Lincoln Financial Field, Philadelphia Eagles
As the Eagles battle for the top spot in the always-tough NFC East, Philly fans can take pride in the fact that Lincoln Financial Field tops PETA's list of vegetarian-friendly stadiums for the third year in a row, thanks to its awesome array of meat-free options, which include a mock-steak sandwich, a "chicken-steak" sandwich, a seitan brisket, and veggie burgers and dogs.
2. Gillette Stadium, New England Patriots
Pats fans have more mouthwatering vegetarian options than Tom Brady has offensive weapons. Gillette Stadium moved up from number four on PETA's list of vegetarian-friendly stadiums, thanks to its black-bean burger, grilled portobello mushroom burger, and grilled veggie flatbread wrap. Meanwhile, fans continue to devour the stadium's standby favorites—veggie dogs and veggie burgers.
3. O.co Coliseum, Oakland Raiders
Rookie head coach Dennis Allen may be experiencing some growing pains in Oakland, but Raider Nation has cause for celebration: O.co Coliseum made PETA's list of vegetarian-friendly stadiums for the fifth year in a row. With a veggie dog, black-bean burger, and veggie burrito leading the charge, fans of the Silver and Black can turn their health around by enjoying delicious, protein-packed vegetarian meals.
4. Georgia Dome, Atlanta Falcons
Matty Ice is playing like an MVP, but the MVP of the Georgia Dome's concession stands may be the mock-meat Sloppy Jane, made with peppers, onions, molasses, and brown-sugar barbecue sauce. Also available and fresh off the burner (no Michael Turner pun intended) are veggie dogs and veggie burgers, possibly the best duo since Roddy White and Julio Jones. You don't have to pose in a PETA ad as Tony Gonzalez did to enjoy these options.
5. Ford Field, Detroit Lions
The Lions may be dropping in the standings, but Ford Field has climbed in our rankings of the best meat-free fare. Outstanding dishes such as vegan sloppy Joes, hearty veggie burgers, hummus with vegetables, and fruit cups with chili lime salt dominate the concession stands here the same way that Megatron dominates on the field.
Scoring honorable mentions are the Kansas City Chiefs' Arrowhead Stadium, the St. Louis Rams' Edward Jones Dome, the San Francisco 49ers' Candlestick Park, and the New York Jets' and New York Giants' MetLife Stadium.
With so many healthy and animal-friendly foods available almost everywhere you go, there's never been a better time to go vegan than right now!