Fashionistas around the globe were in for a treat when Tim Gunn released his third book, Tim Gunn's Fashion Bible: The Fascinating History of Everything in Your Closet. Animals were in for a treat, too, when Tim devoted nearly half his chapter "Coats and Jackets" to explaining "why fur belongs in the dustbin of history." He discussed how, during his tenure at Liz Claiborne, Inc., he agreed to meet with PETA Vice President Dan Mathews to discuss the possibility of the 46 Liz brands, which include Juicy Couture and Kate Spade, going fur-free. "[O]ver time," Tim remembered, "I became convinced that fur was unnecessary and even immoral." Liz Claiborne is completely fur-free, thanks to Tim, as is Project Runway. And if Tim has his way, the rest of the fashion industry won't be far behind.
While Tim strutted his animal-friendly stuff during the opening number at the Emmys, Carrie Ann Inaba was using the occasion to speak up for animals, too, tweeting at her Dancing With the Stars fans, "And even though it's a big day for all of us in Hollywood, let's not forget the animals… Help animals in need!!" She then posted a link to a video about why everyone should adopt, never buy. 
Elsewhere on Twitter, Wisconsin native Kristin Bauer was appalled by the University of Wisconsin–Madison's cruel cat laboratories, Kat Graham had a colorful way to describe being vegan, and Sam Simon cracked us up: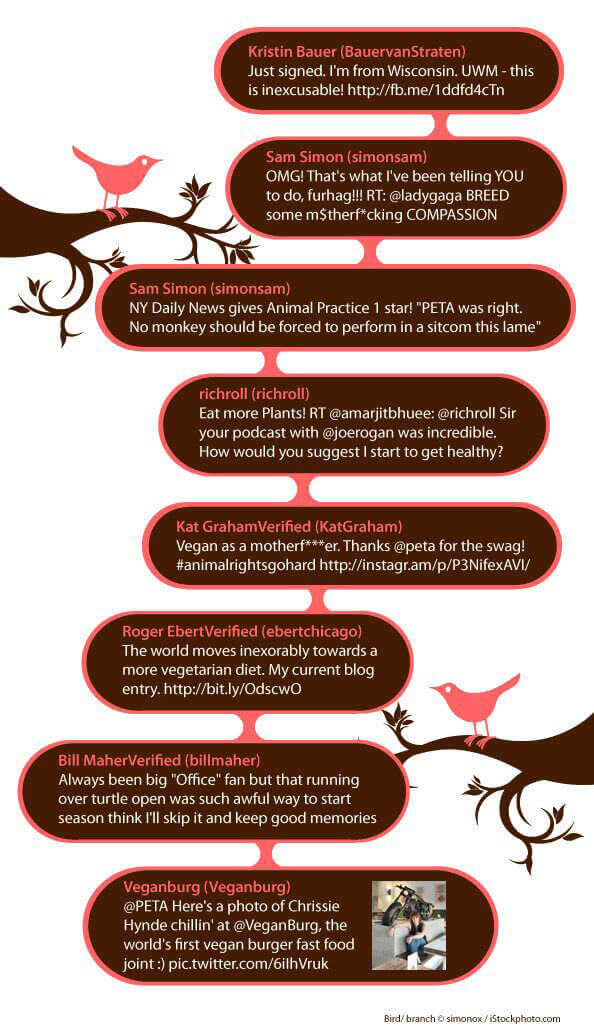 Candace Parker wasn't at the Emmys, but she still scooped up an award. The fur foe snagged the Player of the Month Award for the WNBA's Western Conference, and we're sure that animals would agree that it couldn't have gone to a nicer person.
Maybe Candace felt as "damn good" about her honor as Dax Shepherd said his vegan diet makes him feel.
The Boss must be feeling pretty good, too. Bruce Springsteen just turned 63, and he is still rocking, thanks to his primarily vegetarian diet and his passion for exercise.
Vegan Russell Simmons is always doing something rocking for animals. After an African safari in which he got to see animals in the wild, he spoke out against circuses and zoos, writing on his Global Grind website: "These magnificent animals I encountered on the safari aren't riding on bicycles or jumping through rings of fire like kids see them do at the horribly cruel circuses where they are routinely beaten and neglected. These great beasts were tending to their young, running free and just being left alone to live their lives."
Carrie Underwood might not have the same musical tastes as Russell, but the two are singing the same tune when it comes to animal rights. The country songbird posted a picture of a chipmunk she took to her veterinarian after her dog tried to eat the little animal. Dale, as she called the chipmunk, was fine and was happily released back into nature.
Model Joanna Krupa was a model of compassion when she rescued a lost dog she spotted during a hike. After a long chase, she was able to catch the dog, read his tags, and call his thankful guardians.
Al Roker made another dog grateful recently when he adopted a 10-week-old puppy named Pepper from an animal shelter. PETA helped the Roker family welcome their newest member with some fun toys and treats.
To keep up with what your favorite stars are doing for animals, follow @PETA on Twitter.