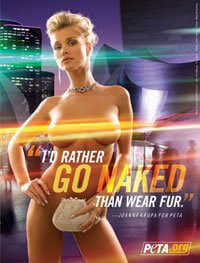 An international cover model, actor, and spokesperson for Dollhouse Clothing, sexy supermodel Joanna Krupa is known for her famous photo shoots, but there's one thing Joanna would never model: fur.
The Polish-born beauty, who has graced the covers of many magazines—including Playboy, Maxim, FHM, and Stuff—laid her convictions bare, so to speak, by baring all in PETA's latest and raciest "I'd Rather Go Naked Than Wear Fur" ad. And to top it off, she posed in not one but three versions of the sexy ad!
Having been named by Playboy as the "sexiest swimsuit model in the world," Joanna knows a thing or two about sex appeal—and fur doesn't have it. On fur farms in China, where most fur originates, minks, foxes, rabbits, and other animals are kept in tiny wire cages through all weather extremes.
They are strangled, bludgeoned, and often skinned while they are still alive.
Since fur is often deliberately mislabeled, if you wear fur, there's no way to tell whose skin you're in—it could even be cat or dog fur. "[T]here is nothing sexy about wearing something that is so obviously tied to senseless pain and killing," says Joanna.