We've had more than enough of Tiger King's Bhagavan "Doc" Antle, but the alleged big cat trafficker is still shamelessly spouting misleading claims.
In an interview for National Geographic's Trafficked series, Antle claimed that the Samutprakan Crocodile Farm and Zoo in Thailand—where he sent seven tigers in 2006—is a "beautiful" facility. A PETA Asia exposé, a 2019 National Geographic tell-all, and a report by investigative journalist Mariana van Zeller all found the polar opposite: For instance, eyewitnesses saw workers impaling elephants with sharp metal tools to terrorize them into performing confusing tricks, and crocodiles were bashed with bamboo poles.
The dingy animal dungeon even capitalized on the coronavirus crisis, making light of the deadly global pandemic by forcing a masked, leashed chimpanzee to ride around on a bike and spray disinfectant.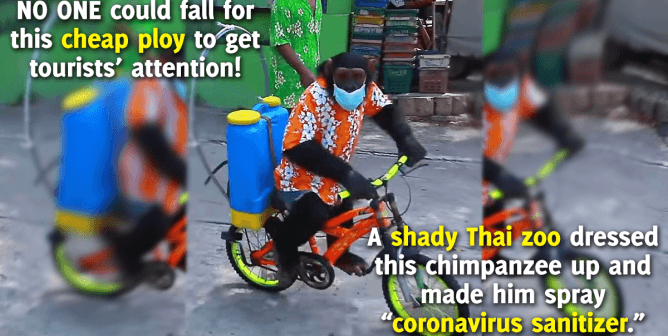 The Samutprakan Zoo Treats Tigers Like Nothing More Than Photo Props
Workers at the roadside zoo chain wailing and obviously distressed tigers to the concrete floor by their necks and force them to pose for tourists' photos. One tiger had bald patches on his legs—likely from living on concrete—and a handler carried a wooden rod and jerked the tiger's head around while making him pose. When not on display, the tigers are kept in cramped, barren cages where all they can do is endlessly pace.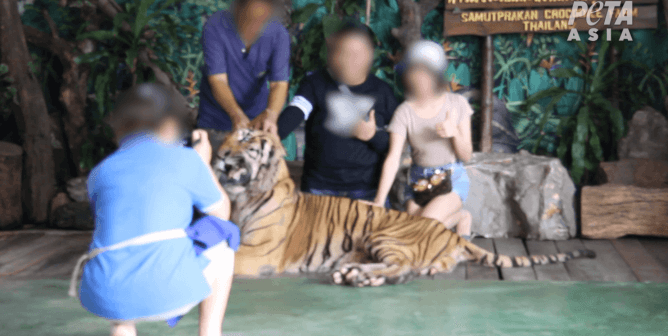 PETA Asia has taken on the Samutprakan Zoo many times before, from releasing shocking footage and filing police reports to getting major travel apps to cut the run-down roadside hellhole from their itineraries—and the campaigns are ongoing.
Antle Says Those Claiming Cruelty Are 'Lying'
Antle still tries to justify this crude, abusive treatment of animals by saying there are places with "far worse conditions." News flash: There is no justification for holding animals hostage in small cages, depriving them of enrichment activities, socially isolating them, and condemning them to miserable lives for the amusement of visitors. Antle even went so far as to call the reporter who exposed the Samutprakan Zoo "extremist" and "Al-Qaeda to the max."
But no matter how many outrageous claims he and others make, they cannot erase the truth. The first few years of maternal bonding are critical for cubs, as they learn from their moms how to be a tiger. The cruel tiger cub–petting industry forcibly removes cubs from their mothers, and they'll likely never to be together again.
Antle himself is a key player in this industry. The owner of the Myrtle Beach Safari in South Carolina has racked up multiple citations for violations of the federal Animal Welfare Act for endangering the public and depriving animals of adequate veterinary care, sufficient cage space, and clean water.
Most recently, he allowed celebrity Larsa Pippen to pose with tigers for her Instagram account, which prompted PETA to request a U.S. Department of Agriculture investigation into the shady facility.
The Samutprakan Zoo Is Still Capitalizing on Cruelty—Help PETA Stop It
You can help individuals suffering in decrepit roadside hellholes like the Samutprakan Zoo by never supporting an establishment that uses animals just to make a quick buck and by encouraging travel agencies to cut ties with animal exploiters.