Update: April 23, 2020
Officials ordered Samutprakan Crocodile Farm and Zoo—a shady Thai facility—to shape up after it forced a masked, leashed chimpanzee to ride around on a bike and spray disinfectant in an apparent attempt to capitalize on the coronavirus crisis.
Zoo ordered to stop using its chimpanzee to spray disinfectant #โควิด19 #COVIDー19 https://t.co/CjZpbq5iBK

— Coconuts Bangkok (@CoconutsBangkok) April 21, 2020
While we're thankful that authorities put the kibosh on the cruel stunt, it's not nearly good enough. As a PETA video exposé revealed last year, animals kept at Samutprakan Zoo are abused for entertainment in other ways, too. Eyewitnesses observed crocodiles being struck with poles, tigers harassed into performing and being in photos with tourists, and primates whose basic needs were neglected.
Please, never support animal shows or exhibits.
Keep reading to learn how else you can help exploited animals like the chimpanzee.
Originally posted on April 21, 2020:
Folks online didn't fall for a shoddy Thai zoo's cheap attempt to capitalize on a chimpanzee's suffering and the coronavirus crisis—not even when the facility lamely alleged that it was just letting the great ape "stretch his limbs." The footage below shows what actually happened: A chimpanzee—on a leash and wearing a mask and human clothing—was forced to ride around on a bike spraying "coronavirus sanitizer," all while staff videoed.
https://www.youtube.com/watch?v=Wr1Z_biclKk
The heartbreaking stunt took place at Samutprakan Crocodile Farm and Zoo, a seedy operation in Thailand that PETA Asia sounded the alarm on previously. As pointed out by the Daily Mail, though, the exploit garnered quite a backlash.
Thailand zoo sparks fury after making chimpanzee in a face mask ride a bicycle while spraying coronavirus sanitizer https://t.co/jMK9hqjdc9

— Daily Mail Online (@MailOnline) April 15, 2020
Chimpanzees are a lot like us humans. They love slapstick humor, falling about if one of their chimpanzee pals falls off a rock (as long as they don't seem hurt). What they surely don't find funny, though, is being exploited for entertainment—and the criticism that the video received proves that many members of the public don't think such a horrible stunt is amusing, either. "Who ARE those tourists who don't seem to give a s**t about animal welfare?!" one Twitter user asked—an apt question, considering that if everyone refused to patronize Samutprakan Zoo and other animal-exploiting operations like it, it would be near impossible for such businesses to stay afloat.
In 2019, a PETA Asia video exposé of Samutprakan Zoo showed that elephants at the facility are stabbed in order to make them perform tricks, crocodiles are struck with bamboo poles, and tigers are harassed for performances and photos with tourists. Eyewitnesses found that other animals, including a young orangutan and a young chimpanzee (who could be this same one forced to ride a bike and spray disinfectant), appeared frustrated and listless.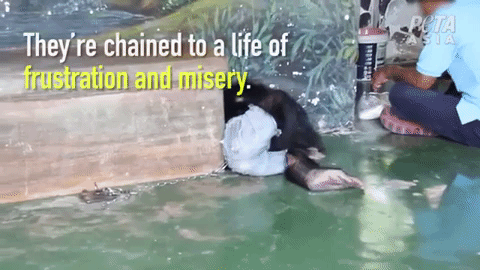 Thanks to thousands of kind people who took action, Trip.com and Ctrip (Asia's biggest travel agency) have made the compassionate decision to stop selling tickets to Samutprakan Zoo. But this chimpanzee and the other animals being held and exploited at the hellhole tourist trap need your continued support. Please, never support animal shows or exhibits. Instead, use a compassionate travel agency as you plan your next vacation when it's safe to travel:
Click on the link below to urge HopeTrip—a travel company that has ignored requests to remove Samutprakan Zoo from its itineraries—to stop promoting cruelty to animals immediately: