PETA News on Tumblr
Don't miss a thing. Follow PETA on Tumblr.
The end of summer means that pools close for people but open for dogs! Across the country, dogs are closing out the season with a splash.
Randall, famous for his video of the "crazy" honey badger, is back and taking on something truly crazy: horse-drawn carriages.
Would people respect pigeons more if the pigeons were disguised as other birds? One artist aims to make us take another look at our fellow urbanites through an unconventional method: pigeon sweaters.
Should "tastes like chicken" really mean "tastes like drugs"? That's certainly how it seems in a video comparison of how fast chickens on factory farms grow vs. how fast a chicken should grow naturally.
As McDonald's prepares to open its first vegetarian restaurant, the chain should commence with some other firsts, such as ending its McCruelty to chickens and offering veggie burgers at all its U.S. restaurants.
Don't want to imagine a world without PETA? Donate to our 2012 Annual Fund today and help ensure that we can be there when animals need us.
New Features
Glee star Kevin McHale and his rescued dog, Sophie, star in a new PETA ad with a message that is music to animals' ears: Always adopt—never buy.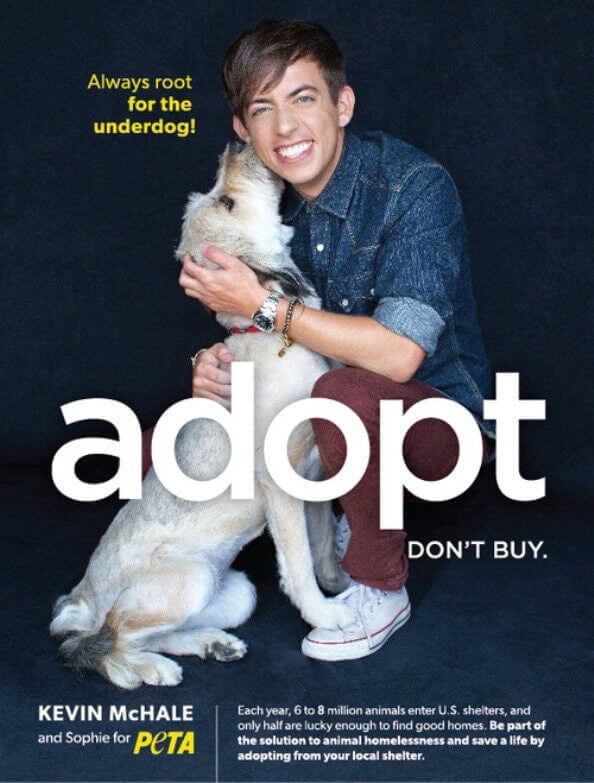 Photo: © Jack Guy www.jackguy.com, Grooming: Kristina Brown for Jed Root
New Action Alerts
Check out top model Austin Armacost giving PETA's anti-fur campaign his, ahem, full backing, and get inspired to ask designers to ditch fur.
New Contest
Your dogs will think they've died and gone to the big dog park in the sky if you win a six-month supply of dog food from cruelty-free company V-Dog!