Ahead of this year's "ThanksVegan" celebrations, PETA urged people across North America to choose a compassionate holiday feast. Millions of turkeys are killed and eaten for Thanksgiving each year, but simply choosing to serve a vegan meal helps spare the lives of countless animals.
Here are some of the ways PETA helped make Thanksgiving better for all animals in 2022:
For Canadian Thanksgiving, PETA supported local activists who held vegan roast giveaways in Edmonton, Alberta; Hamilton, Ontario; Montréal; and Toronto.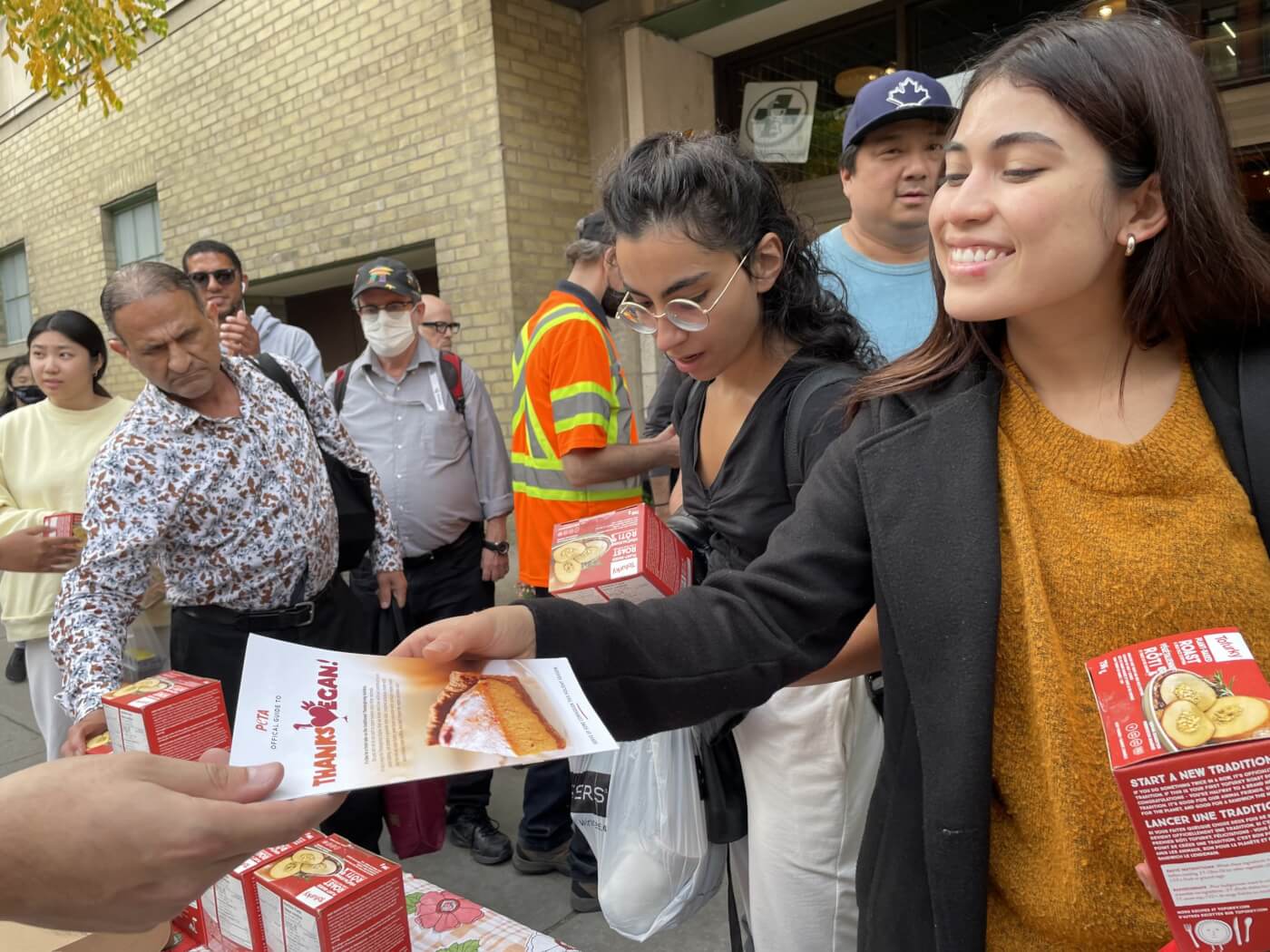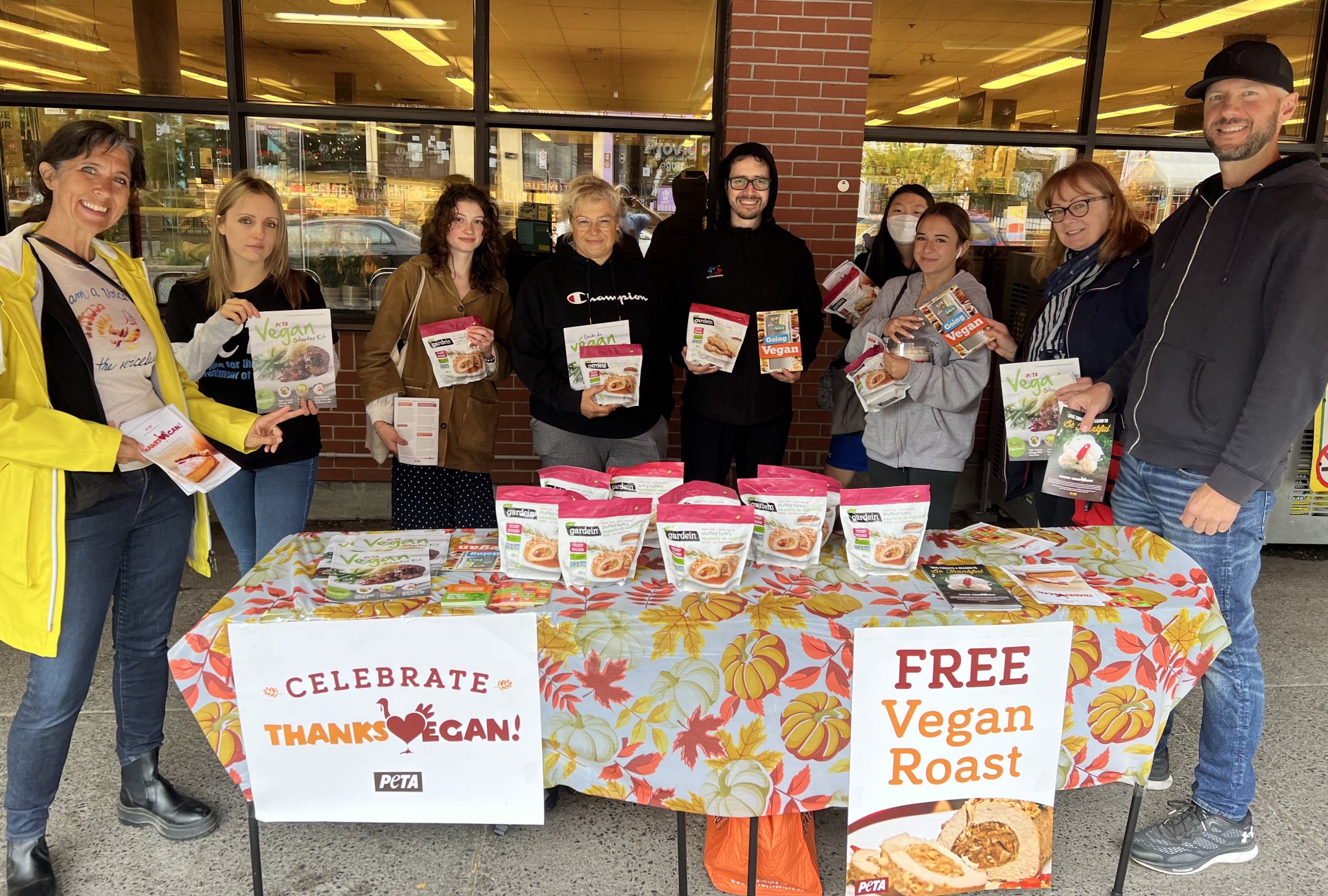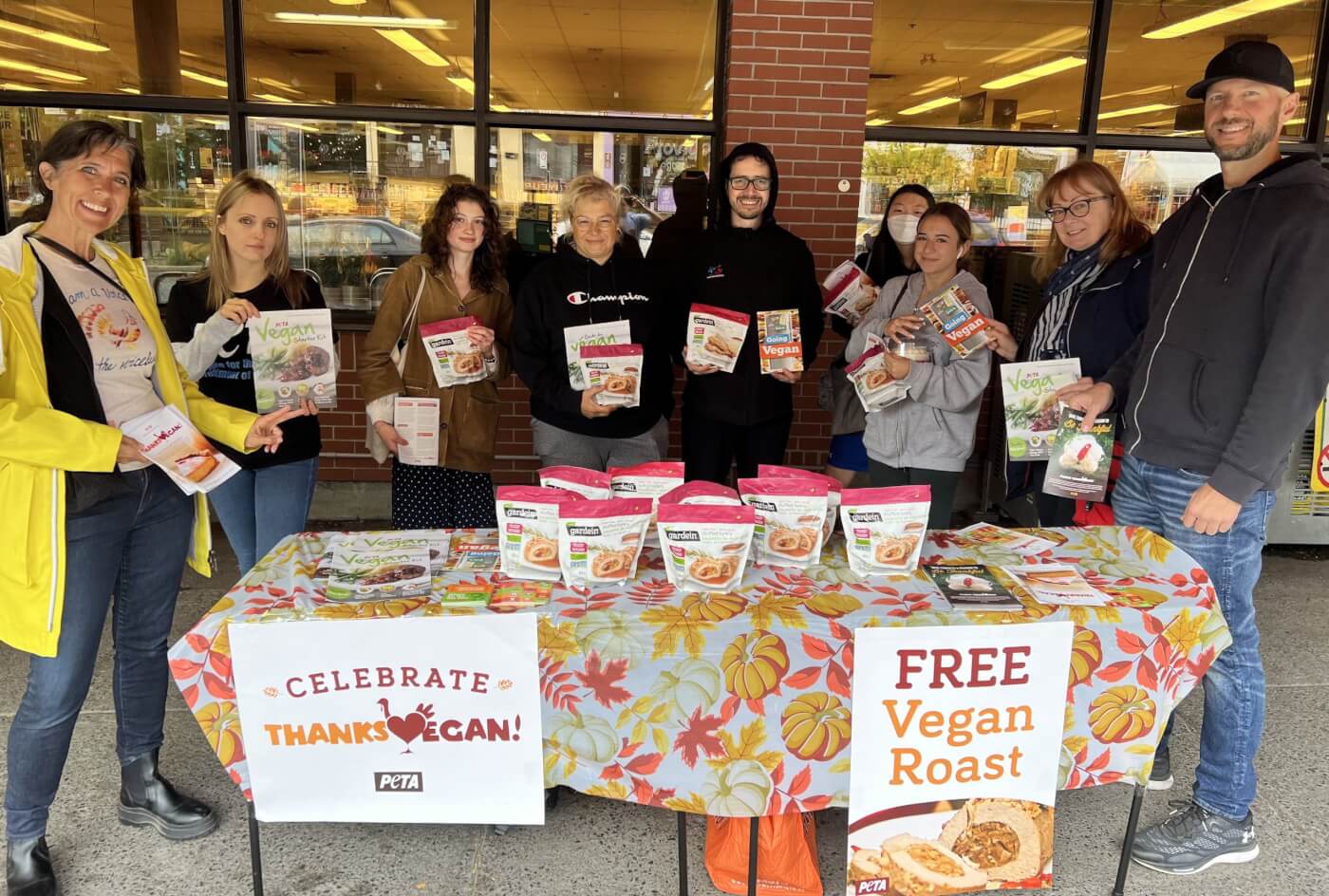 In the U.S., PETA supporters gave away dozens of vegan roasts to passersby in cities across the country, including Dallas.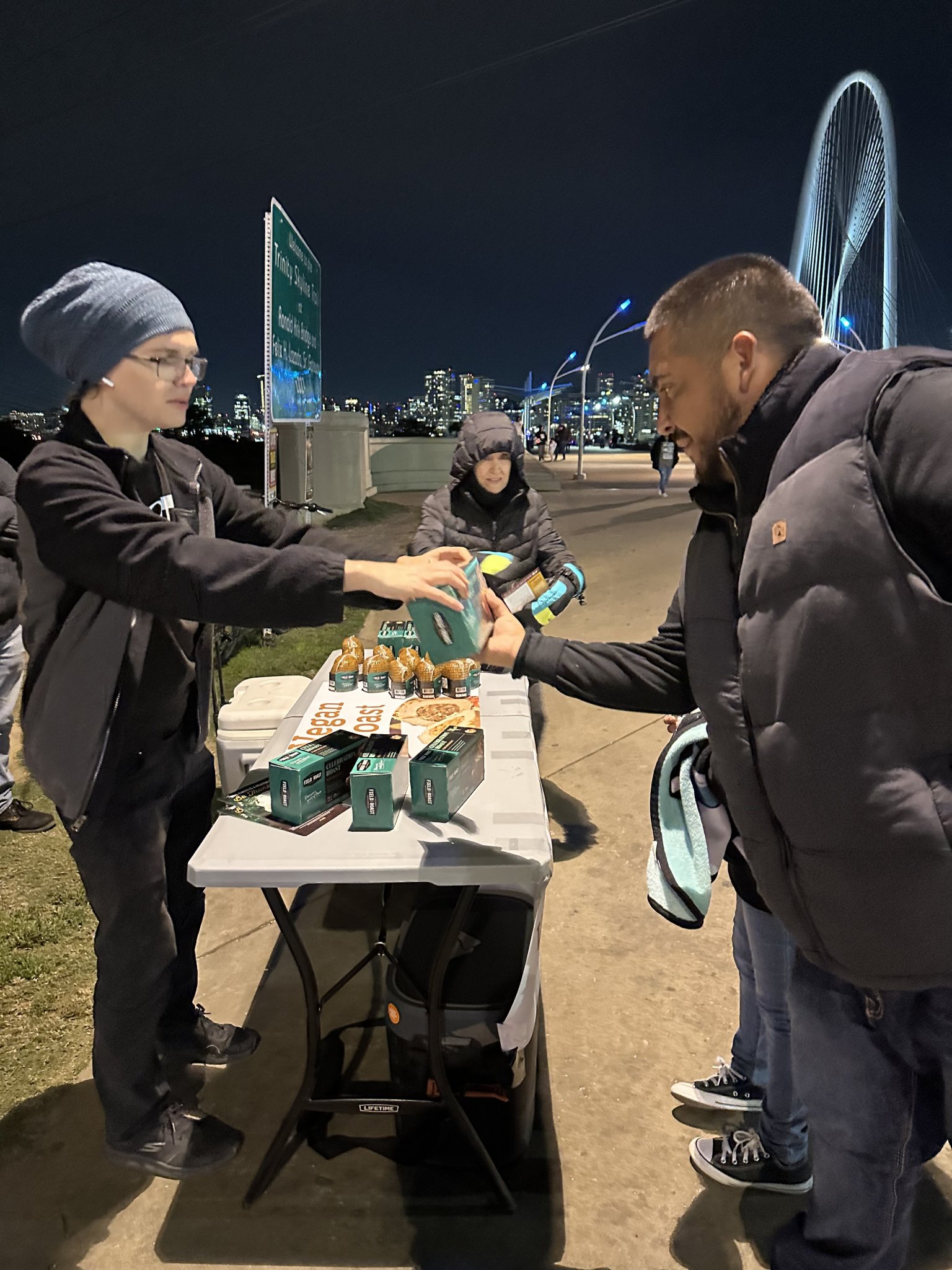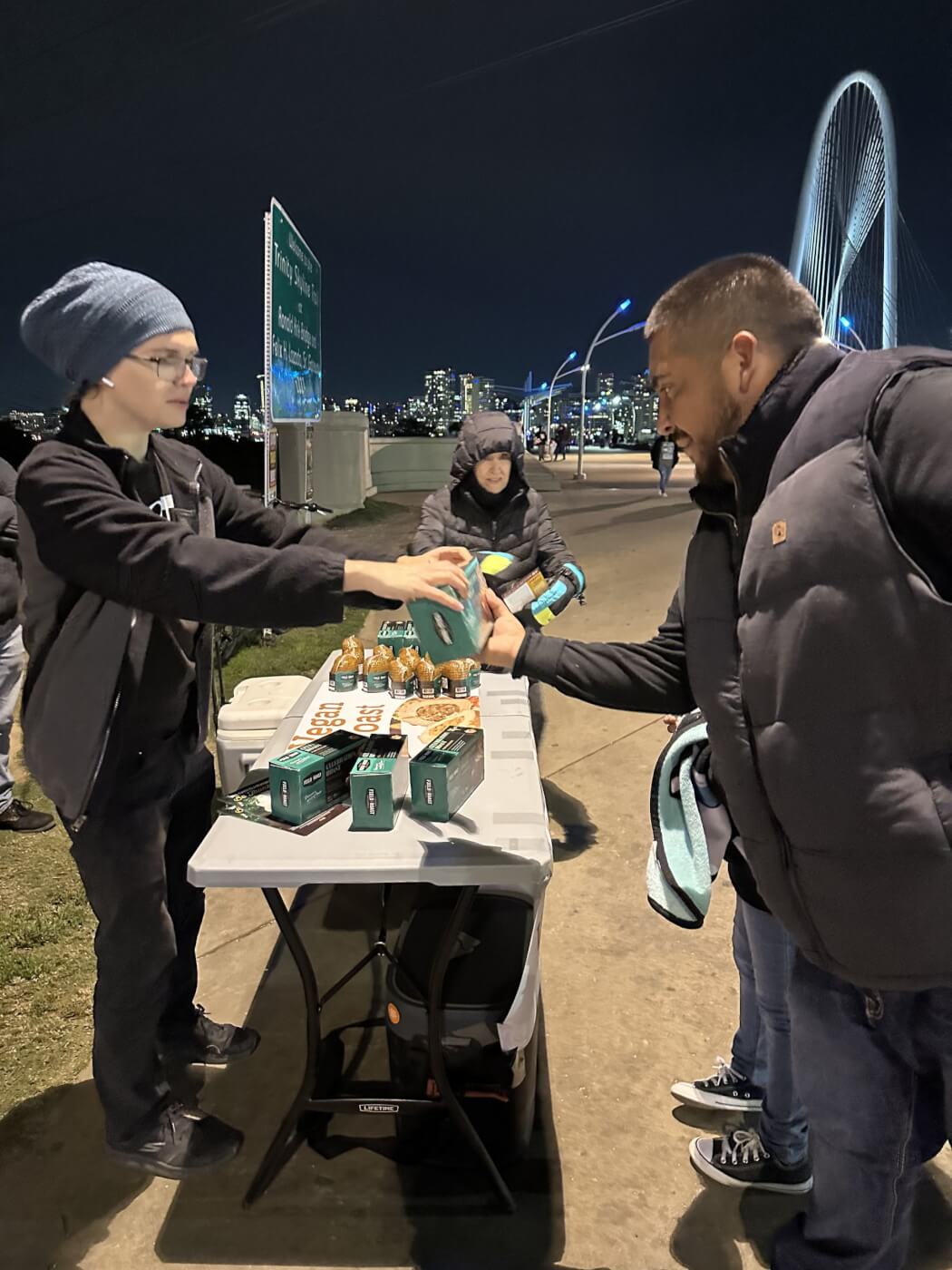 We also teamed up with U.S. Rep. Jamie Raskin (D-Md.) to hand out 150 bags packed with the makings of a hearty ThanksVegan feast—including vegan roasts, fresh produce, and tofu—in Maryland.
https://twitter.com/peta/status/1591566643951554560?
Our Vegan Thanksgiving radio ad ran 30 times each in Minneapolis and Nashville, Tennessee.
PETA's twist on a classic kids' Thanksgiving drawing—a bloodied "hand turkey" next to the words "Turkeys Feel Pain, Too. Don't Have a Hand in Their Suffering"—went up near elementary schools in Houston and Springdale, Arkansas, with the aim of sparking conversations between kids and their families about Thanksgiving food.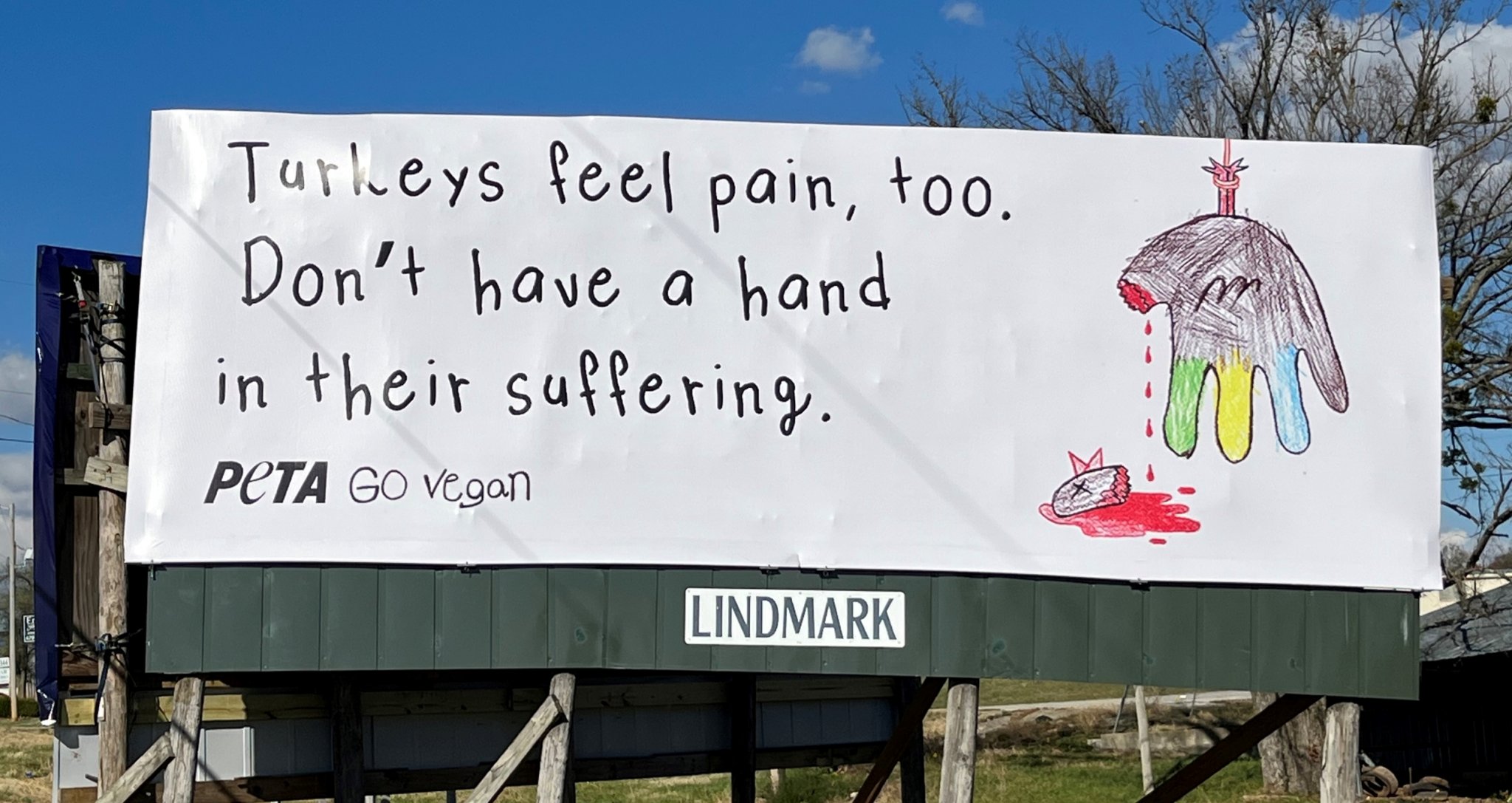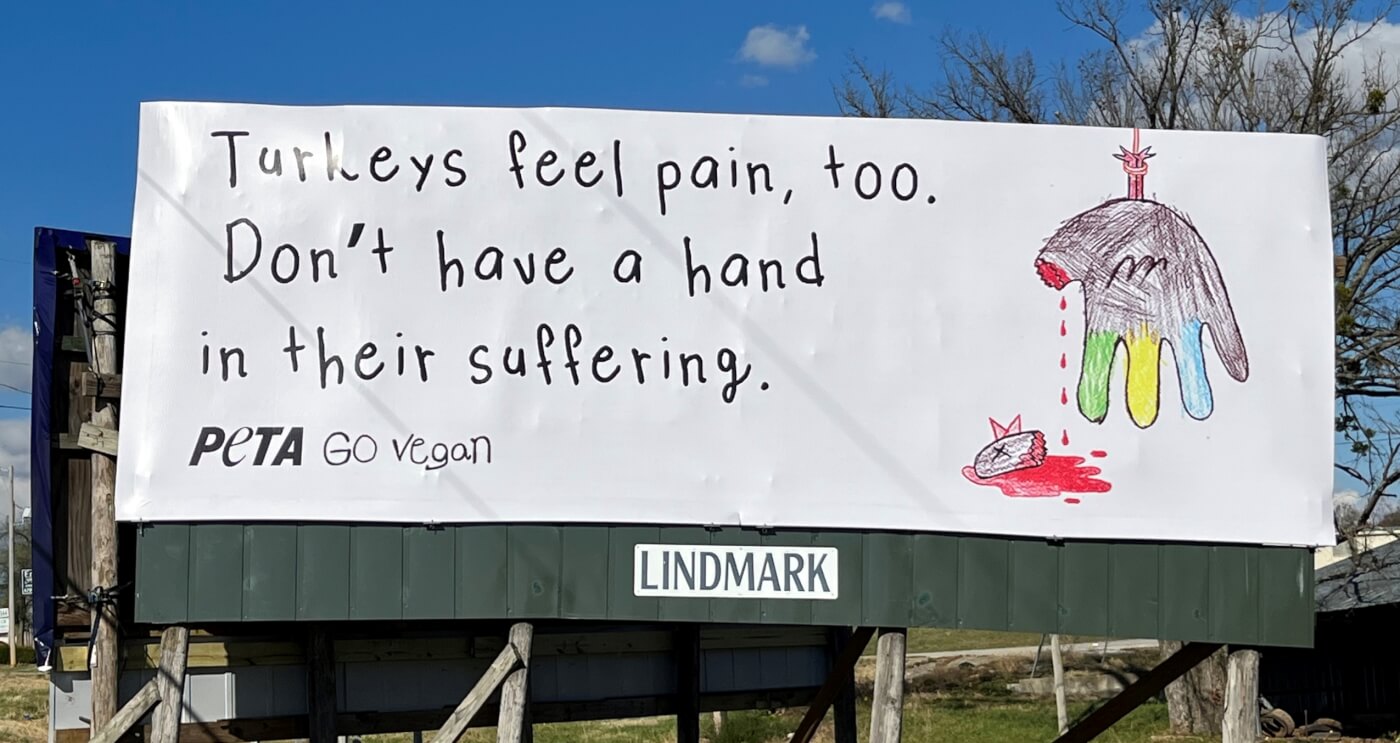 When PETA offered to purchase 200 vegan roasts for Humane Long Island to give out in its area, it traded one of these delicious roasts to the owner of a live poultry market for a live turkey, who will spend this Thanksgiving (and hopefully many more) at a sanctuary instead of on someone's plate.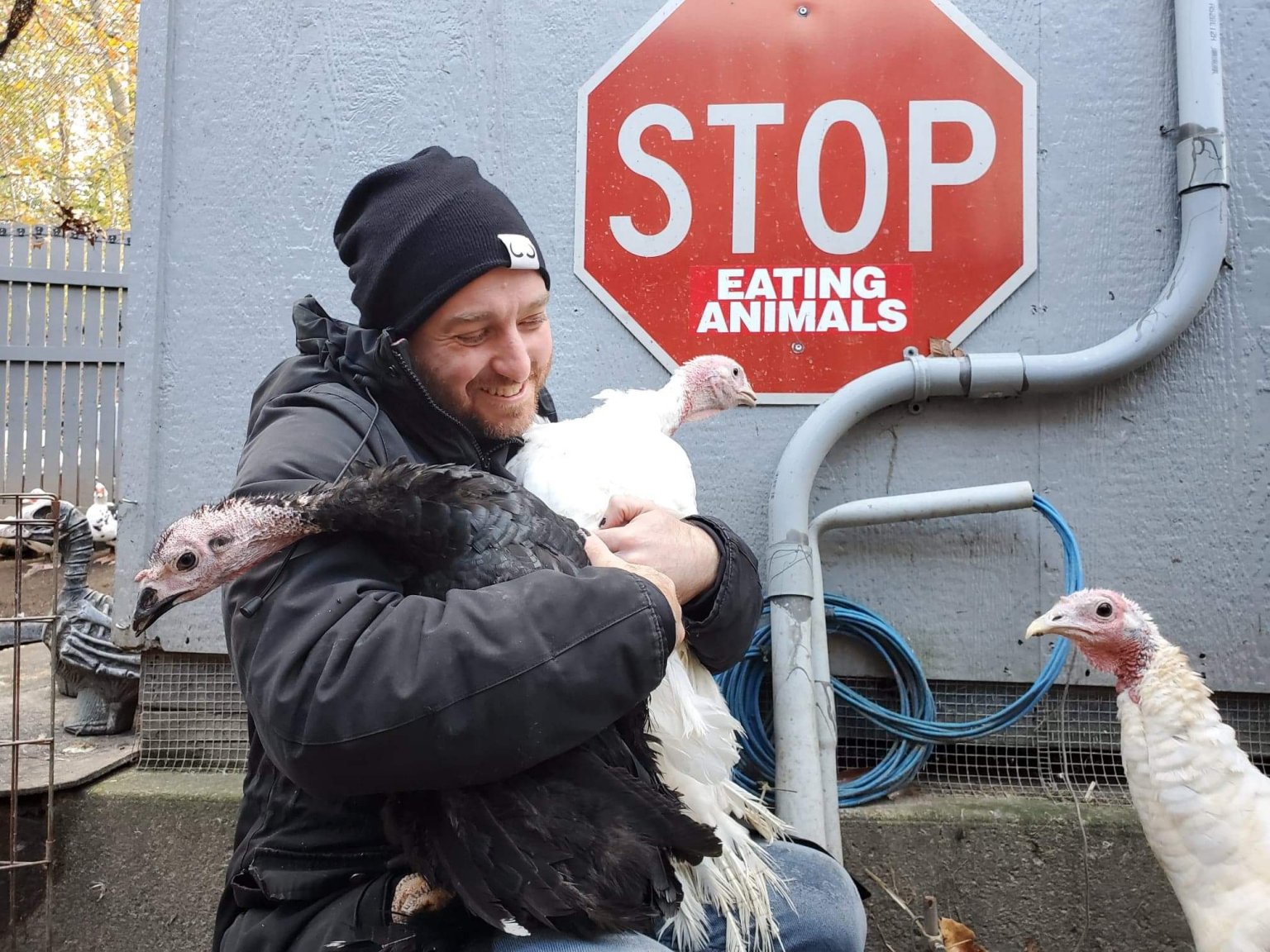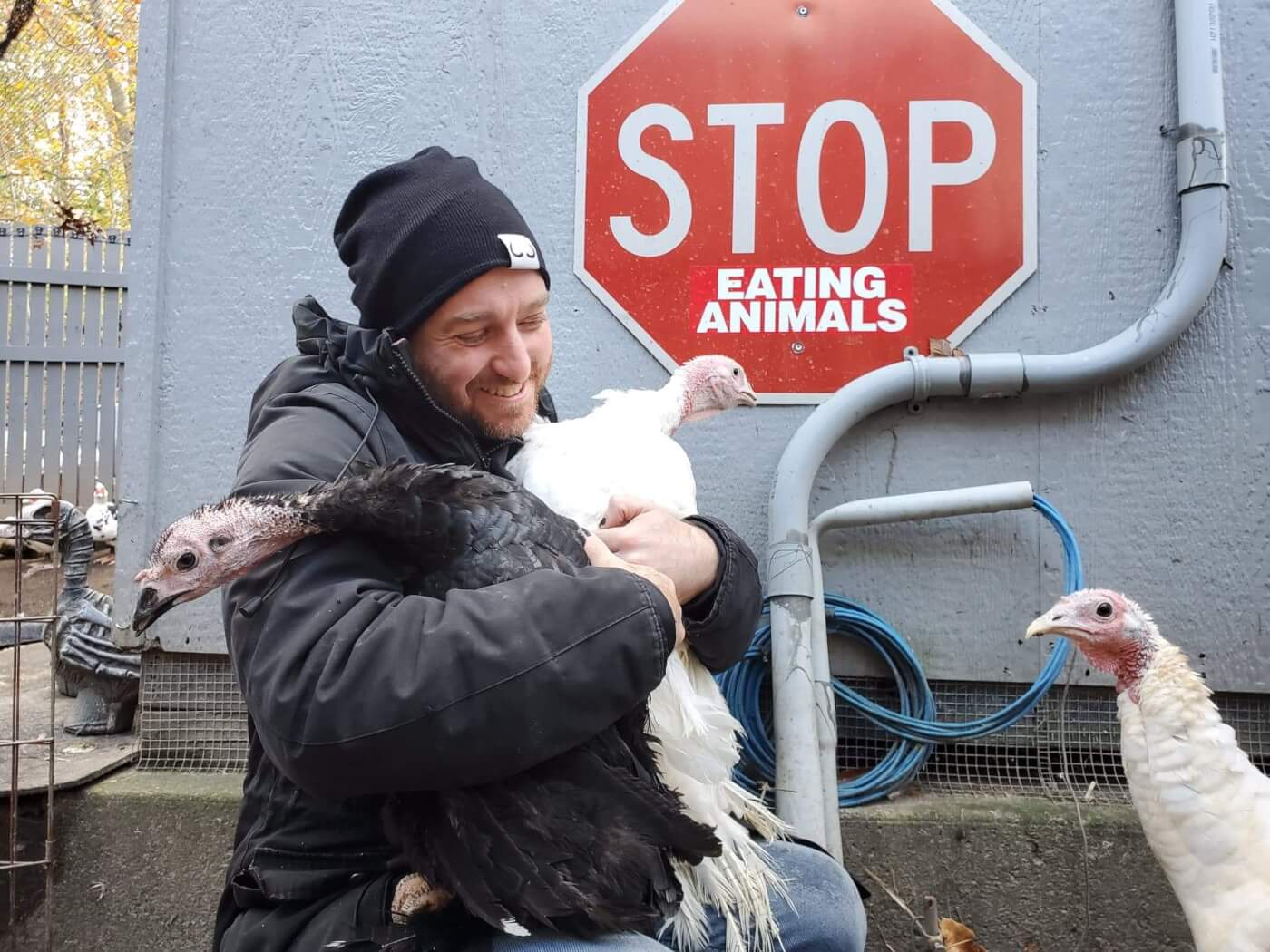 We placed "Pardon Tom" ThanksVegan billboards in Des Moines, Iowa, and Montgomery, Alabama, in the wake of governors' turkey "pardon" events.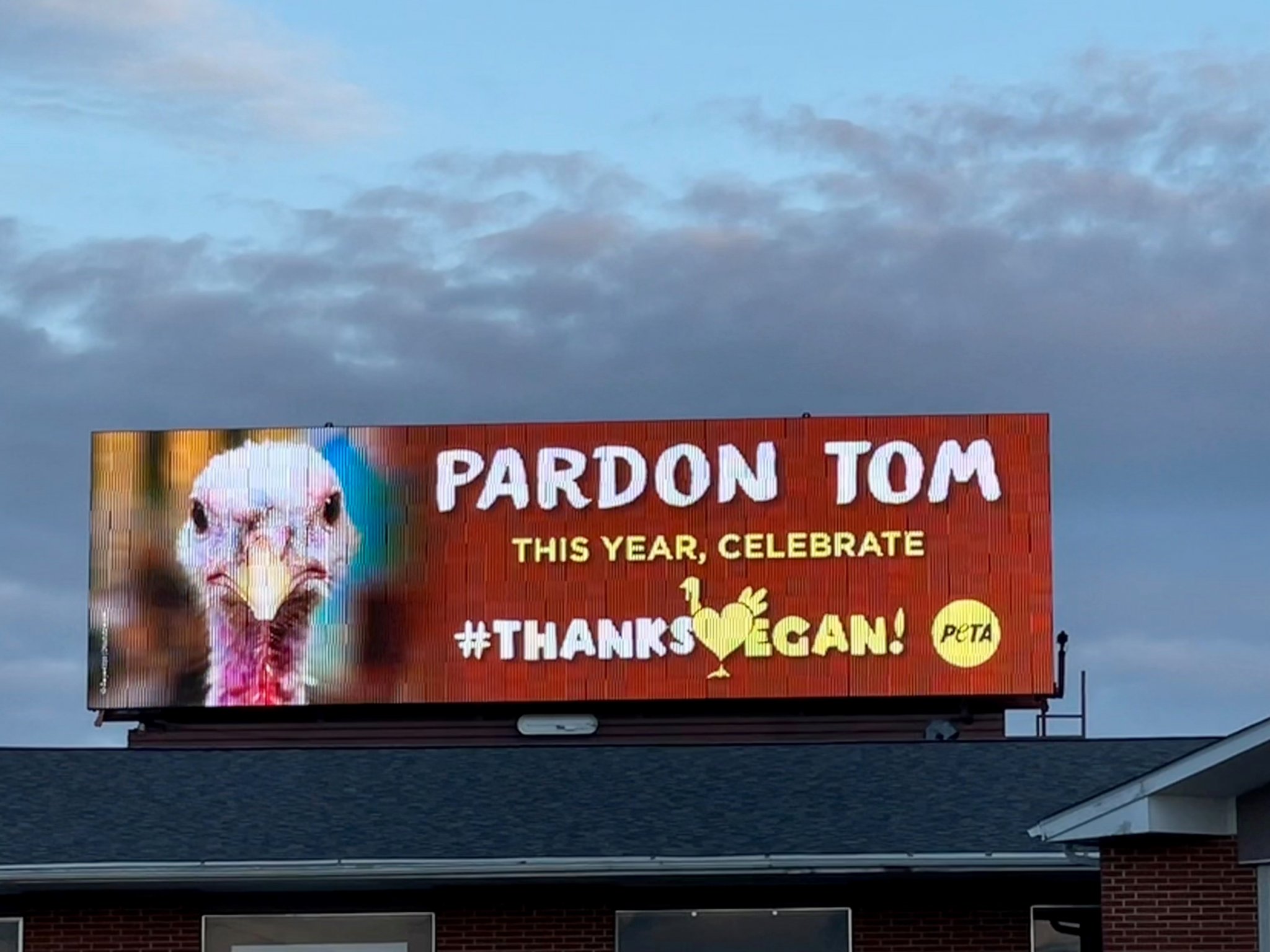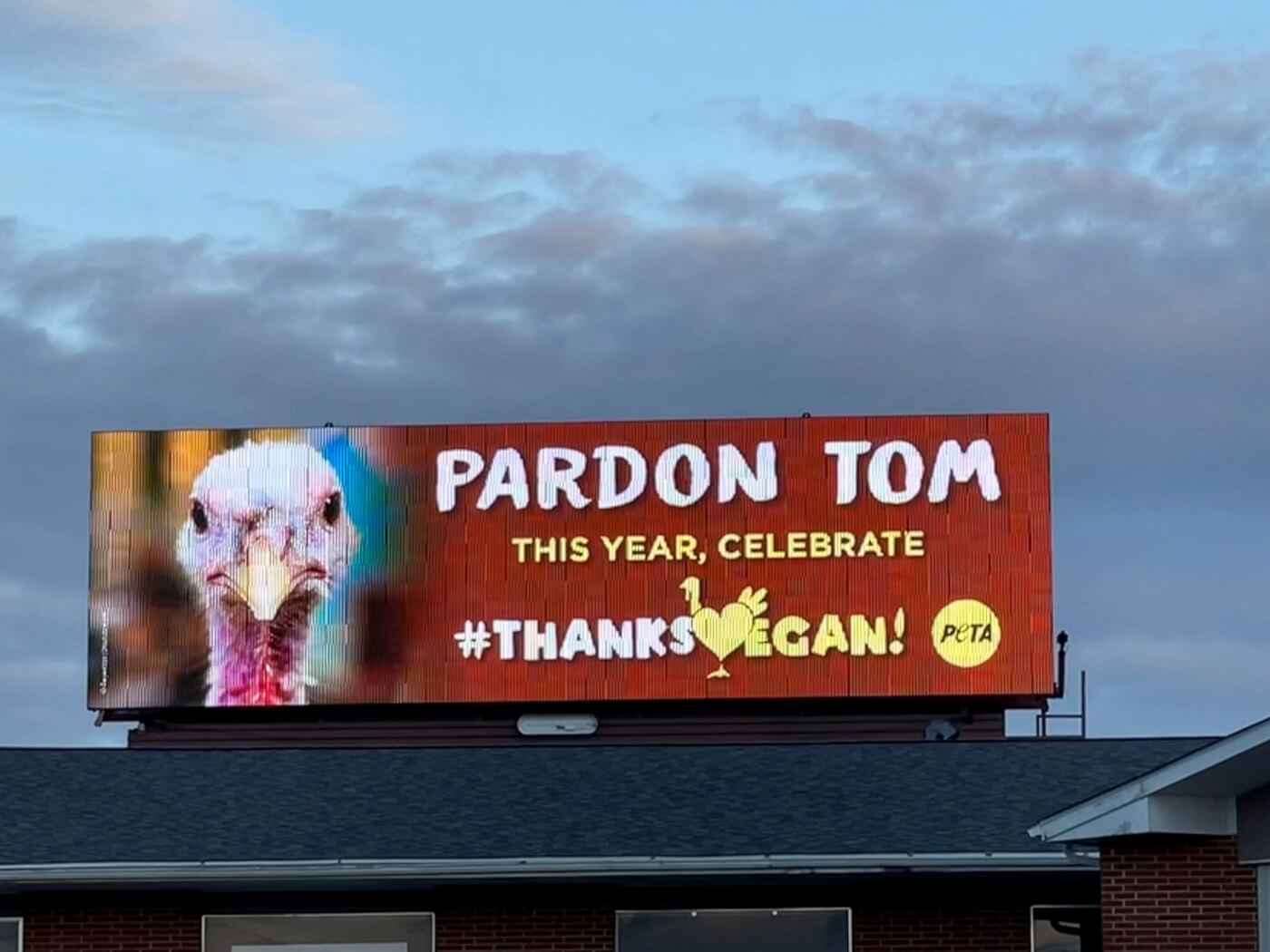 Meanwhile, animal champion Courtney Stodden partnered with PETA to issue "pardons" of our own to those pledging not to eat turkeys or any other animals on Thanksgiving.
ThanksVegan 2022 followed news of record-breaking legal progress for tormented turkeys.
Twelve former workers of Plainville Farms, a self-described "humane" turkey supplier to major grocery stores, were recently charged with more than 140 counts of cruelty to animals following a PETA investigation—the most charges in any case of cruelty to factory-farmed animals in U.S. history.
Having a wonderful ThanksVegan at home is a compassionate and fulfilling way to embrace holiday tradition without harming anyone.
Most supermarkets stock a variety of animal-free options at wallet-friendly prices—from dairy-free butter to vegan turkey roasts—so swapping ingredients is a snap.
PETA's ThanksVegan guide will help you cook the meal of your life for the next holiday and many more to come—whether you're hosting, traveling, or hunkering down at home for a small-scale feast, we've got you covered.