You know how in horror movies, you're always perplexed when characters dimwittedly ignore all sign of impending doom? This is one of those moments.
The Texas Biomedical Research Institute—the infamous laboratory that has had multiple primate escapes, deaths, and injuries because of neglect and incompetence—has been granted permission by the Centers for Disease Control and Prevention (CDC) to experiment with, of all things, the Ebola virus.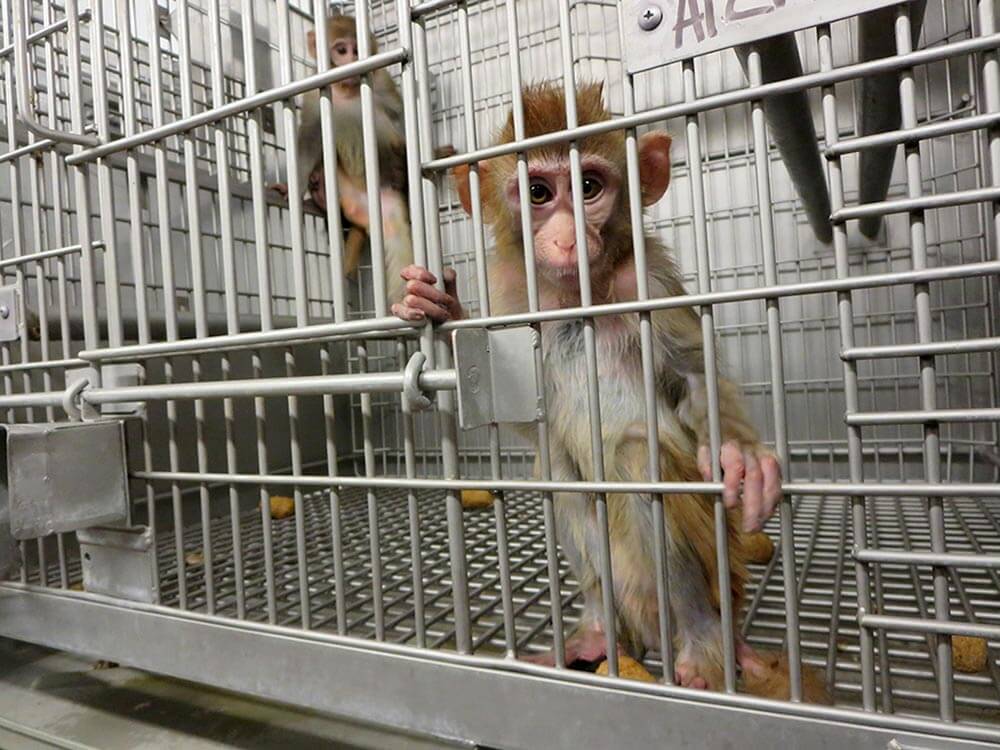 Yes, the CDC thinks that the facility that recently made headlines when four baboons imprisoned there escaped by using a barrel and ran as fast and far as they could should be allowed to handle and contain a virus classified as a bioterrorism disease. This is the same place that the U.S. Department of Agriculture slapped with a hefty fine only a few years ago for repeatedly allowing primates to escape from their cages and injure both themselves and humans. Brilliant.
PETA can't stress enough how dumb and dangerous this is.
Ebola is transmitted to humans from other animals and then spreads through the population via human-to-human contact. The average fatality rate for Ebola is 50 percent, but previous outbreaks have reached rates as high as 90 percent! The CDC says that an outbreak in the U.S. could cause widespread public panic and social disruption.
Anyone truly concerned about human health and finding actual cures for diseases would realize that Texas Biomed is a sloppy facility that could pose a serious threat to the public.
Viral experiments in primates can go seriously wrong.
In 1989 and 1990, Hazelton Laboratories was responsible for three imported shipments of Ebola-infected monkeys and an unprecedented Ebola outbreak in Reston, Virginia—a suburb of Washington, D.C.—after dozens of macaque monkeys suddenly died and four workers were infected with a previously undiscovered strain of Ebola. Hazelton renamed itself Covance after the scandal—and PETA has made that name notorious after finding unthinkable abuse and miserable conditions for the hundreds of monkeys imprisoned at its facility.
25 years ago in Virginia, a very different Ebola outbreak – http://t.co/67ng87GX0w pic.twitter.com/oqZ6FiKfo0

— CBS News (@CBSNews) August 10, 2014
Some experimenters have been less fortunate. Vivisector Elizabeth R. Griffin died just six weeks after she was exposed to a monkey carrying the herpes B virus at Yerkes National Primate Research Center in Atlanta.
At Tulane National Primate Research Center in Louisiana, experimenters were dumbfounded when five monkeys became infected with a deadly bacterium—even though they weren't part of an experiment. A federal investigator was also diagnosed with the disease shortly after entering the facility.
What You Can Do
PETA urges Texas Biomed to stop trying to recreate the plot from Outbreak, close its laboratory, and release the primates it holds into a reputable sanctuary immediately. All animals have a right to be treated with respect and not be experimented on—and we'll never stop opposing anyone who torments, mutilates, or kills them.
For the sake of animals and public safety, take action against neglectful, abusive primate laboratories today by calling on authorities to strip them of funding: