Snickers and Birch's stories broke millions of people's hearts after PETA released footage of a kennel operated by former Iditarod champion John Baker and by fellow Iditarod musher Katherine Keith (who has had two dogs die during the race). Thanks to PETA's investigator, the world saw that Snickers—kept chained near the icy sea, limping, crying, and without any shelter—was left to pace in circles all day and that the paralyzed Birch was denied veterinary care, despite suffering from a severe spinal cord injury. We swiftly sent the evidence to the Kotzebue Police Department, requesting that officers investigate Baker and Keith's kennel. To say that authorities let these dogs down would be a massive understatement.
This newly obtained footage is from the Kotzebue Police Department's "investigation," which didn't take place until two weeks after it received our complaint. If officers had had a veterinarian accompany them to evaluate the dogs, they wouldn't have had to resort to playing guessing games.
"I'm not a dog expert, I'll be honest with you. I'm not a veterinarian, either," one of the officers can be heard saying to Baker with regard to whether Snickers needs medical treatment.
The officers glanced at Snickers from several feet away—never actually going up to her. One officer can be heard describing her as "an old dog" who moved "ginger[ly]." Instead of examining the elderly Snickers themselves, they asked Baker whether he was concerned about her health. Even though he had previously admitted that Snickers was suffering from arthritis when she ran in the Iditarod, has been "in a lot of pain" for years, and needed to be "put her out of her misery" (which he said he planned to do by shooting her once he had "a good place to bury her"), the Iditarod musher told officers that he wasn't concerned about her health.
During our exposé, PETA's investigator observed that Birch, another of Baker and Keith's captives, struggled just to get in and out of the meager structure that she had access to for shelter. Even though Birch had sustained a crippling, extremely painful spinal cord injury when she was just a puppy, which left her paralyzed and extremely vulnerable, the two Iditarod mushers wouldn't take the suffering puppy to a veterinarian. They just left her chained up outside in the freezing cold.
Baker had admitted to PETA's eyewitness that Birch was "not healthy" but refused our eyewitness's repeated offers to adopt her or provide her with veterinary care, evidently because anyone who saw her would probably conclude that the mushers were "being real hard on 'em." Yet when officers visited Team Baker Kennel, Baker claimed that Birch had allegedly recovered and admitted that he'd (suspiciously) sent her to another dog musher in Canada. Officers never laid eyes on Birch during the course of their investigation and took seven months to make a brief call to the Canadian musher in order just to ask about Birch's well-being—a step that they apparently took only after being prompted to do so by the district attorney. Birch deserved much more than this grudging, half-hearted effort.
Snickers and Birch gained nothing from the Kotzebue Police Department's visit to the kennel, and Baker and Keith's cold-as-ice hearts don't seem likely to melt anytime soon—these dogs need us to take action. The only way dogs won't suffer as Snickers and Birch did so severely is when they're no longer being used for the Iditarod.
Ask yourself: Isn't Birch's life more important than some dogsled race?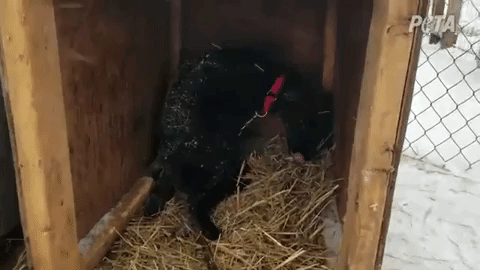 The only acceptable answer is "yes." So do your part: If you're planning a trip or cruise to Alaska, please, don't buy any packages or excursions that include dogsled rides or visits to dog kennels.
*****
Please click on the link below to urge Millennium Hotels and Resorts and others to do their part by immediately severing ties with the deadly Iditarod: