Breaking news: Seven PETA supporters were just arrested for occupying the foyer of the U.S. Department of Health & Human Services (HHS) as part of a protest against government experimenter Elisabeth Murray's "monkey fright" experiments. Photos of the protest, which began outside HHS headquarters, are below: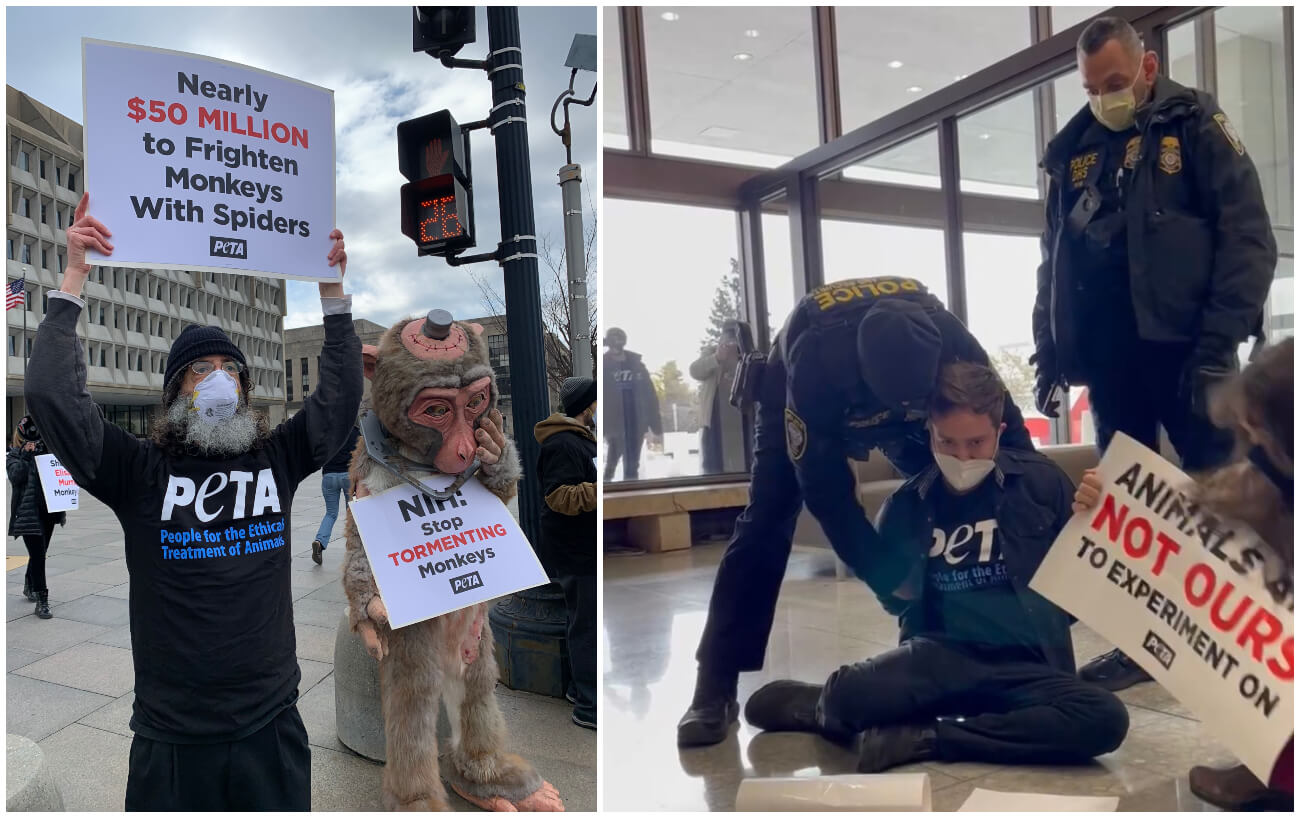 https://twitter.com/peta/status/1486067371039199234
Video footage of the arrests was also captured:
UPDATE: Police are confiscating phones and several peaceful protesters have been arrested! pic.twitter.com/cysaXkEFTF

— PETA (@peta) January 25, 2022
---
In her experiments, Murray cuts into monkeys' heads, injects toxins into their brains, implants "head posts" into their skulls, deprives them of food and water, and terrorizes them with fake but realistic-looking snakes and spiders. She has received nearly $50 million in taxpayer funding since 1998—and hasn't produced one treatment or cure for humans.
"Elisabeth Murray's monkey-torture laboratory has sucked up millions of government dollars, and all that taxpayers have gotten for it is a pile of dead animals. PETA won't rest until the National Institutes of Health shuts down Murray's laboratory."

—PETA Senior Vice President Kathy Guillermo
Monkeys in Murray's laboratory are caged alone for years or even decades—condemned to social isolation that causes profound psychological and physiological distress. When experimenters frighten the isolated and brain-damaged monkeys with fake jumping spiders and wooden mechanical snakes, the monkeys respond by freezing, turning away, shaking their cages, or showing signs of submission.
Murray's "research" has amounted to 30 years of monkey torture. Research money needs to be redirected into human-relevant models and cutting-edge methods that hold promise for humans.
Take Action for Monkeys
Tell the National Institutes of Health (NIH) that you won't tolerate having your tax dollars pay for the torment of monkeys.