Want to have a New Year's celebration that's "off da chain"? Start by getting dogs off theirs. (Chains, that is.) Since it's time to make resolutions, make one of yours a pledge to see an end to chaining in your community by year's end—all it takes is persuading local officials to make (and then pass) a kind of resolution of their own!
Need more convincing? Meet Ziggy. This was his life before PETA—and a caring animal advocate, Alexis Tsiouris—came into it: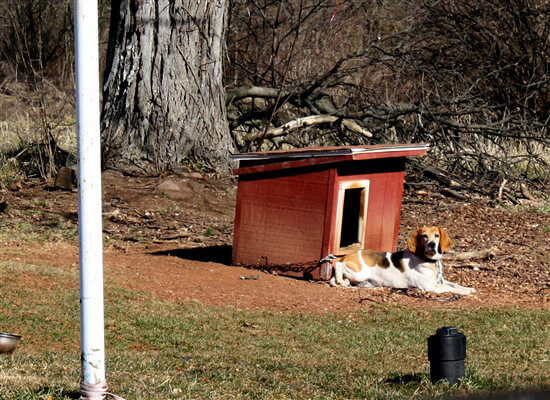 Alexis and PETA worked together over the course of a year to get Ziggy (then named Gizmo) off his chain and into a true home. After PETA alerted Alexis to Ziggy's plight, she delivered straw and treats to him. Both Alexis and PETA contacted his owner, who finally surrendered him to Alexis. Ziggy now lives indoors with his loving family, including three other dogs:
Ziggy's life is as bright now as it once was bleak. But with so many "backyard dogs" on chains and ropes, one-dog-at-a-time rescues—while worthwhile and often necessary—can't effectively help them all.
That's why it's so vital that tethering (chaining) bans become law in every community. While Ziggy was chained up, for example, PETA had sent law-enforcement officials to check on him twice, but they determined that his situation was legal so nothing could be done about it. A chaining ban would give authorities the necessary tools to help dogs like Ziggy.
What You Can Do
This year, put "Get a tethering ban passed" at the top of your list of New Year's resolutions and get it done before 2013 comes to a close. Learn how and then make your resolution: no more chained dogs!