PETA Latino was back in Cancún recently, raising the "ruff" for dogs and throwing a "purrty" for cats with a weekend-long spay-a-thon!
Thanks to the staff, volunteers, a local partner shelter, and Global Compassion Fund supporters, 202 dogs and cats are newly sterilized and no longer at risk of contributing to the area's companion animal overpopulation crisis.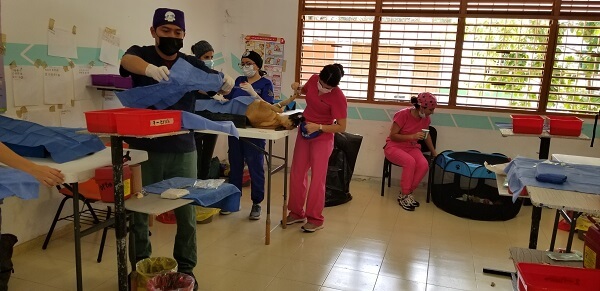 Fieldworkers spent the week before the free clinic delivering doghouses, food, and more in the area; encouraging attendance at the clinic; and even providing free roundtrip transportation for those that needed it.
With the help of a partner shelter and rescuers, the team also gathered up several community dogs and cats——sterilizing, feeding, and treating them for fleas and mange. Humans weren't left out either—PETA Latino offered them vegan burritos and handed out copies of PETA President Ingrid Newkirk's book featuring stories of some of the animals rescued thanks to Global Compassion Fund support, Un Mundo de Amor Para los Animals.
How Spay/Neuter Clinics Help Mitigate the Homeless-Animal Crisis
In just one year, an unspayed cat can give birth to 12 kittens and an unspayed dog can give birth to 16 puppies, which means that PETA Latino's Cancún event may have prevented the birth of more than 3,000 animals in the next 12 months alone. On any given day in the U.S., there are roughly 70 million homeless companion animals struggling to survive. The number of homeless dogs and cats around the world is almost unfathomable.
Funding for temporary sterilization clinics like PETA Latino's spay-a-thon in Cancún helps reduce the suffering of animals for generations, as fewer unsterilized dogs and cats means fewer animals born into communities that don't have the resources to care for them. You can help support groups like PETA Latino that are changing the lives of homeless and vulnerable animals by giving to PETA's Global Compassion Fund today: