Notorious experimenter Joe Kornegay breeds golden retrievers to suffer from debilitating canine muscular dystrophy (MD) in his laboratory at Texas A&M University. But the misery that he causes isn't confined to Texas. In August 2008, while working at the University of North Carolina–Chapel Hill, he "donated" a 7-month-old golden retriever puppy named Sequoia to experimenters at the University of Missouri–Columbia (Mizzou). Sequoia, who was also known as "D08-177," didn't have canine MD but carried the gene for it. Instead of placing her with a family who would love her and keep her safe, the Mizzou experimenters used her to breed more puppies with the painful disorder.
Documents obtained by PETA shed light on Sequoia's life filled with pain and misery and reveal the details of her puppies' short, tragic lives. Experimenters used artificial insemination to impregnate Sequoia with the sperm of an MD–afflicted dog named Remus, who was imprisoned at Auburn University. In March 2009, Sequoia gave birth to a litter of eight puppies. Three of them—Tiger, Goldie, and Touta—were afflicted with canine MD, and one carried the gene for it.
Like her sick brother and sister, Touta deserved special care, because the illness would have made it difficult for her to eat, walk, and perhaps even breathe. Instead, according to a paper authored by the Mizzou experimenters, she spent her final days being passed around like a piece of laboratory equipment. When she was no longer wanted for one experiment, researchers used her for another, subjecting her to an "invasive skeletal muscle function" test. She was euthanized in June 2010, at not even 2 years of age.
Tiger and Goldie also died young: Tiger was euthanized at the age of 2 1/2, and Goldie died when she was a year and a half. Three other dogs from this litter were euthanized for unknown reasons: Romeo, when he was a year and a half, and Cougar and Bolt when they were 2 1/2 years old. It's unclear whether they became sick or were simply considered "surplus." Another littermate, named Lion, was lucky: Two months shy of his third birthday, he was adopted.
We don't know what happened to the eighth puppy in Sequoia's litter—a brown golden retriever named Tigress. We do know that she carries the gene for canine MD, so—as her mother before her was—she is most likely being used as a breeding machine to produce more puppies condemned to suffer and die.
According to the records obtained by PETA, Sequoia was euthanized in January 2014, at the age of 6. But before that, she gave birth to two more litters while in Mizzou's laboratory. Of these 17 additional puppies, 10 were stillborn or found dead within days of their birth.
The misery that Kornegay is responsible for multiplies with every litter of puppies bred to have this painful illness. More than 35 years of his experiments on dogs have not led to a cure or even a treatment to reverse the symptoms of MD in humans. For dogs and human MD patients alike, scientists must use more advanced, animal-free methods of studying this disease.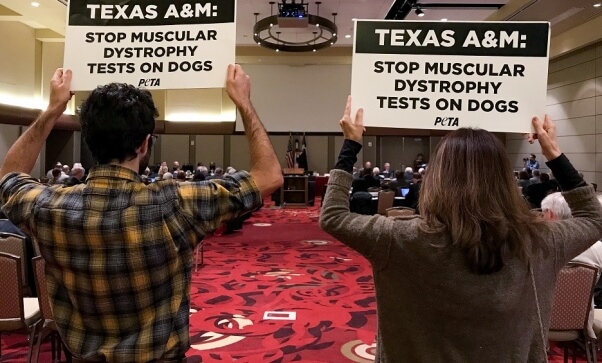 What You Can Do
Please join us in calling on Michael K. Young, the president of Texas A&M University, to close the school's MD dog laboratory, stop breeding these dogs, release them all for adoption into good homes, and refocus the university's resources on non-animal research methods.