After Rosie O'Donnell suffered a heart attack and discovered that one of her arteries was 99 percent blocked, she knew it was time to change her lifestyle. She cleaned her diet of animal products, watched the powerful documentary Forks Over Knives, and spoke with one of the film's driving forces (and Bill Clinton mentor), Dr. Caldwell Esselstyn. PETA also sent her a vegetarian/vegan starter kit, Paul McCartney's slaughterhouse exposé "Glass Walls," and cookbooks. Rosie is keeping her fans updated via Twitter and her blog, noting that she is losing weight and feeling healthier.
Houston Texans running back Arian Foster is getting a rush from being vegan. As the favorite to lead the NFL in rushing yards this season, he joined the celebrities who were advocating for animals on Twitter this week by posting some hilarious words for naysayers: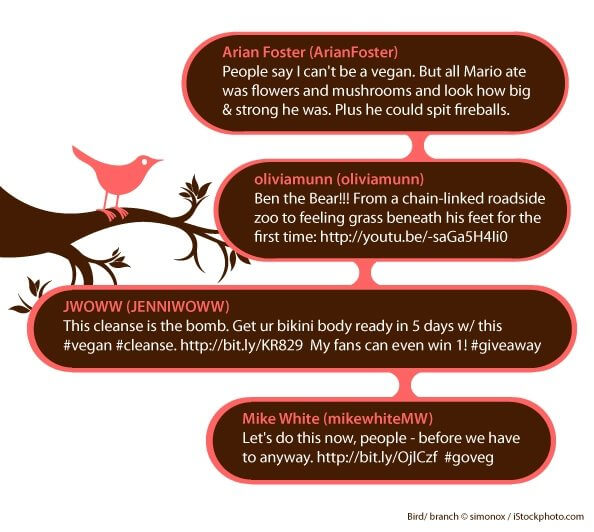 PeoplePets.com named its favorite "pet Tweethearts"—celebrities who fill the Twitterverse with "aww-worthy" pictures and sentiments about their animal companions. Rescue advocates Miley Cyrus and Carrie Underwood graced the list with numerous posts about their beloved dogs.
Bradley Cooper prefers to sing the praises of his rescued dog in more than 140 characters. He took his pup, Charlotte, along for his appearance on Live! With Kelly. His other rescued dog, Samson, passed away earlier this year, but we wouldn't be surprised to see Bradley and Charlotte adopting a new member into the family soon.
Missy Elliott is dropping two new singles over Labor Day weekend, but she isn't dropping her stance on spaying and neutering: Missy knows that a real "misdemeanor" would be contributing to animal homelessness by not having your dogs and cats sterilized. 
To keep up with how the stars are helping animals, follow @PETA on Twitter.