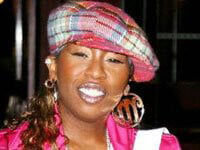 When award-winning hip-hop artist Missy "Misdemeanor" Elliott found out that, in one year, her hometown of Portsmouth, Virginia, was forced to euthanize more than 2,308 cats and dogs in animal shelters—and that the number of animals euthanized in animal shelters nationwide is 4 to 5 million annually—she decided to do something about it.
The headstrong hip-hop star jumped into action, writing a letter to the vice mayor of Portsmouth explaining why it's important to spay and neuter all animals before they're put up for adoption.
Join Missy in getting active for animals! Learn more about how you can help dogs and cats in need.