Credit: Star Max Inc.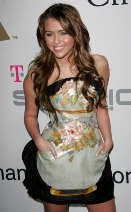 The following is a guest post from peta2's Patricia
We've seen tons of stories and photos of Miley Cyrus stopping on the side of the road to rescue strays. So we weren't one bit surprised when we found out that she had rescued some chickens from the set of her new flick, Hannah Montana: The Movie.
Apparently, Miley fell in love with one of the chickens on the movie set and decided to take her and several others home because, according to the article, she thought "they were sad to be working." (Awww, of course they were—animals aren't actors!) The article also alludes to the fact that she may be asked to go naked for one of our campaigns—um, no. She's underage, for goodness' sake! Not that we wouldn't LOVE for her to star in any ad for PETA—Miley, in case you're reading this, we think you'd make a beautiful "Angel for Animals"!
When we find out about celebs (or anyone!) who do nice things for animals, we like to acknowledge it, so PETA is giving Miley Cyrus our Compassionate Citizen Award.
Written by Patricia Trostle