Just days after PETA filed a complaint tipping off the U.S. Department of Agriculture (USDA) to reported cruelty to tiger cubs and danger to visitors at Tim Stark's notoriously abusive Charlestown, Indiana, roadside zoo—Wildlife in Need—the USDA investigated the facility. The agency confirmed all of PETA's allegations and cited the roadside zoo for multiple violations of the federal Animal Welfare Act.
According to the September 13 inspection report, which just became publicly available, tiger cubs described as "too big, too fast, and too dangerous" to be interacting with the public were used for "Tiger Baby Playtime," during which they roamed freely around a room filled with dozens of visitors, including one newborn baby, one toddler, and 10 other young children. Workers hit the cubs in the face with riding crops, and at least two visitors were bitten by the tigers. The USDA inspector noted, "These cubs could easily have pounced on a younger child in the audience and caused serious injury or even death to the babies."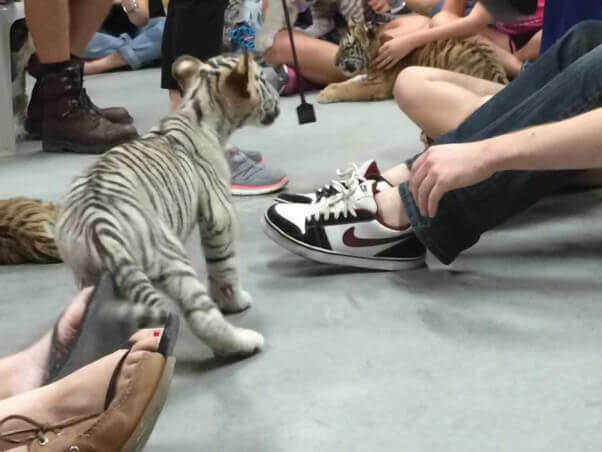 "These latest citations confirm what PETA has warned for years, which is that nobody with a lick of concern for their children's safety or for animals should ever buy a ticket to Tim Stark's roadside zoo," says PETA Foundation Deputy Director Brittany Peet. "This cruel and dangerous operation must be shut down and retire the animals to reputable sanctuaries where they won't be used as playthings."
On September 13, the USDA also noted that the same cubs were used in nearly a dozen "Tiger Baby Playtime" sessions a day for up to 10 hours with only one break. One cub was evidently so exhausted by this ordeal that he or she had to be dragged out to the crowd by the front legs. An inspection of Stark's facilities on October 8 further found that he had denied adequate veterinary care to apparently sick animals. Numerous animal enclosures were in dangerous disrepair, lemurs were unable to access food or water, and big-cat enclosures were littered with bones and animal waste.
What You Can Do
Please never patronize any business that exhibits animals in cruel and dangerous displays.