The Barry R. Kirshner Wildlife Foundation, long a PETA target for its deplorable conditions, is in the hot seat with the feds. The U.S. Department of Agriculture (USDA) slapped the California roadside zoo with $5,000 in fines after inspectors found evidence of appalling neglect, including denying animals veterinary care and leaving them to suffer in temperatures above 100 degrees with no relief. The president of the roadside zoo, Roberta Kirshner, had the opportunity to challenge the USDA's findings—yet tellingly, she chose not to.
In recent years, multiple whistleblowers have come forward with damning allegations about abuse at the facility and have independently corroborated each other's stories. We have copies of the X-rays of a lion cub who was held and handled by visitors, even though he was suffering from broken bones!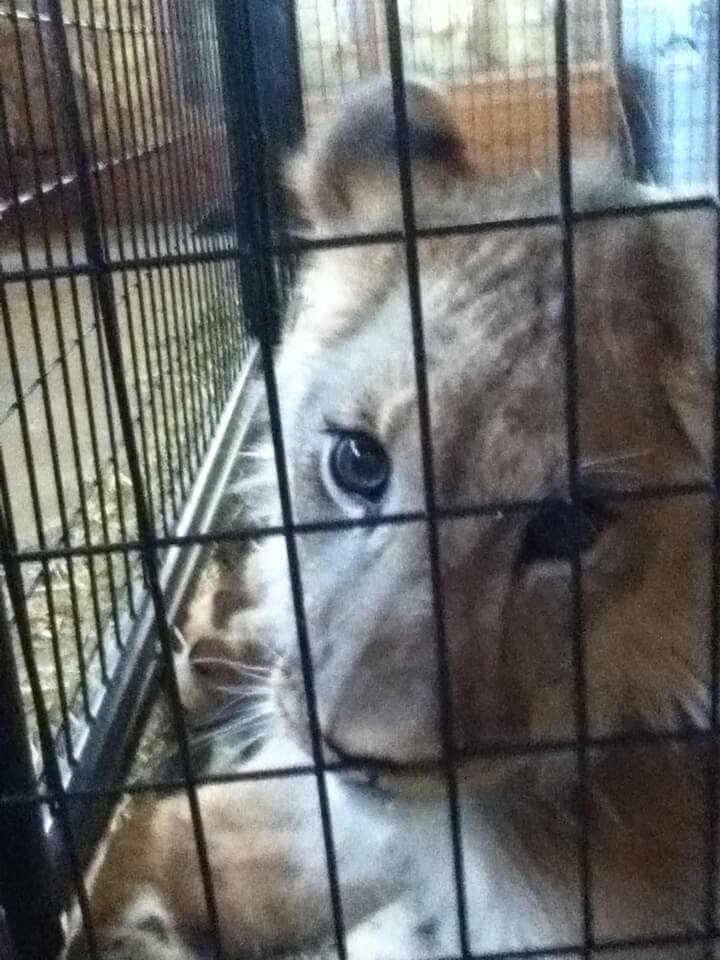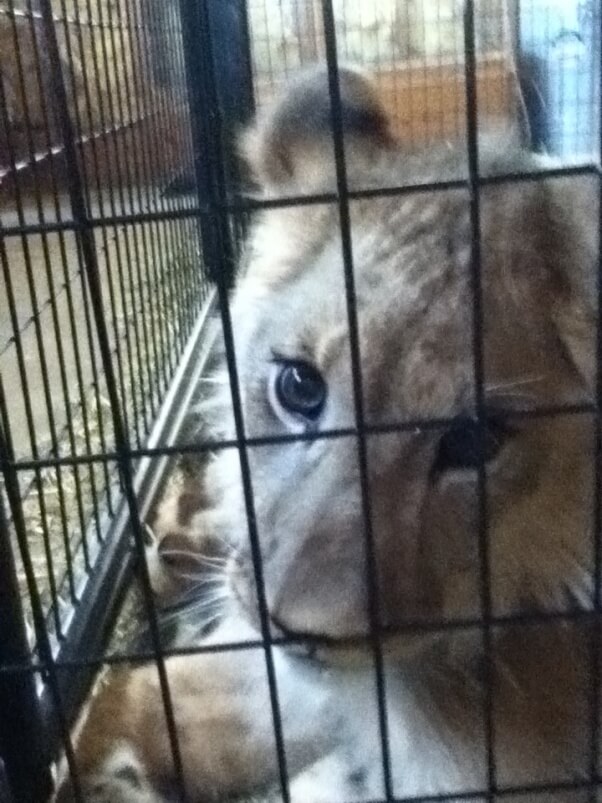 In other roadside-zoo news:
The disregard for animal welfare continues at Animals of Montana. The notorious roadside zoo allowed a fisher—a mink-like animal—to escape from an enclosure while the cage was being cleaned. The animal had still not been recovered when USDA inspectors visited the facility and issued a citation. Just last summer, handlers allowed a tiger to escape during a photo shoot in Detroit and then allowed members of the public to taunt the loose animal with a weed whacker and hedge trimmers. A trainer at this outfit was also mauled to death by a bear in 2012, which resulted in a $9,000 fine from the Occupational Safety and Health Administration (OSHA).

In addition, owner Troy Hyde was convicted in 2005 of illegally trafficking tigers in violation of the federal Endangered Species Act and the Lacey Act, after which his USDA exhibitor's license was suspended for two years.
Hollywild Animal Park in South Carolina was assessed a nearly $19,000 penalty for egregious violations of the Animal Welfare Act (AWA), including repeatedly leaving animals in filthy enclosures and denying animals veterinary care. Recently, the facility was cited for confining bears to tiny concrete pens, and a tiger was found caked in filth. Last year, two alpacas died from unknown causes, and 28 animals suffered and died as a result of an electrical fire. PETA has repeatedly called for the surviving animals to be moved to reputable sanctuaries.
PETA has long complained about conditions at Summer Wind Farms Sanctuary, and the USDA has finally filed a formal complaint of its own. The 24-page complaint includes nearly 90 allegations of willful violations of federal animal-welfare laws. Among the allegations are reports that the facility repeatedly failed to provide animals with basic necessities such as clean water, protection from the weather, clean enclosures, adequate veterinary care, and edible food. This complaint is the first step in a disciplinary process that could result in a fine of up to $10,000 per violation or a license suspension or revocation.

This outfit's USDA license was already suspended for three months in 2012. Undeterred, Summer Wind Farms racked up 49 citations for AWA violations last year and 98 in 2014—including, among many other issues, lacking appropriate staff, keeping animals in filthy enclosures, and denying animals clean water and adequate veterinary care. Still, its license was once again renewed in 2015, and PETA has filed a lawsuit against the USDA for keeping dangerous facilities like Summer Wind Farms in business with its automatic-renewal scheme, despite extensive and repeated violations of the AWA.
Let's end with some good news: Buffalo Beals has been ordered to relinquish all of its primates by April 15, 2016. These social and intelligent animals have languished in squalid enclosures—some in solitary confinement—at this abysmal North Carolina roadside zoo for years. In 2013, a solitary chimpanzee named J.R. was rescued from the facility, and he now lives with other chimpanzees at the spacious, tropical Save the Chimps sanctuary in Florida.

The USDA will also suspend Buffalo Beals' exhibitor's license for one month, after which the facility will remain on probation for one year.