An elephant who was being loaded into a Ringling Bros. and Barnum & Bailey Circus boxcar collapsed after struggling to climb the ramp, and according to an eyewitness, a Ringling crew member intimidated and forced the elephant to get up and into the railroad car. The circus was loading animals after finishing a run in Anaheim, California, and was on the way to Ontario, California.  Reports indicate that the elephant who collapsed is Sarah, an elephant whose removal from performances PETA called for last month because of her poor physical condition.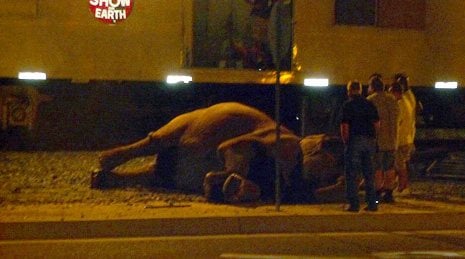 © Ameer Sanghvi
Many of the elephants forced to travel with Ringling are ill and in pain. Just weeks ago, two independent veterinarians with many years of experience with elephants analyzed video footage of Ringling's elephant walk and opening night performance in Los Angeles and determined that one of the elephants "is clinically lame to the point of being crippled. Her condition is painful and she should not be performing" and another elephant with "a lump on [her] left upper leg demonstrates obvious pelvic lameness."
Please join PETA in calling on Anaheim Mayor Tom Tait to make this the last time that Ringling comes to town and Ontario Mayor Paul S. Leon to allow an independent expert―not a Ringling lackey―to check on the elephant's condition.

Written by Jennifer O'Connor