PETA recently uncovered that an elephant traveling with the Ringling Bros. circus, 42-year-old Karen, has tested positive for tuberculosis and was banned from the state of Tennessee earlier this year.
A study conducted by the Centers for Disease Control and Prevention (CDC) has documented the "high prevalence" of tuberculosis among captive elephants, a serious disease that is highly transmissible from elephants to humans. In 2009 nine people were infected by a TB-positive elephant at a refuge—some who had little or even no direct contact with the infected elephant.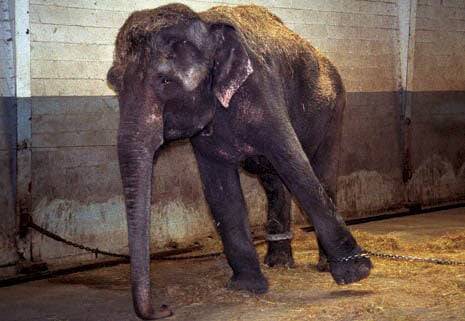 Lota, an elephant who was rented out to circuses, suffered with TB for years before the USDA finally took action that resulted in her being sent to the Elephant Sanctuary, where she spent the last months of her life getting some long-overdue TLC.
Karen is already in poor health. She suffers from painful arthritis and serious foot problems­­—the leading reasons that captive elephants in the U.S. are euthanized. Late in 2010, Karen and another ailing elephant, Minyak, were both granted a reprieve and permitted to stop traveling, but as of March 2011, Karen is back with Ringling's Blue Unit. She is being forced to perform strenuous and painful tricks, including headstands, that aggravate her condition.
Since Ringling has made it clear it won't give this ailing elephant a break, please ask the U.S. Department of Agriculture—the agency in charge of protecting animals in circuses—to intercede and pull Karen off the road permanently.
Written by Jennifer O'Connor