Fred Willard had audiences in stitches with his portrayal of a clueless dog show commentator in the mockumentary Best in Show. But the real-life Fred not only was knowledgeable about animals but also was one of their biggest advocates.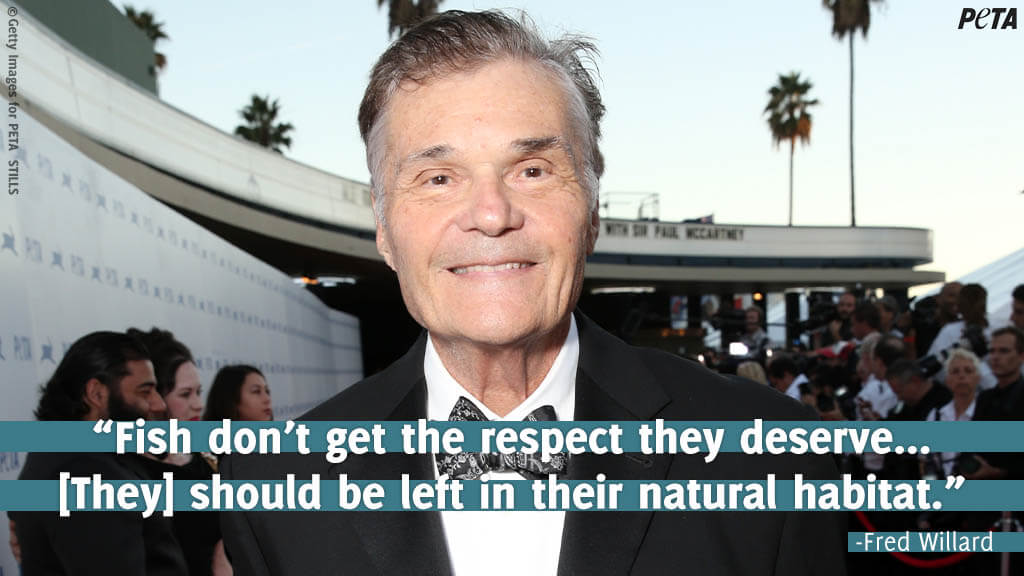 A PETA supporter, Fred's comedic genius put just the right silly spin on serious subjects, including the underestimated intelligence of animals as well as the importance of spaying and neutering and adopting animals from shelters.
In a brilliantly scathing New York Daily News piece about the Westminster Kennel Club Dog Show's addition of cats, Fred observed, "Not only is throwing cats into a venue packed with dogs pretty nuts, so is the whole premise of the Westminster Kennel Club: promoting the breeding and purchasing of animals, especially when we are in the midst of a homeless-animal crisis so massive, it makes Lady Gaga's halftime show look like a school production of 'Mary Poppins.'"
A big proponent of adopting homeless animals, Fred loved to point out the absurdity of buying dogs and cats from breeders while millions of loving animals wait in shelters for someone to give them a home. In a public service announcement (PSA) for PETA, he asks viewers if they'd pay $5 for a blade of grass, $10 for a glass of tap water, or $50 for a handful of soil, before remarking, "Pretty silly, huh? … With all those lives at stake, I hope you'll always adopt, and never buy."
I loved Fred Willard for his kindness to animals and his wit. He helped all kinds of animals over the years and hosted or attended many PETA events. pic.twitter.com/WrvSXZyJfo

— Ingrid Newkirk (@IngridNewkirk) May 16, 2020
Fred and his late wife, Mary, followed that advice: They were "adopted" by a stray cat who used to hang around their house. Later, Fred made a hilarious cameo alongside his one-eyed feline companion in PETA's "Howlin' for You" video to encourage others to open their hearts and homes to animals in need.
To help prevent more animals from ending up homeless, Fred starred in a video promoting PETA's Animal Birth Control campaign. In the spot, he searched for the perfect name for the campaign, musing, "What's neutered, Pussycat? I'll call Tom Jones. Maybe he'll sing the theme song!" Fred also starred in an aww-inspiring video in which he learned to speak dog. And he frequently stuck up for the animals often overlooked by humans, including in his clever "fishbowl therapy" PSA that showed what life was like for a sensitive betta fish who had been confined alone to a cramped bowl just so that he could be someone's decoration.
PETA was fortunate to have Fred as a stalwart supporter. He had a packed house laughing until its sides hurt as the host of our Stand-Up for Animals benefit show at the famous Comedy Store in Los Angeles, and he cohosted our 25th Anniversary Gala. At our 35th Anniversary Gala, he was honored with PETA's Humanitarian Award for his dedication to animal rights.
Thank you, Fred, for making a huge difference for animals.