Shimon Shuchat, who was beloved in the NYC animal rights community and known by activists nationwide despite his young age, died tragically on July 28 at only 22. It's a devastating loss to the animal rights community and animals everywhere, and our hearts are heavy thinking about the life—much of which he spent protesting outside live-animal markets and wherever else chickens were slaughtered, hoping to persuade people to stop eating them—now lost.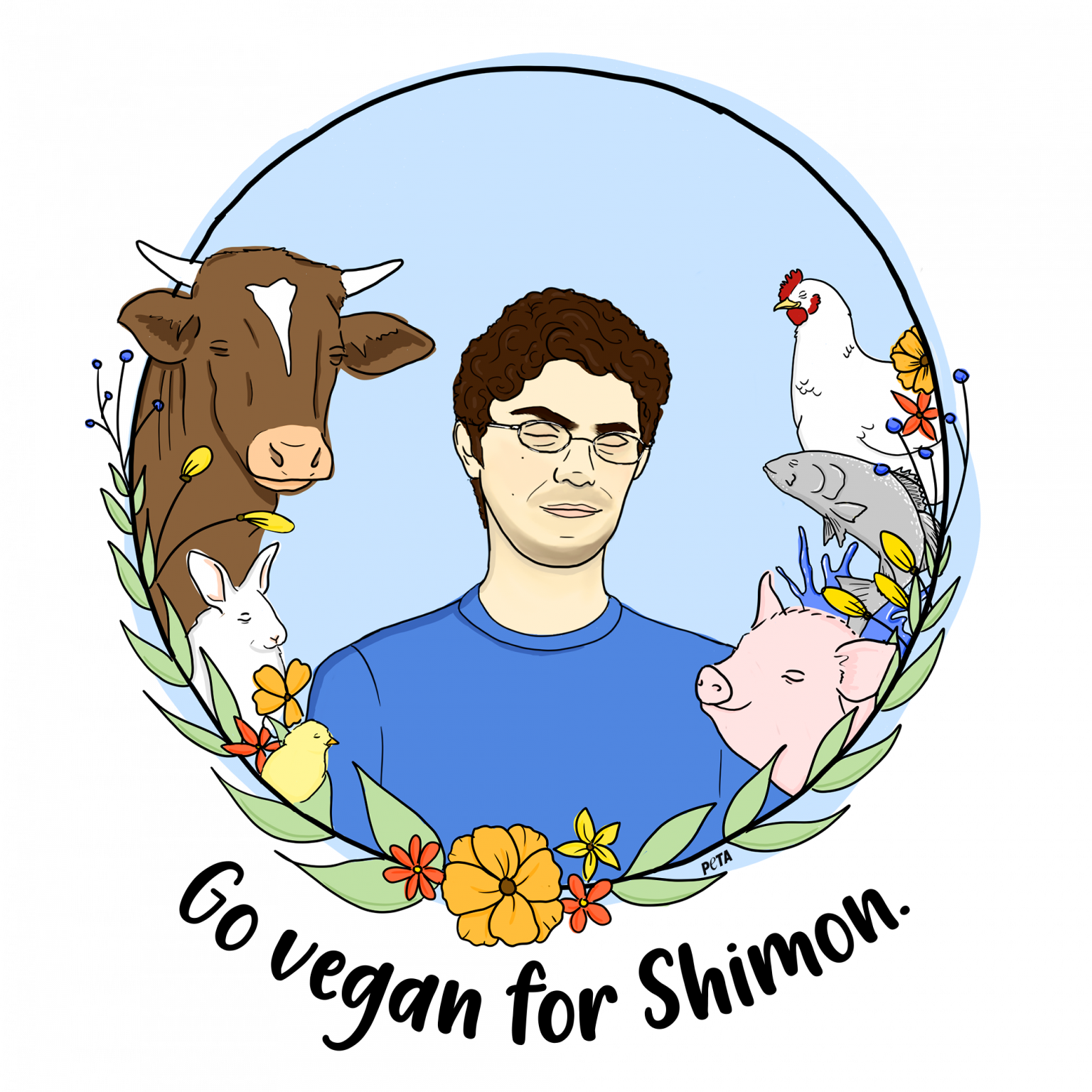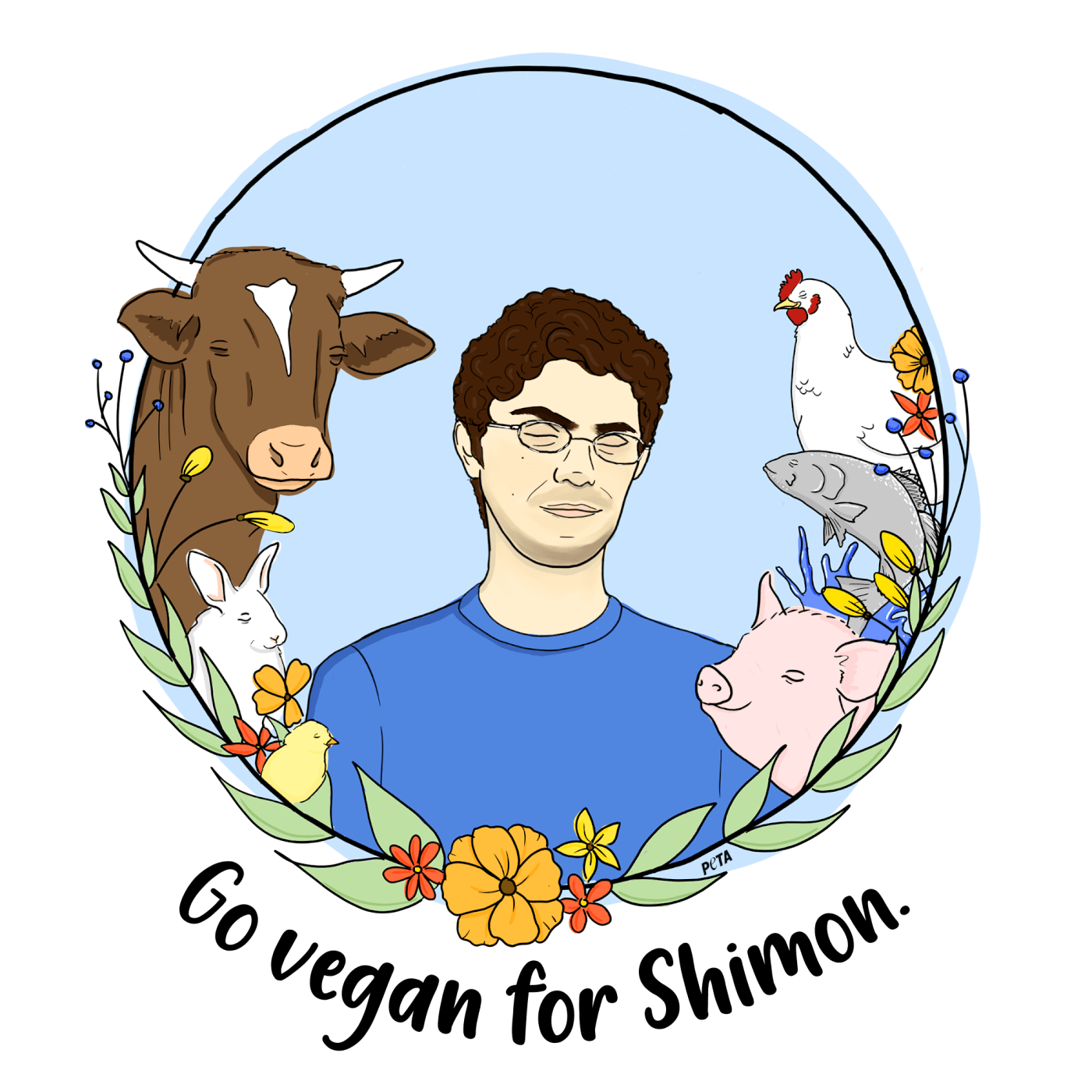 "Shimon longed to save chickens from the knife, and his loss leaves a gap that every one of us must fill so that birds don't continue to die," says PETA President Ingrid Newkirk. "PETA asks everyone to honor his kindness by speaking up if they witness cruelty to any animal and by buying vegan chicken for friends and family who haven't yet made the switch."
In memory of his activism, PETA and Brooklyn-Queens Animal Save rescued four hens from a New York City live-animal market, exchanging them for packages of vegan Gardein chicken and Beyond Sausage. And PETA has also donated vegan chicken dinners to Hannah's Kosher Pantry of the Hannah Kosher Food Shabbat Foundation, which serves the ultra-Orthodox community where Shimon grew up, and given free vegan chicken sandwiches and packages of frozen Gardein chicken to workers at a chicken slaughterhouse in Maryland in his name.
The meat industry crams chickens into filthy sheds by the thousands. At slaughterhouses, workers cut their throats, often while they're still conscious, and at live-animal markets, they're stacked on top of each other in excrement-covered cages—conditions that allow pathogens like the novel coronavirus to spread to humans. Shimon courageously stood up to this violence and urged everyone to go vegan, knowing that each person who does so can spare nearly 200 animals horrific suffering and a violent death each year.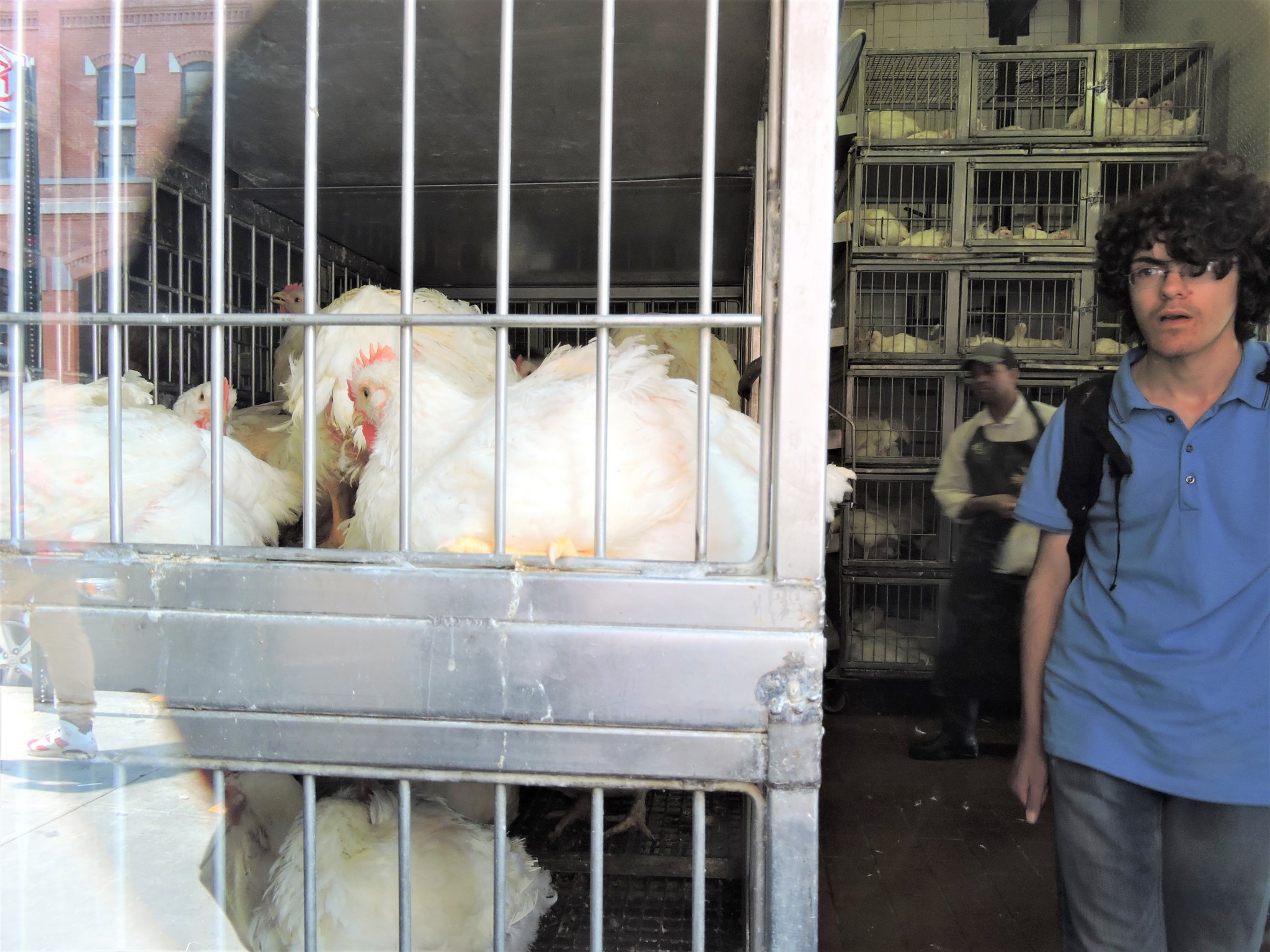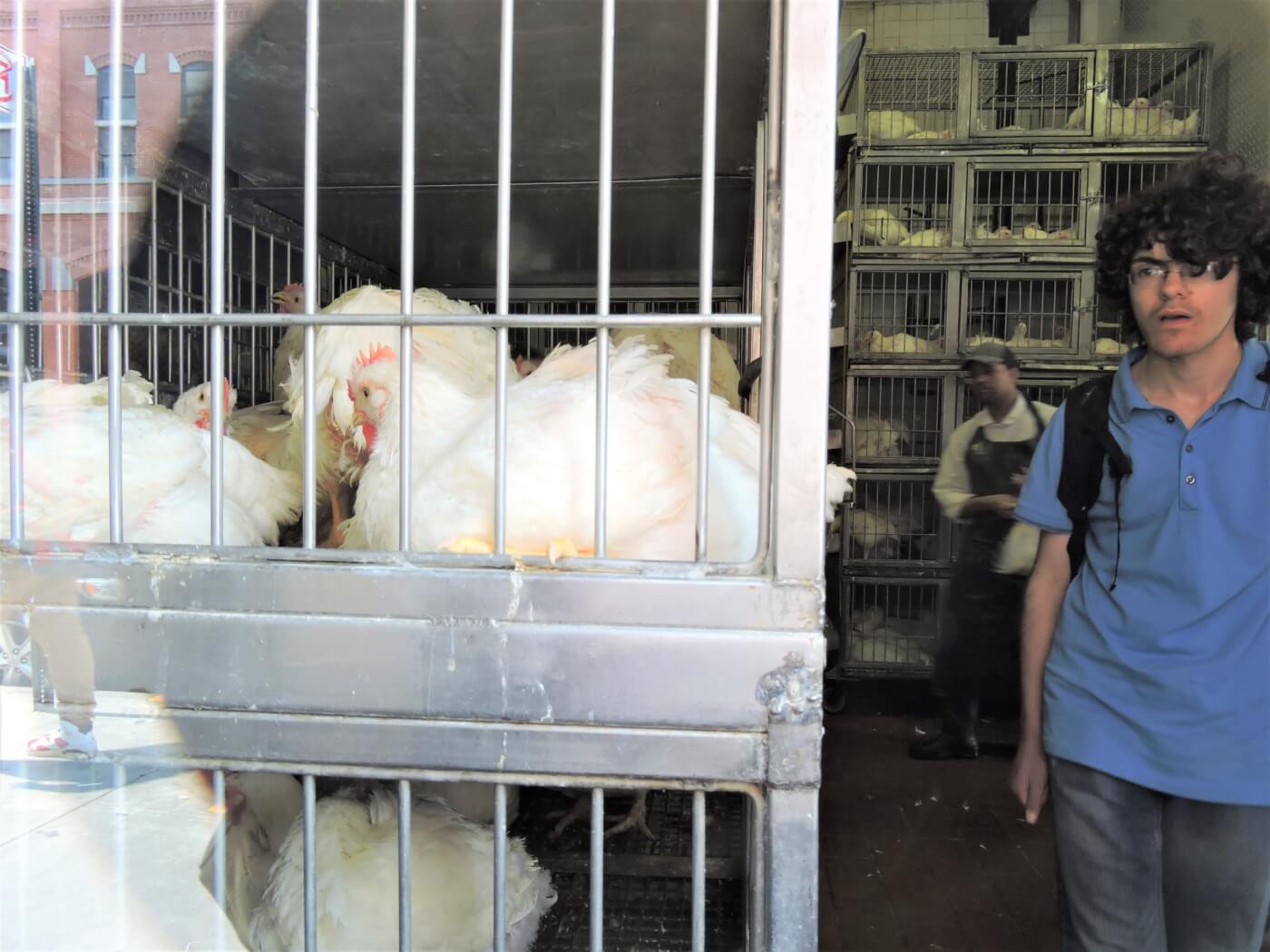 © Miriam Chisholm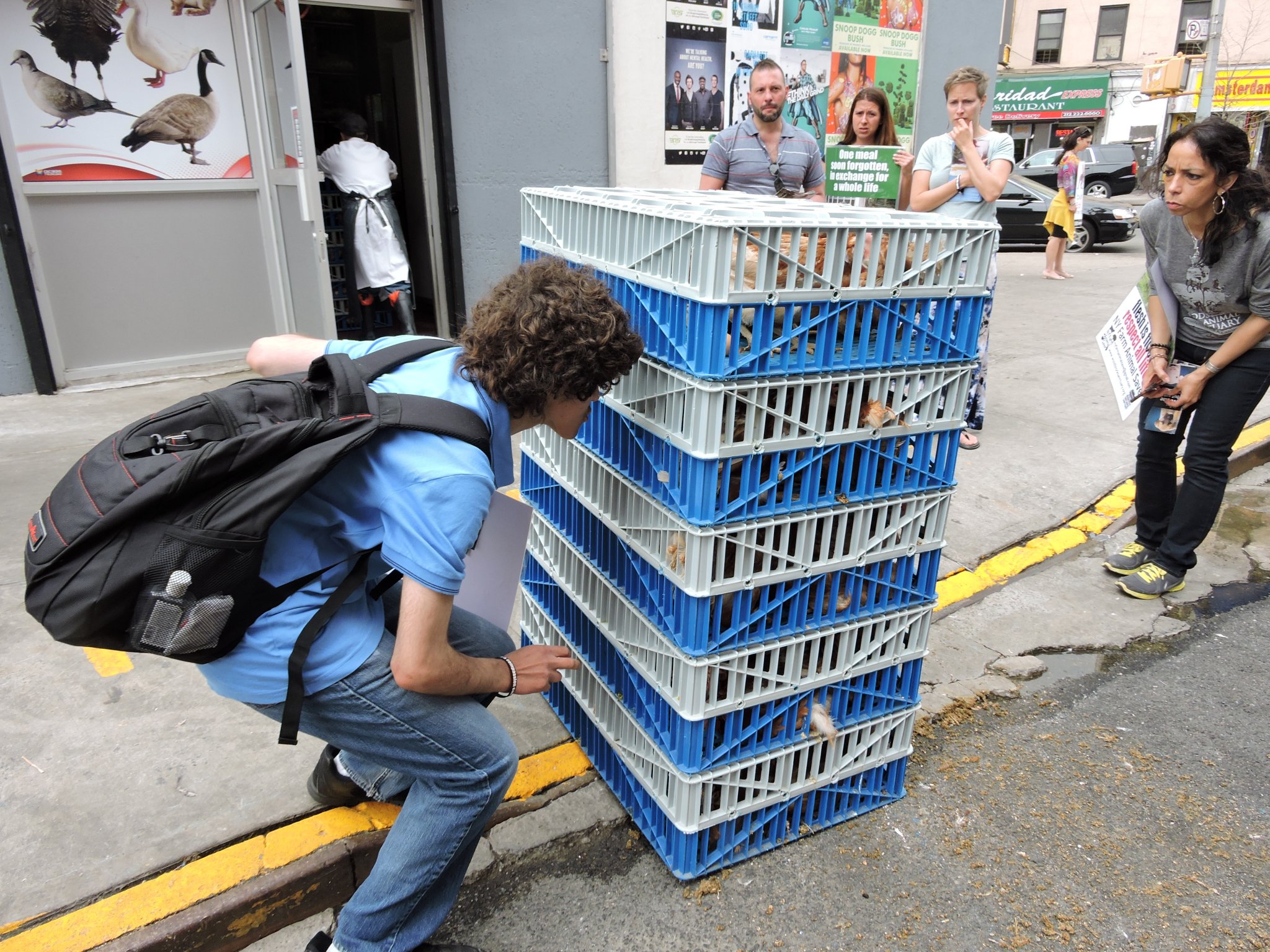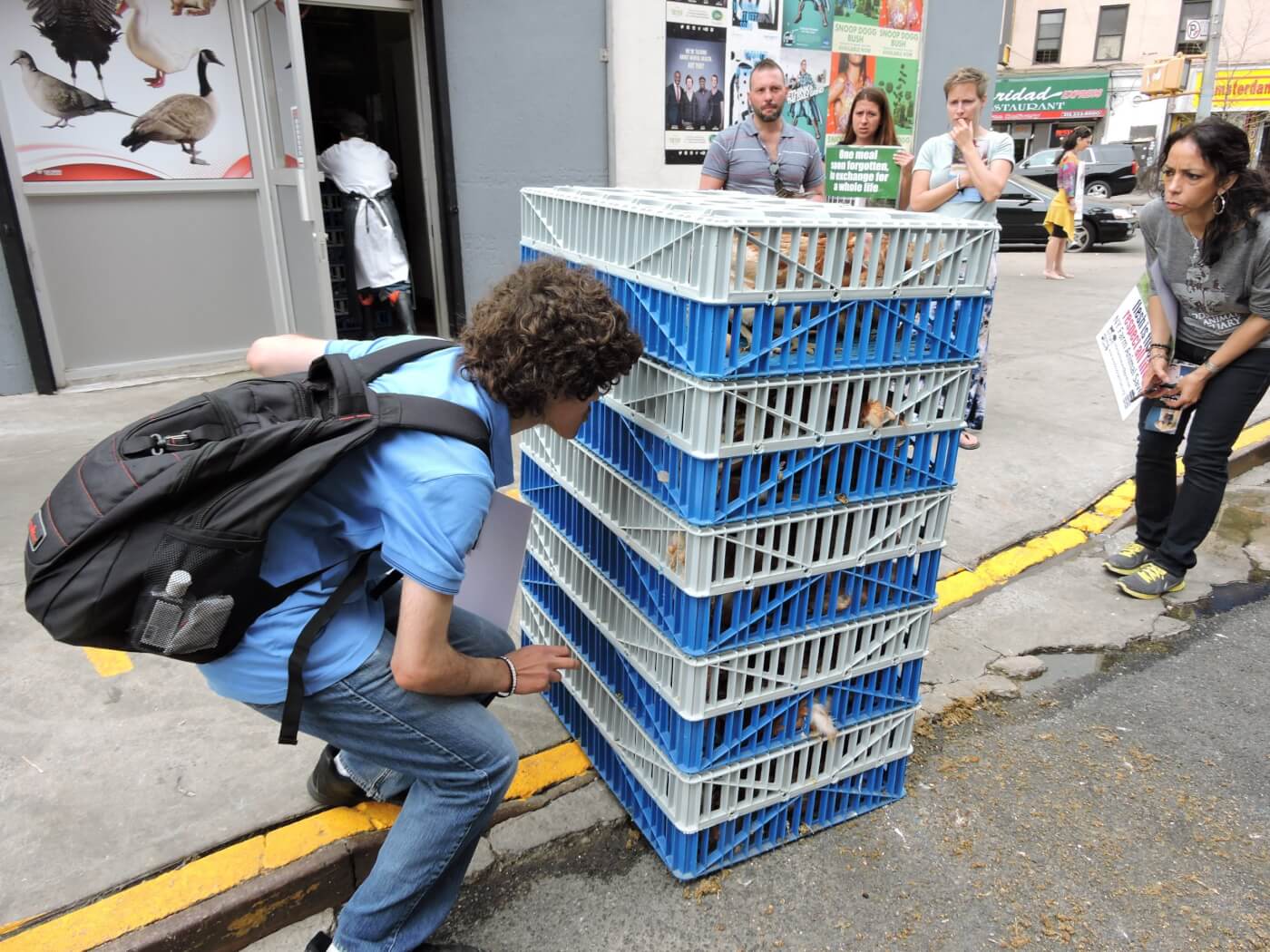 © Miriam Chisholm
Shimon was a member of PETA and joined us at demonstrations throughout NYC over the years, and as you may have guessed, his support went above and beyond. One fellow activist from Their Turn recalls this:
"One day, while running an errand, Shimon and I walked into Insomnia Cookie, which had just added a vegan cookie to its menu. When I offered to buy him one, Shimon asked me to donate the amount of money I would have spent on the cookie to PETA. Even after explaining that I could buy him a cookie AND make a contribution to PETA, I practically had to use force to get him to eat the cookie, which I knew that he secretly wanted."
Even though Shimon was shy, he forced himself to step out of his comfort zone and helped others step out of theirs, too, for the sake of animals, organizing an "Animal Holocaust Memorial Service/March" through Times Square on Yom HaShoah (Holocaust Remembrance Day) when he was only 16—and pleaded with people in his ultra-Orthodox community to stop killing chickens for Kaporos (an atonement ritual).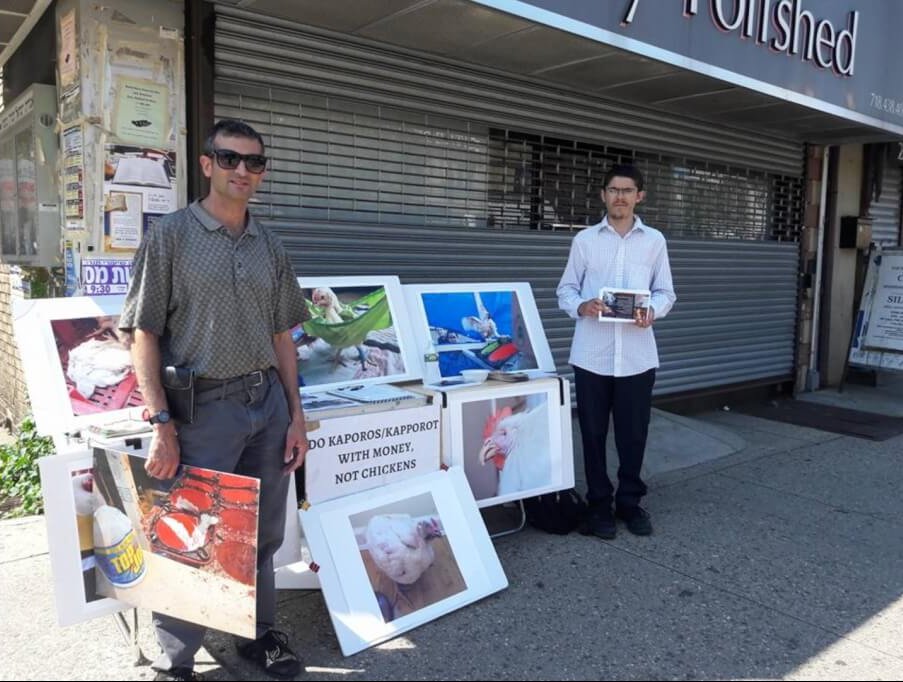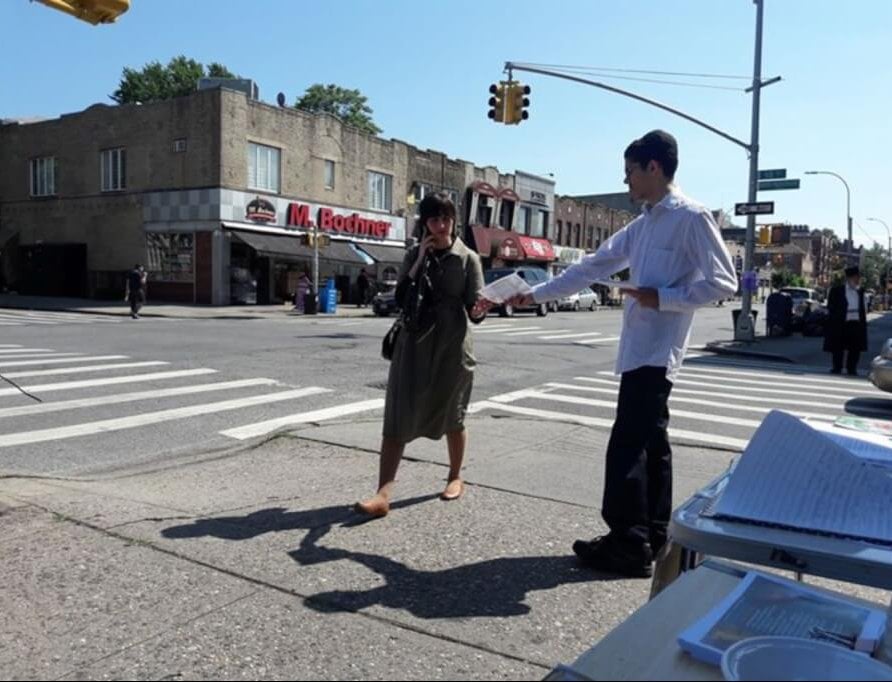 PETA urges everyone to commemorate Shimon's life and work by making a bigger effort to demand an end to killing animals for food—as well as for experiments, clothing, and entertainment. PETA is asking people to save chickens for Shimon: Go vegan—or if you already have, buy vegan chicken for your friends or family members who haven't yet—and protest in his name.