Known as the "Day of Atonement," Yom Kippur is considered the holiest day of the year in Judaism, a day when those practicing the Jewish faith ask for forgiveness of their sins. But one tradition leading up to Yom Kippur is anything but pure: chicken-swinging and slaughtering.
Between Rosh Hashanah and Yom Kippur every year, tens of thousands of Orthodox Jews swing live chickens over their heads and ask that their sins be transferred to the animals for kapporos—or atonement. The chicken is then killed by having his or her throat slit. This year in Brooklyn, a horde of activists, many of them Jewish themselves, protested the slaughter, which was permitted to take place on the streets, despite health, sanitation, and cruelty-to-animals concerns.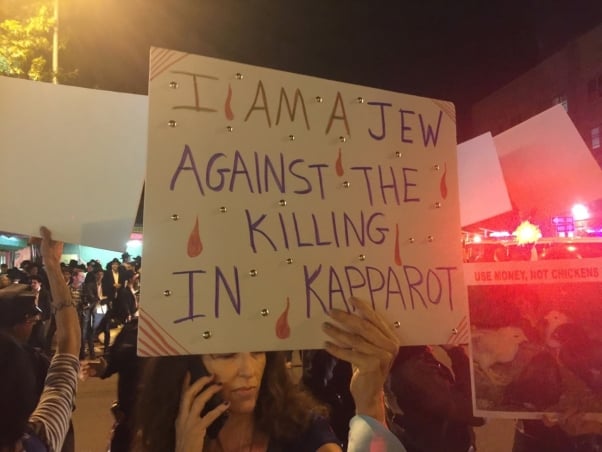 TheirTurn.net
Being swung over people's heads is just a fraction of what these birds endure before being slaughtered. Before the ritual, the chickens are crammed into small crates and may go without food and water for days. They are tossed roughly into plastic bins, and some are thrown into plastic garbage bags while still alive. In one shot in the video, young boys laugh as they tie a knot in one of these bags, sealing a chicken inside to suffocate.
There is a better way. Many Orthodox Jews forgo the chicken-swinging in favor of waving money instead. The use of live chickens is not required by Jewish law, and if money is used, it can be donated to charities after the ritual.
What You Can Do
Share this post to spread awareness of this annual slaughter. If this version of kapporos is practiced in your area, urge the participants to use money instead of chickens.
Want to save even more chickens? You can help end the suffering of billions of chickens killed each year on factory farms by pledging to go vegan. Remember: Peace begins on your plate!