It was a "long time ago in a galaxy far, far away" when iconic actor and best-selling author Carrie Fisher, who died today, first stole our hearts as the feisty Princess Leia in Star Wars. In real life, she was just as feisty—as an outspoken mental health advocate who wrote and talked openly about her struggles in Hollywood and in her personal life.
— Carrie Fisher (@carrieffisher) November 24, 2016
A PETA supporter, she was also passionate about dogs. It was the love of her dog, Gary, that helped her cope with her bipolar disorder. He was not only her constant companion but also her "date" to red carpet events. He even joined her on her Star Wars: The Force Awakens press tour and was by her side during her recent book-signing tour for her latest memoir, The Princess Diarist.
"Gary is like my heart," she told The Herald Tribune. "Gary is very devoted to me and that calms me down."
She proved her devotion to dogs in need in June of this year, when she joined a demonstration outside London's Chinese embassy to call for a ban on the country's annual Yulin dog-eating festival, in which thousands of dogs and cats are bludgeoned or even skinned alive before being butchered for meat. "These poor dogs need us to fight for them," she said. "Every single one of them is as precious as my dear Gary, every one of them is someone's best friend."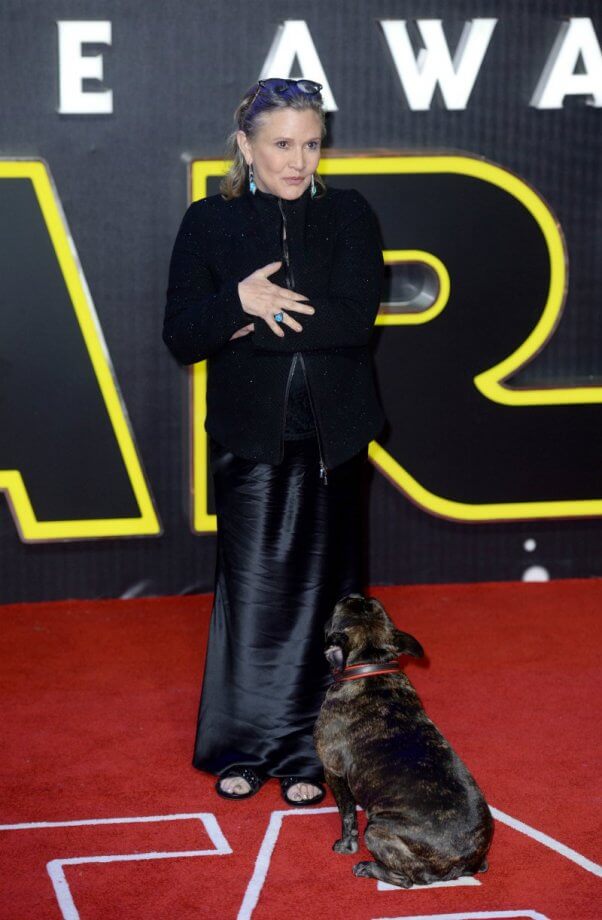 ©StarMaxInc.com
Fisher will always be remembered for her sensational talent, passion, and honesty as well as her love for her dog and dedication to helping others.