Meet the magazine of the worldwide animal rights movement: PETA Global. Now you can get the latest news from the frontlines, inspiring rescue stories, tasty recipes, and easy ideas for everyday activism at your fingertips.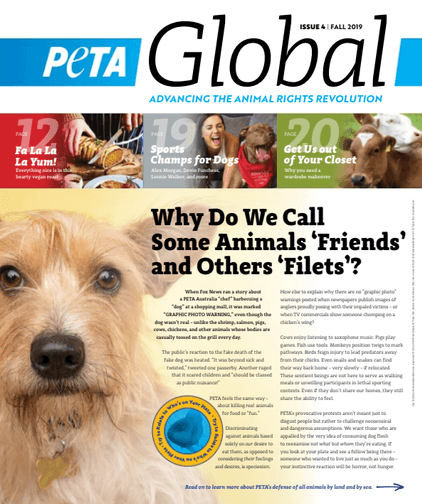 Free for PETA members and nonmembers alike, this interactive digital magazine includes cool pop-up images, videos, quick links to urgent action alerts, merchandise offers from the PETA Shop, and more.
Every issue includes exciting victories and breaking investigations from around the world, our latest celebrity collaborations, information on the best new cruelty-free products, and insightful pieces that challenge the way humans view animals. So when you're in the dentist's waiting room, standing in line at the post office, or using public transportation, you can get caught up on the issues that matter to you most and help PETA keep winning for animals. You may even see yourself advocating for animals at a demonstration or find your next best friend from a PETA rescue story.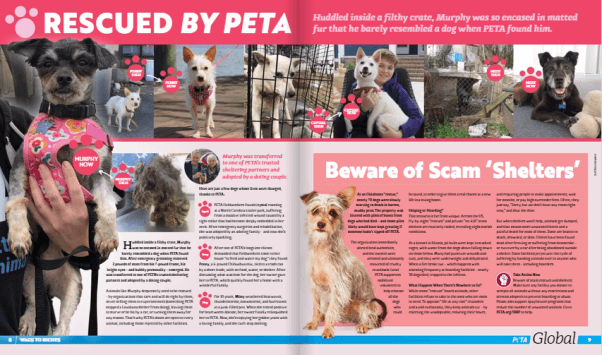 And to have PETA Global delivered to your door every three months, consider becoming an official PETA member for just $16 a year. Read it and then pass it on to a loved one or leave it where someone else can find it and learn about animal rights! Staffers who have left their copies in airplane seatback pockets, at their gyms, on community bulletin boards, or on the subway have watched people pick them up and start reading about animal issues.
Get caught up now, with the latest issue of PETA Global online: