Some might consider Rachel Alexandra lucky. In 2009, she became the first filly in 85 years to win the Preakness Stakes. The next year, she was retired from the dangers of the track and training to live as a broodmare—a female horse used for breeding—on a farm in Kentucky. But motherhood isn't coming easily to her. After the birth of her first foal, Jess's Dream, last year, Rachel Alexandra experienced pain so severe that she had to be hospitalized. The birth of her second foal last month was even more hazardous: She sustained life-threatening injuries and had to have emergency surgery to remove parts of her large intestines, and she just had another surgery this week to treat an abscess. That is why PETA has written to Rachel Alexandra's owner, Barbara Banke, urging her to retire the mare from breeding before pregnancy or foaling kills her.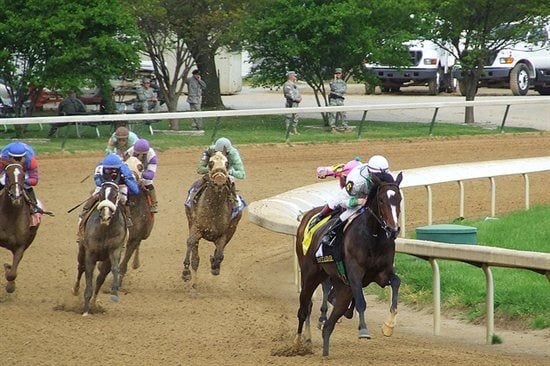 L.Burchfield | cc by 2.0 
Many prize-winning horses—including Lady's Secret, Meadow Star, Typhoon Tracy, and Urban Sea—have died after giving birth. Rachel Alexandra's own mother, Lotta Kim, has a history of foaling complications: One of her foals was born prematurely and died, and another died at just 2 years of age because of wobbler syndrome. Lotta Kim rejected Rachel Alexandra, who then had to be raised by a nurse mare. Nurse mares, who are used to produce milk for orphaned foals and those whose mothers are being rebred, are routinely forced into a cycle of serial breeding, only to have their own babies torn away from them.
Tens of thousands of thoroughbreds are bred each year, often in assembly-line conditions like those documented by a PETA undercover investigator. Only a fraction of the 25,000 thoroughbred foals born every year will be winners, resulting in a "surplus" of about 20,000 unwanted thoroughbreds annually. Many of these horses, which can even include former Triple Crown race champions like Rachel Alexandra—and their offspring—are sold at auction and wind up in the hands of "kill buyers" who ship them to slaughterhouses in Canada and Mexico.
Surely, after earning more than $3 million for her owners, Rachel Alexandra has earned the right to a peaceful, leisurely retirement that is free of repeated pregnancies and dangerous foalings.