Many of you have joined PETA and PETA India (as well as Paul McCartney) in calling for the release of Sunder, the horribly abused baby elephant who was held captive in spiked chains in a dark shed at the Jyotiba Temple in Maharashtra, India. Despite assurances from the government that Sunder would be taken into protective custody, the authorities fear retaliation from the temple trustees if they seize him, and now the little elephant has been moved not to a sanctuary but into a heavily guarded factory compound where no one can see him. PETA India has stepped up pressure for Sunder's release, including holding this demonstration outside the office of the principal chief conservator of forests, sending a message that he could hardly have missed: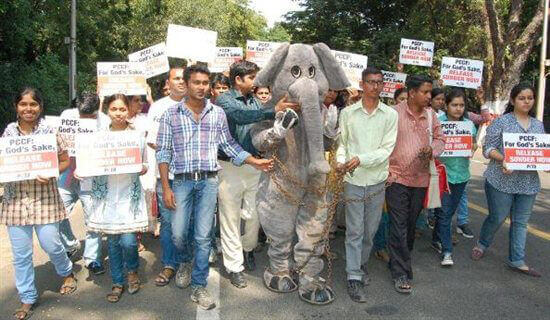 Our friends in Mumbai report that they've been fielding calls from people who are exasperated with the government's inaction and eager to see as much attention as possible brought to Sunder's predicament until he is released. Stay tuned …
What You Can Do
In the Americas, many elephants are also held captive and abused by circuses—please help set them free.