An unexpected, real-life adventure unfolded for two women playing the popular new mobile game Pokémon Go.
While waiting for a pizza they'd ordered to be delivered, Kaitlin Kouts and Tiffany Revay took out their phones and set about their Lufkin, Texas, neighborhood searching for an elusive Jigglypuff in the augmented reality game. What they found instead was an injured puppy in need of veterinary care.
The pair told reporters that when they came across the puppy, he appeared to be in pain and was bleeding from the mouth. They looked for his guardian, but no one knew where the dog had come from. As the two were busy searching for answers and help, they received a phone call from their pizza deliverer, Skyler Jerke, who wound up playing an important role in saving this puppy.
Jerke, it turns out, is also a trained EMT. After hearing of the puppy's plight, he met the women and was able to administer some first aid to help stabilize the dog, who was successfully transported to a nearby vet's office for treatment.
https://twitter.com/Dogs_Today/status/753895387153440768
As for a name for the pup, Kouts chose one that honored the game that ultimately led to his rescue: Pokey. And after he's back in tip-top shape, Pokey will be put up for adoption, which will give him the chance to find a loving home and be a part of a family—something that all dogs deserve.
PETA is sending Kouts, Revay, and Jerke framed Compassionate Action Award certificates and some delicious vegan cookies to show our appreciation. Never did we expect that pizza and Pokémon would save a puppy's life, but we're certainly glad that they led to a happy ending for Pokey.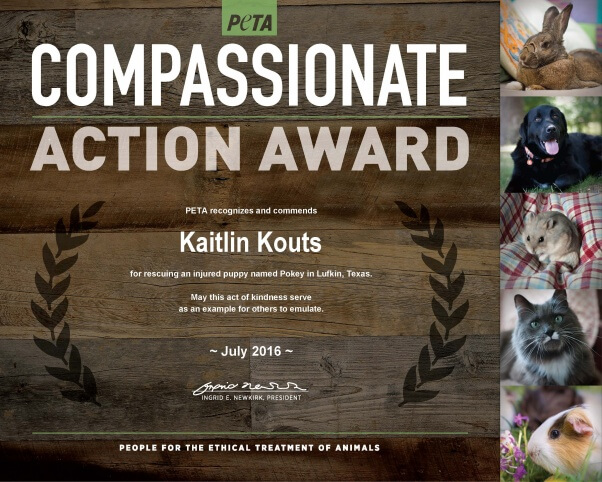 Show some love for Pokey and his rescuers by sharing this story.
 And be sure to check out these tips to learn what you can do if you come across an animal in need. Knowing what to do in an emergency can mean the difference between life and death for an injured animal, and every second counts.