In April, a white wolf—famous for being sighted rarely in Yellowstone National Park—had to be euthanized after she was found mortally wounded. Now, weeks later, the results from a preliminary necropsy have revealed that the wolf had been shot illegally inside the park.
This rare white wolf, alpha female of Yellowstone's Canyon Pack, was found with a gunshot wound and was euthanized. https://t.co/KXLUtITBop pic.twitter.com/qreNR6MNkS

— NPR (@NPR) May 16, 2017
According to National Park Service law enforcement, hikers discovered the seriously wounded wolf inside Yellowstone National Park near Gardiner, Montana. Park staff members responded, but because of the severity of her injuries, they euthanized her.
The National Park Service, private organizations, and a GoFundMe page have raised over $10,000 for any information leading to an arrest and conviction for this criminal act.
While authorities haven't officially released a motive, some advocacy groups suspect that opponents of wolves in Yellowstone are to blame. Over the years, many hunters and ranchers have expressed their disgruntlement over wolf reintroduction. In 2012, the park's most popular wolf was shot dead by a hunter.
Hunting Destroys Families
Both poaching and legalized hunting tear families apart and leave countless animals orphaned—or badly injured when hunters fail to kill them quickly.
This wolf was one of only three known white wolves in the park. As the alpha female with the same alpha male for over nine years, she had at least 20 pups, 14 of whom lived to be yearlings, park officials said. Her death could destabilize future population growth and the complex social structure of her pack.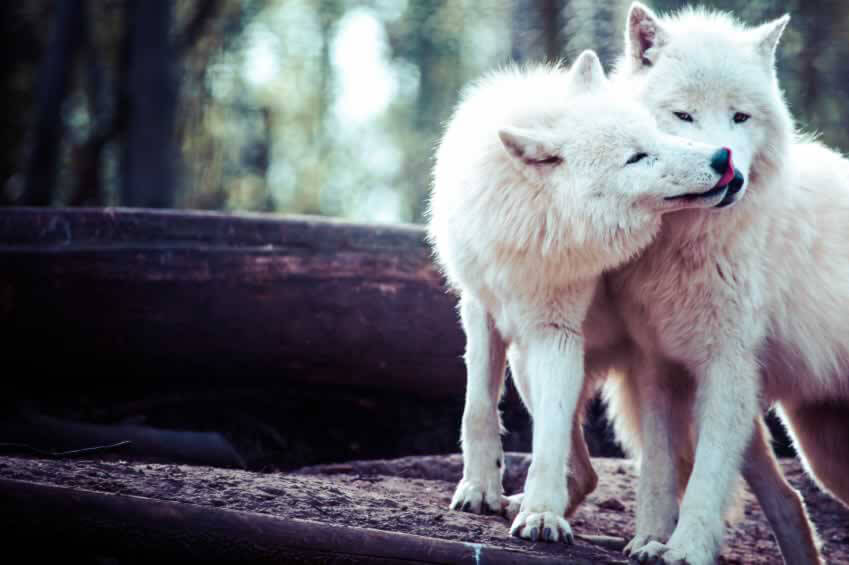 © iStock.com/mariusz_prusaczyk
Hunters kill millions of animals every year and have contributed to the extinction of species all over the world, including the Tasmanian tiger, the Zanzibar leopard, and the dodo. Just as with this ill-fated wolf, it's common for animals to be injured but not killed by hunters, escaping only to die slowly and painfully from blood loss or starvation.
What You Can Do
The vast majority of Americans oppose hunting—like most blood sports, it's dying out quickly as more people recognize that animals are sentient beings with distinct personalities who love their families, value their own lives, and don't want to die.
Inform others about the cruelty of hunting, encourage your legislators to enact wildlife-protection laws, and insist that nonhunters be equally represented on the staffs of wildlife agencies. Share this story to let your friends and family know where you stand on hunting.