Tony-winning actor Alan Cumming continues to be an avid animal advocate. Now, he's making an impassioned plea for the release of his co-star in the 1997 film Buddy, a chimpanzee named Tonka, who's been stuck in a cage in Festus, Missouri, for more than a decade.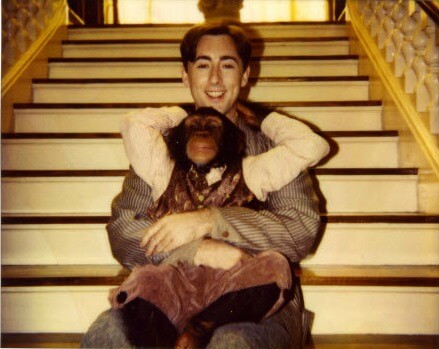 Festus is home to the misleadingly named Missouri Primate Foundation (MPF), where chimpanzees discarded from show business and other situations live in small cages that are often so filthy that the facility's owner, Connie Braun Casey, has been repeatedly cited by the government for violations of federal animal-welfare regulations. In his letter, Alan describes the special friendship that he shared with Tonka and being misled regarding his co-star's living conditions after the film wrapped. He urges Casey to release Tonka and the other chimpanzees to accredited sanctuaries.
He writes, "As an old friend of Tonka's, I respectfully ask that you allow him and the chimpanzees at MPF to be sent to accredited sanctuaries where they can enjoy some semblance of the life that nature intended for them."
Tonka deserves a stress-free life. A cramped cage is no place for anyone's retirement, and there are much better options ready and waiting. For instance, remember Iris? She's now safe and happy at an accredited sanctuary.
We will keep working until no chimpanzee suffers alone in a cage.
Read Alan's full letter, take action for Tonka below, and help us free all chimpanzees languishing in confinement.