As someone who has spent years volunteering at a wonderful open-admission animal shelter, it breaks my heart when people use the term "kill shelters" to refer to shelters that accept every needy animal—no matter how beat up, old, ill, or behaviorally unsound they are—and that have no choice but to give some animals a painless, dignified release through euthanasia.
This mean-spirited, misleading label is a slap in the face to the brave people who pour their hearts and souls into helping animals at open-admission shelters. I wish that those who use this term could spend a day at the receiving desk of their local full-service shelter so that they could see firsthand how badly we need open-door shelters. A steady flow of people arrive with battered, broken animals of all shapes, sizes, and species: "We call her Matty because she's full of mats," said one person who was surrendering a dog whose matted fur was infested with maggots. Matty's family was getting rid of her because they wanted a puppy.
Other reasons people have given for taking animals to the shelter include "He's sick, and I can't afford to take him to the vet," "He's chewing up everything, and my dad said he's gonna shoot him," "She's just old," "He was great as a puppy, but now he's just too big," "We just have too many animals," "They have been hanging around the house, and we don't want them," "Someone dumped them at my house," and "We're moving."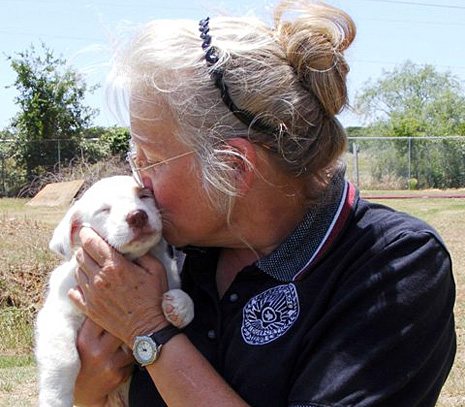 Nearly everyone leaves the shelter saying the same thing: "You won't kill him, will you?" What else can shelters do when they have a limited number of cages and an unlimited number of needy animals pouring through their doors? There is no huge farm for unwanted animals—a fantasy that many people's parents told them existed when their childhood animal friends were brought to open-admission shelters—and shelters don't have a magic wand that they can wave to create loving homes.
This name-calling hurts animals because it scares people away from surrendering animals to reputable shelters. It misleads people into thinking that taking cats and dogs to facilities that don't euthanize is the right thing to do, but animals at these places often suffer fates worse than death. These facilities are always full and have long waiting lists to accept animals, which results in people dumping animals to die on the streets, giving them away on Craigslist (a magnet for animal abusers), or abandoning them to starve in empty homes and yards after they move away.
There is no such thing as "high-kill," "low-kill," or anything in between when it comes to shelters. There are only open-admission shelters—those that provide refuge to every animal and must euthanize to ensure that their doors remain open to more needy animals—and limited-admission shelters—those that pick and choose only the cutest, youngest, and most adoptable animals and turn away everyone else.
For the sake of animals and the people who have devoted their lives to helping them, let's stop the name-calling and support shelters that are committed to doing what's best for animals— even when that's the hardest thing to do.
Written by Lindsay Pollard-Post